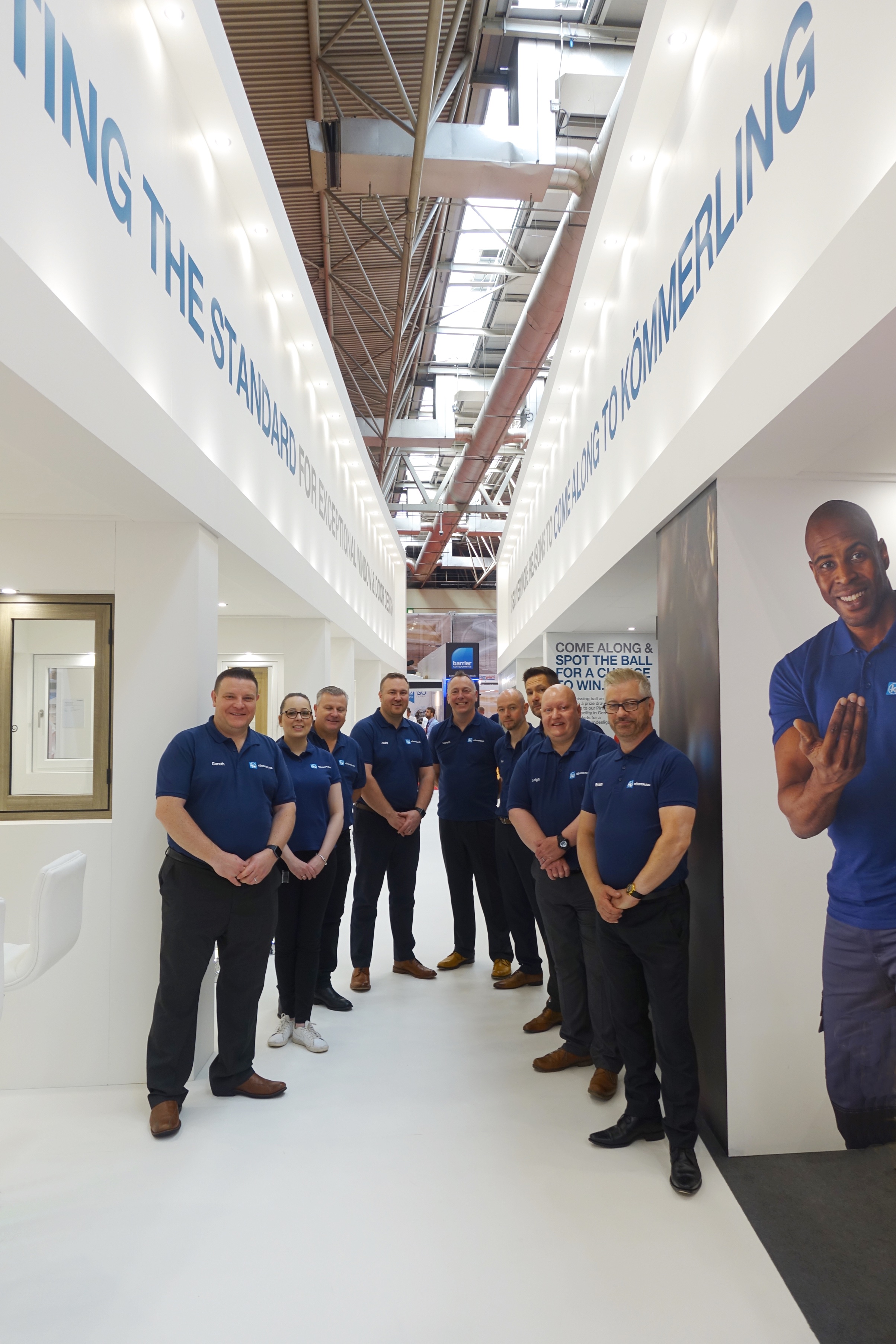 Boosted by the award for Best Creative in the FIT 2019 marketing campaign with their #ComeAlong campaign, the FIT Show was nothing short of an extraordinary success for KÖMMERLING, as existing and new customers flocked to their stand en masse.
The show was a culmination of an outstanding marketing campaign, geared to generating considerable footfall, along with a range of window and door systems, including the new KÖMMERLING 76 flush sash and the demonstration of pioneering product technologies. There was also something for everyone on the stand with installers impressed with the showroom concept and the launch of five new brochures.
The flush variant of KÖMMERLING 76 was one of the focal points on the stand with several fabricators now tooled up for production, while the lift and slide PremiDoor 76 in the proCoverTec metallic finish of bronze, was also a notable feature. Other door systems were also presented in the form of the slide, swing and fold PremiDoor 76 and the PAS 24 PremiLine Pro, with a new pop out handle at the interlock.
Several companies who have recently changed over to KÖMMERLING were delighted with the stand and what it reflected, whilst further new business commitments from other fabricators and installers were also received during the show. For existing customers, the scale of the investment in products, people and the marketing was also welcomed with considerable enthusiasm.
Gareth Jones, managing director of profine UK and the KÖMMERLING brand commented: The stand was the culmination of the campaign that reflects a new beginning for KÖMMERLING in the UK with a new team at the helm. We've started the process to elevate the brand and its values, but now with a considerable number of enquiries, we will look to capitalise on these opportunities in the coming weeks and months after what was nothing short of an exceptional show for us.'
Look out for the #ComeAlong videos on Twitter @kommerling_uk and for all other information visit www.kommerling.co.uk, e-mail enquiries@profine-group.com or call 01543 444900.