9th August 2018
CONTECH CONSERVATORIES BECOME ONLY STOKE SUPPLIER OF VIRTUOSO ALUMINIUM COMPOSITE DOOR FRAMES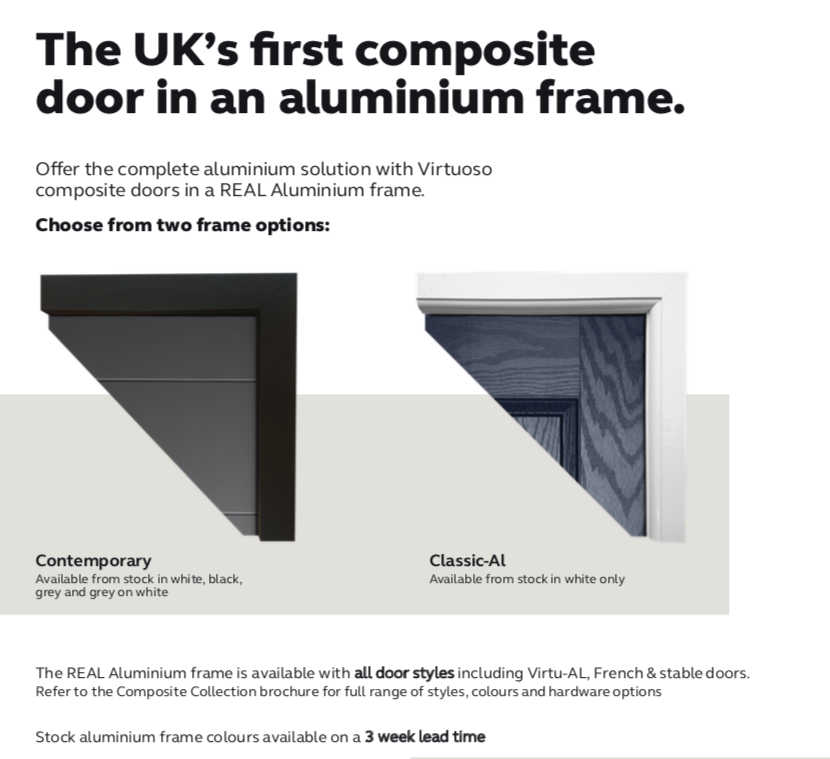 Contech Conservatories is delighted to announce that it is now supplying the new Virtuoso aluminium composite door and frames. As the only supplier of this range in Stoke On Trent the team is advising customers to place their orders early, with aluminium being such a popular choice for new build projects and homeowners looking to modernise their properties.
The new contemporary aluminium frame, which can be turned around in just 3-4 weeks, will give Contech customers greater choice. Black, white, grey and grey on white aluminium frame options complement the composite door range, which can be customised with....
Flat Roofing

Sarnafil roofing solution replaces old asphalt roof

Roof Assured installer C&G Cladding replaced a badly ageing and leaking asphalt roof, with the Sarnafil single ply membrane roofing solution, on a 1950's bungalow located in the Malvern Hills, Worcestershire.

The owners, Jon...

 

 

Timber! FIT Show Sees Influx of Brands for 2019 Exhibition

FIT Show, the UK's only dedicated event for the glass and glazing industry, has reported a growth in the number of timber brands signing up for its 2019 exhibition.

 

 

Hardware

HOPPE (UK) heads to the world's largest home retailer

With a greater need for security that complements home design, HOPPE (UK) has launched its tried and tested hardware range on Wayfair, the world's largest online retailer for home and décor products.

Homeowners will now be able to purchase a range...

 
Offsite Construction

Demonstrating the Potential of the Offsite Technology in the North West

The first North West regional event in the Explore Offsite series will take place on 12 September 2018 in Manchester at the University of Salford. The combined conference and exhibition will bring together a range of offsite technology supply chain specialists and industry leaders...

 

 

FREEFOAM DE-MYSTIFY THE PROCESS BEHIND THE PRODUCTS

TV Shows and online videos about how everyday objects are made are incredibly popular and can be a powerful marketing tool for many manufacturing companies – with Lego clocking up over 6.5 million views on YouTube! Freefoam Building Products are pleased to announce the launch of another new video featuring all aspects of the production process of its fascia, soffit and guttering products.

The video explains each stage, right from the arrival of the raw materials on site, through the extrusion of pvc...

 

 

Guttering

GET READY FOR THE 'DOWNPOUR' OF GUTTERING WORK!

Autumn is traditionally a time for consumers to get home improvement jobs done before the Winter sets in.

 
British Standards

Standard for steel and aluminium structures revised in order to ensure adequate stability and durability

BSI, the business standards company, has published BS EN 1090-2:2018 Execution of steel structures and aluminium structures. Technical requirements for steel structures.

 

 

HURST'S GROWTH SPURS RECRUITMENT DRIVE

Rapid growth at Hurst has spurred a major recruitment drive at the company. With several new customers on board and increased production across door panels and composite doors, Hurst has already created four new roles within its customer service and sales order...

 

 

Health & Safety

New topic-specific guidance to support implementation of ISO 45001 occupational health and safety management systems

BSI, the business standards company, has published two new topic-specific guidance documents to support the implementation of...

 
Glasstec

Bystronic glass at glasstec 2018 in Düsseldorf

Join Bystronic glass at the top

glasstec 2018 – Messe Düsseldorf – Hall 14 – Stand A51/A52

 

 

Former England footballer to host the Education Awards

Former England footballer Graeme Le Saux has been announced as this year's guest speaker at the annual Guild of Architectural Ironmongers (GAI) Education Awards.

Graeme will lead the celebrations...

 

 

Listed Renovation

SCARBOROUGH COLLEGE GETS A RESIDENCE LISTING

Residence 9 windows, part of The Residence Collection, have been specified on a listed...

 
Doors

Capitalise on the feature-rich high end trend with the Smart Designer Door from Mercury

Specialist trade fabricator Mercury Glazing Supplies Ltd added the aluminium Smart Designer Door to its portfolio earlier this...

 

 

Feature-rich products from Modplan

Leading VEKA fabricator Modplan manufactures a comprehensive portfolio of products for their trade customers which includes an impressive range of feature-rich products too. Having the right products in your portfolio is fundamental to the Newport-based fabricator as Heidi's Sachs, Managing Director of Modplan explains: "You only have to glance at the market data to see that consumer trends are shifting. Market intelligence reveals that today's consumers are looking for something other than standard white PVC-U casements. The result is that feature-rich products such as mechanically jointed vertical sliders and flush casement windows are booming and its something we have witnessed here at Modplan for some time."

Modplan's VEKA vertical slider is...

 

 

Housing Needs

RADICAL OVERHAUL OF CONSTRUCTION SECTOR NEEDED OR UK WILL STRUGGLE TO MEET HOUSING AND INFRASTRUCTURE NEEDS

The construction sector as it currently operates cannot meet the UK's need for housing and may struggle to meet the need for infrastructure. Given that the UK already lags behind other countries in construction productivity, and is facing a labour shortage, the Government and the construction sector must urgently find solutions.

In a report published today, Off-site Manufacture for construction...

 
Tax Affairs

Freelancers and Contractors Advised to Ensure Taxes in Order Due to HMRC Crackdown

Contractors and freelancers working in the UK were warned today to get their taxes in order now to ensure that they aren\'t caught up in HMRC\'s latest crackdown on workers attempting to evade their tax responsibilities. The warning came

 

 

Construction woes continue as June figures show no improvement

The value of new construction contracts in June reached £4.4 billion, a decrease of three per cent compared to May

and the lowest performing month across construction for more than five years. Housebuilding, the industry's biggest

sector, fell to its lowest point in 2018 with £1.7 billion in contracts awarded and also declined for the fourth month in a

 

 

Installer News

VEKA and Independent Network welcome MPN back into the fold

MPN uPVC Windows, Doors & Conservatories Installations Ltd has chosen to supply VEKA systems once again, after trialling another PVC-U system for just six months.

 
Operation Clean Sweep

PROFINE BECOMES CERTIFIED ZERO PELLET LOSS PIONEER

profine GmbH has become the first PVCu system company in Germany to receive the certificate of the pro-K initiative "Null Granulatverlust"

 

 

COMPETITION WINNER CELEBRATES NEW PLANITHERM WINDOWS

An East Sussex woman is treating her two children to a family holiday with the money she's saved by winning new windows from Saint-Gobain Building Glass.

The glass company offered the chance to win up to £10,000 towards the cost of new high-performance windows in a competition to help launch its new Planitherm Network.

Karen Bulmer, a part-time admin officer for the NHS is the first winner of the quarterly prize draw, where Planitherm installers encourage their customers to win back the cost of their windows and installation, up to the value of £10,000.

Ms Bulmer spent £3894 on new...

 

 

NHIC Annual Awards

Call for Entries for the 44th Prestigious NHIC Annual Awards

Since 1974 the National Home Improvement Council (NHIC) Annual Awards have recognised achievement in UK Housing and have grown over the years to become highly regarded as the premier event in the home improvement...

 
Garage Door Training

DHF expands its Industrial and Garage Door training provision

DHF (Door and Hardware Federation) has launched a new one-day Industrial & Garage Doors Safety Certificate, aimed at installation and maintenance engineers of industrial doors, shutters and garage doors. The new course, which is available nationwide and is open to members and non-members, is being delivered by industry training experts, Dave Hall, who has worked with DHF for many years, and newest team...

 

 

99.8% OTIF from Selecta

Within the window and door profile industry there seems to be a decline in service and support, but not in the case of Selecta, whom have, and continue to invest in these key areas. With 99.8% of deliveries on time and in full, Peter Lawrence, Warehouse and Logistics Manager, explains more on the key areas, investments and how the figures stack up.

Now in his 24th year at Selecta, Peter has come through the ranks and boasts a broad range of knowledge and experience, which he brings to his demanding role. Peter explains, "Making sure that customers receive their orders in full and on time is the key objective of the department and one we strive to achieve week in, week out. Our on time and in full delivery statistics stand at 99.8%, a statistic we are very proud of, whilst we are always looking at ways to continuously improve our operations."

"One the most recent improvements has seen Selecta upgrade to a newer vehicle tracking system.

 

 

Mates In Mind

Northern Ireland construction workers' mental wellbeing targeted for improvement as Mates in Mind launches education initiative

The charity Mates in Mind has today announced it will be delivering a series of educational sessions in a bid to start raising awareness, address the stigma of poor mental health and improve positive mental wellbeing amongst Northern Ireland's construction

 
Apprenticeships

New apprenticeship standards signed off by Government

New higher quality bricklayer and plasterer apprenticeships have received final sign-off by the Government, after a rigorous development process.

 

 

VBH reports 97.1% OTIF in May

Europe's largest window and door hardware distributor, VBH (GB) has achieved an outstanding 97.1% on time, in full (OTIF) delivery to its customers during May. With thousands of product configurations and tens of thousands of components from

 

 

License to Build

Nearly 80% of builders and consumers support licensing construction, says FMB

Almost 80% of builders and home owners are calling on the Government to introduce a licensing scheme

 
| | | |
| --- | --- | --- |
| | 0780 505 1322 | |