13th December 2018
Ensinger presents shear-free insulating profiles for metal doors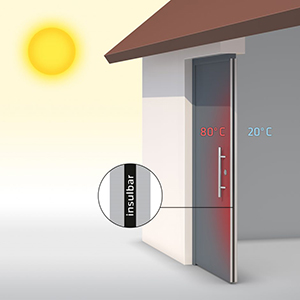 Usually it's the weather's fault when a metal door sticks. If the sun shines, its outer side expands. If it's cold outside, however, the door bulges inwards. A shear-free insulbar insulating profile from Ensinger (patent pending) minimises this deformation.
Plastics specialist Ensinger has developed a solution for reducing the impact of the bi-temperature effect (also called the bi-metal effect): The new insulating profile consists of two intermeshing parts which, in the event of differing linear expansion between the aluminium shells, move against each other.
"Our new bar has allowed us to create an adaptable insulation zone between the outer and inner shell of a metal door", explains Matthias Rink, Sales Director for insulbar. "The intermeshing profile sections even out the temperature-related linear expansion. At the same time, the design provides high transverse tensile strength."
Award Winners

VBH crowned 'Component Supplier of the year' at G18 Awards

VBH (GB), manufacturer of the greenteQ suited hardware range and supplier of the UK's largest selection of third-party products, has won the G18 'Component Supplier of the Year' in a glittering ceremony...

 

 

Out with the Old… in with the Bold!

Elevate, the new lantern roof from industry-leading systems company Liniar is already raising the bar – and looks good doing it.

As soon as one of Liniar's long-time lovers of the system company's suite of windows, bi-fold doors and roofs saw the Elevate ad on Facebook; he knew it was time to upgrade his two existing Liniar PVCu roofs. When we asked him what prompted him to update his double lantern roofs, he explained:

"It wasn't that there was anything wrong with my current lantern roofs. They still looked as beautiful as the day they were installed several years ago, but when...

 

 

Award Winners

Selecta Systems Voted PVC COMPANY 2018

Selecta Systems renaissance continues, as do the accolades, with Selecta being voted PVC Company 2018 at the National Fenestration Awards. Sales Director...

 
Composite Door Case Study

EXCEL DOOR SUPPLIES' PARTNERSHIP WITH ERA - Partnership Aids Growth For Composite Doors Company

Excel Door Supplies, the Yorkshire-based supplier of composite doors, has reported solid business growth throughout its seven years of trading. With recent investment to the tune of £100,000 in new CNC router equipment, the company is also planning to open...

 

 

40 per cent of 'Airbnb-style' landlords reinvest earnings in refurb work, new FMB research reveals

40 per cent of those who rent out their homes on 'Airbnb-style' websites reinvest their earnings in home improvement projects, according to new research by the Federation of Master Builders (FMB).

The key results from the FMB's research into the spending patterns of landlords who use short-term holiday rental sites are as follows:

1) 43% spend the money on holidays;

2) 40% spend the money on home improvement work;

3) 25% put the money towards a new car...

 

 

Installer News

TWC Makes It Three

TWC Home Improvements has become the latest addition to the Conservatory Outlet Network, the third installation company to join in as many months.

Established in 2012 and headed up by Directors Joseph Heaton and Andrew Hill, the Swindon-based business has achieved huge growth in the past...

 
Mates in Mind

Mates in Mind appoints James Rudoni as Managing Director of the charity

Steve Hails, Chair of Trustees of Mates in Mind, said: "The Trustees welcome James Rudoni to the charity as Managing Director this month and look forward to working with him and the team. We believe James's experience and insight will be of great value to Mates in Mind as it continues...

 

 

John Weir –Tribute to a Technical Pioneer

Staff, members and former colleagues of the Glass and Glazing Federation (GGF) were saddened to hear of the passing of former employee, John Weir on Saturday 17 November.

As the Federation's first Standards Committee Secretary, John was a stalwart who developed the GGF's Technical Department and helped develop many of the early standards in the industry. In the late 80s, John was instrumental in helping the UK to Harmonise Standards within the European Union.

From the GGF's earliest days in 1977, John was involved in the GGF's technical set up. His wife Rosemary was the GGF Membership...

 

 

Construction Declines

Warning signs as construction output flat-lines, says FMB

Rising costs and continued uncertainty over Brexit are to blame for the slight drop in construction output, according to the Federation of Master Builders (FMB).

Commenting on the construction output figures for October 2018, published by the Office for National Statistics, Sarah McMonagle, Director of External...

 
DHF Training

DHF launches online booking and payment system for training courses

Tamworth-based trade association, the Door & Hardware Federation, (DHF) has launched a new online booking and payment system for would-be delegates of their training courses. The pro-active federation has initiated its online booking and payment process for 'speed' and 'ease' for both members and non-members...

 

 

Rapierstar duo scales new heights to help beat cancer

Managing director of Rapierstar, David Furness, and his financial and operations director colleague, Scott Rogers, have completed a demanding two-day trek up Mount Toubkal in Morocco to raise vitally needed funds for Cancer Research UK.

Driven by the sad loss to cancer earlier this year of their good friend and Rapierstar company accountant Jonathan Curwen, David and Scott trekked in unseasonably deep snow and blizzard conditions to a height of 4,000m close to the peak of Mount Toubkal, north Africa's highest peak. They are 80% of the way towards their fundraising target which will provide support for Cancer Research UK...

 

 

Best Practice for Software

DHF releases new Best Practice Guide (BS 8607:2014 + A1:2016) for building hardware sector

DHF (Door & Hardware Federation) has released a new Best Practice Guide for the locks and building hardware industry covering the British Standard...

 
Apprenticeship Levy

Apprenticeships are plummeting because of Apprenticeship Levy, says FMB

Apprenticeship starts are falling because of the Apprenticeship Levy which needs to be made more flexible, according to the Federation of Master Builders (FMB).

The FMB's reaction is in response to statistics published today by the Department for Education, which show that there has been a 24% fall in apprenticeship starts for the 2017/18 academic year compared with the previous academic year.

Commenting on the figures, Brian Berry, Chief Executive of the FMB, said: "Apprenticeships are falling and the...

 

 

COMPOSITE FIRE DOOR SALES RESUMED FOLLOWING LANDMARK AGREEMENT BETWEEN ACDM AND GOVERNMENT

Following three months of intensive discussions between the Association of Composite Door Manufacturers (ACDM) and Ministry of Housing, Communities & Local Government (MHCLG) to resolve the industry's self-imposed moratorium on composite fire door sales, an agreement has been reached to allow sales to resume.

Sales of composite fire doors were suspended following the issue of a press statement by the MHCLG that named a number of manufacturers whose products had failed to comply with Building Regulations after testing was carried out as part of the Grenfell...

 

 

GGF News

DR BERNARD BOWS OUT

The GGF is bidding farewell to one of its longest serving members and greatest technical contributors, as Dr Bernard Lowe has decided to retire after 58 years in the industry.

Bernard started his career in the industry in 1960 working for Bostik where he was responsible for developing sealants for insulating glass units.

During this time he became a qualified chemist and his career of 28 years with Bostik saw him gain a doctorate in adhesion science and become a Fellow of the Royal Society of Chemistry as well a Fellow of the Institute of Materials, Minerals and Mining....

 
Colour

Powder coating in demand

Leading aluminium systems house Exlabesa Building Systems has just reported a rise in demand for its in-house powder coating service. General Manager Paul Benn commented: "Popular colours are grey, black and white, as you'd expect. But what's interesting is the rise in popularity of brown in both commercial and residential projects."

Doncaster-based Exlabesa Building...

 

 

DOUBLE CELEBRATIONS FOR HURST

Double celebrations are taking place at leading composite door and PVC-U door panel manufacturer Hurst. The firm has honoured four more members of staff who have achieved 20 years' service with the business and is now set to mark the 50th anniversary of its parent company Hurst Group in early 2019.

Emma Page, Lynn Dennison, Aide Page and Gerry Stephenson are all toasting to two decades of working at Hurst. This latest 20-year milestone at the company means that 27 people have now amassed more than 550 years of service between them.

And there was an extra celebration for Emma Page...

 

 

Fire Testing

The tetrahedron of fire

Wrightstyle is an international steel and aluminium advanced glazing supplier, mitigating against fire, bomb/blast and ballistic attack. Jane Embury is the company's marketing director.

The International Association of Fire and Rescue Services (CTIF) collects fire data from 31 countries and 35 cities worldwide, representing some 14% of the world's population.

In 2015, there were 3.5 million fires, 18,500 civilian deaths, and...

 
Builders Merchants Report

Builders Merchants continue growth in Q3

The latest data released in the BMF's Builders Merchant Building Index (BMBI) confirms Total Builders Merchant value sales were up 4.2% in Q3 on the previous year. Timber & Joinery Products...

 

 

QUICKSLIDE COME TOP OF THE QUALITY AUDIT CLASS

Businesses from across the fenestration industry will be familiar with the efforts required to achieve top marks in a Quality Systems Audit. In a benchmarking process that continually reviews in-house procedures, Yorkshire-based manufacturer Quickslide have undertaken their assessment under the guidance of auditor CENSolutions Ltd., for the second time this year, passing with flying colours.

Compliance with a number of requisites is compulsory for all manufacturers; the Construction Products Regulation (CPR) setting down standards including BS EN 14351 for windows and pedestrian door sets, and PAS 24:2016 which relates to the level of security applied to windows and doors on...

 

 

Awards

Winners Announced at the 44th Prestigious NHIC Annual Awards

For over 40 years the National Home Improvement Council (NHIC) Annual Awards have recognised excellence in UK housing and have grown to become highly regarded as the premier event in the home improvement and modernisation sector.

At a gala presentation dinner last night (22 nd November) held at One Whitehall Place, London...

 
Construction Apprentices

Building a Career in Construction

Are you looking to get yourself a job in construction? Well, luckily for you there's never been a better time, as there is currently a

 

 

How to Install a Korniche Roof Lantern from Skill-Builder

Roger Bisby is a journalist and television presenter known for his expertise in the British building industry. Roger has featured on Watchdog and Rogue Traders, hosted a radio show and written a number of building-related books.? Roger has also provided product reviews and insights for Professional Buildings magazines for...

 

 

Superhero Website

WINDOW WIDGETS GO PINK ONLINE

Fresh from the publication of their product directory dubbed as the 'big pink book', Window Widgets have now launched their new website at www.windowwidgets.co.uk.

 
Industry News

J&P celebrates 'Top Ten' with VEKA

J&P Home Improvements is celebrating a successful ten-year partnership with VEKA Group and Independent Network.

The family-owned, Lampeter-based company, which has been in business for more than 20 years, has spent the most...

 

 

The official UK training provider of window, door and conservatory

Until now, there has been limited industry-recognised training providers for window, door and conservatory products. All that has changed with the launch of Pro-Fitter. The initiative is the brainchild of Pro-Fitter's Director, Lou Leka, who says: "Many certifications exist in our industry but none offer bespoke training that allow people to learn in a controlled environment and have their competency levels assessed. We are

not another Competent Person Scheme. We are not a Vocational College. We teach hands on skills and ability and provide the lessons to give the ability and confidence to carry out specific work."

In short, he says: "Becoming...

 

 

Awards

BUILDING ON SUCCESS

The National Building Awards – www.nbawards.co.uk celebrate the very best of the building and construction industry. With 22 categories to choose from these independent awards will allow the very best of businesses irrespective of size and influence to lift a national accolade at the iconic Wembley Stadium in March 2019.

Commenting on these prestigious awards, Trevor Diviney, Managing Director of Ground Construction Ltd said "We are thrilled to...

 
| | | |
| --- | --- | --- |
| | 0780 505 1322 | |