12th July 2018
Contech Conservatories Warns Customers About Essential Legislation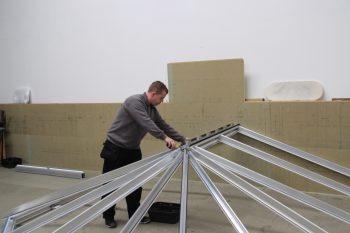 Contech Conservatory Roofing, Stoke's leading conservatory roofing fabricator is warning customers of the dangers regarding the installation of non-compliant tiled clad over roofs when placed on top of an existing conservatory roof.
Currently, there is a growing trend where homeowners want to transform old conservatories in a bid to improve the existing ones with lightweight tiles; but this can be a very expensive lesson to learn for a number of reasons.
Conservatories are not subject to building regulations, being classified as a porch, many people think that replacing a glazed or polycarbonate roof is a simple exchange of one product for another. Some people don't realize that if a glazed or plastic roof is tiled over that it is then classed as a full extension, meaning it is then subject to building regulation approval..
Installer News

VEKA and Independent Network welcome MPN back into the fold

MPN uPVC Windows, Doors & Conservatories Installations Ltd has chosen to supply VEKA systems once again, after trialling another PVC-U system for just six months.

 

 

COMPETITION WINNER CELEBRATES NEW PLANITHERM WINDOWS

An East Sussex woman is treating her two children to a family holiday with the money she's saved by winning new windows from Saint-Gobain Building Glass.

The glass company offered the chance to win up to £10,000 towards the cost of new high-performance windows in a competition to help launch its new Planitherm Network.

 

 

Operation Clean Sweep

PROFINE BECOMES CERTIFIED ZERO PELLET LOSS PIONEER

profine GmbH has become the first PVCu system company in Germany to receive the certificate of the pro-K initiative "Null Granulatverlust"

 
NHIC Annual Awards

Call for Entries for the 44th Prestigious NHIC Annual Awards

Since 1974 the National Home Improvement Council (NHIC) Annual Awards have recognised achievement in UK

 

 

99.8% OTIF from Selecta

Within the window and door profile industry there seems to be a decline in service and support, but not in the case of Selecta, whom have, and continue to invest in these key areas. With 99.8% of deliveries on time and in full, Peter Lawrence, Warehouse and Logistics Manager, explains more on the key areas, investments and how the figures stack up.

Now in his 24th year at Selecta, Peter has come through the ranks and boasts a broad range of knowledge and experience, which he brings to his demanding role. Peter explains, "Making sure that customers receive their orders in...

 

 

Garage Door Training

DHF expands its Industrial and Garage Door training provision

DHF (Door and Hardware Federation) has launched a new one-day Industrial & Garage Doors Safety Certificate, aimed at installation and maintenance engineers of industrial doors

 
Mates In Mind

Northern Ireland construction workers' mental wellbeing targeted for improvement as Mates in Mind launches education initiative

The charity Mates in Mind has today announced it will be delivering a series of educational sessions

 

 

VBH reports 97.1% OTIF in May

Europe's largest window and door hardware distributor, VBH (GB) has achieved an outstanding 97.1% on time, in full (OTIF) delivery to its customers during May. With thousands of product configurations and tens of thousands of components from its own greenteQ and other leading brands, this a significant achievement for VBH and demonstrates its commitment to customer service.

With branches in Kent, Swansea and East Kilbride, VBH has a distribution centre in three of the home countries (with Northern Ireland being largely supplied via East Kilbride) ensuring true national coverage. Mark Skudder, VBH Logistics Director comments: "The OTIF figure takes into...

 

 

Apprenticeships

New apprenticeship standards signed off by Government

New higher quality bricklayer and plasterer apprenticeships have received final sign-off by the Government, after a rigorous development process.

Brian Berry, Chief Executive of the Federation of Master Builders (FMB), said: "These higher quality construction apprenticeships have the potential to help solve the construction skills crisis. The bricklayer and plasterer apprenticeships were designed...

 
License To Build

Nearly 80% of builders and consumers support licensing construction, says FMB

Almost 80% of builders and home owners are calling on the Government to introduce a licensing scheme for the UK construction industry to stamp out

 

 

Why Preventative Maintenance Contracts Will Save You Money

As with any technical purchase the investment in guarantees to maintain optimum performance of our most prized possessions, always provides the best reassurances that the product will last.

 

 

New Housing Minister

Another week, another Housing Minister, says FMB

Commenting on the announcement that Kit Malthouse MP is the new Housing Minister, Brian Berry, Chief Executive of the FMB, said: "Another week, another Housing Minister.

 
Work Related Fatalities

More needs to be done to protect workers' lives

British Safety Council pledges to campaign more vigorously for safe and healthy workplaces, as fatalities rise

There were 144 work-related fatalities in Britain during 2017-18, an increase from 135 fatalities in the previous year, reported the Health and Safety Executive (HSE) last week.

 

 

BISON GROWS AS HIGH-END DEMAND INCREASES

Leading window and door manufacturer Bison Frames has doubled the size of its production facility, to keep pace with demand for its popular Genesis Collection PVC-U and aluminium windows and doors.

Well-known throughout the industry for Genesis VS vertical sliders, more recently the Barnsley-based fabricator has used its knowledge and experience of specialist window fabrication

 

 

Flush Sash Window

Seamless style and an uninterrupted view

- with the new, slimmer sightline FlushSash from VEKA Group

VEKA Group has further enhanced the company's popular FlushSash

 
Coloured Doors

Distinction Doors in any colour!

Distinction Doors, the UK's leading composite door supplier, now offers any colour across their entire composite door ranges, both internally

 

 

Rapierstar breaks dispatch record with first £100k day

Door and window fastener specialist Rapierstar has passed another major milestone on its path to record growth, by exceeding more than £100,000 of dispatches in a single day for the first time.

David Furness, group managing director says: "When you consider the tiny unit price of a screw

 

 

Corgi Fenestration

FIRST END-TO-END CORGI FENESTRATION SUPPLY CHAIN

With the registration of installer Heathfield Windows, the first end-to-end glazing supply chain has become CORGI Fenestration

 
New Homes Ombudsman

Housebuilders must belong to New Homes Ombudsman, say Parliamentarians

A cross-party group of Parliamentarians has set out proposals for a New Homes Ombudsman to help provide better redress for dissatisfied home buyers.

 

 

Independent Network celebrates with Chris Kamara!

More than 240 delegates from Independent Network companies across the UK came together at the organisation's 'Best of British' themed members' weekend in Warwick.

The event kicked off with a specially built Business Centre, where attendees could chat to I.N's affiliate partners and learn more about the opportunities for members to gain favourable rates and unique services thanks to their I.N. membership.

In the afternoon, Finance Director Graham Fitton welcomed members, reviewed the financial results for 2017 and conducted the official AGM business before Sales Director Neil Evans discussed recent market developments and expectations for the year ahead.

Marketing Director Dawn Stockell highlighted the increase in I.N. brand awareness and leads over the past

 

 

Construction Low

Construction struggles continue as new work dips to a five year low

The value of new construction contracts in May reached £4.5 billion, a decrease of almost ten per cent compared to

April and the lowest amount for over five years. The two largest sectors in construction; residential and infrastructure, both saw a decline as the industry continues its slump this year so far.

The latest edition of the Economic & Construction Market Review from industry analysts Barbour ABI highlights levels of construction contract values awarded across Great Britain. The largest project by

 
Metalwork Machinery

Notching, grinding and welding with Andy Robinson Race Cars, and FEIN UK

We recently met with Andy Robinson whose business fabricates and builds racing, off-road/rally, touring and hot rod cars from scratch, using a wide array of metal machines to do so. Here we talk you

 

 

Distinction's nxt-gen door proves popular for APC Panels

Fabrication door specialists, APC Panels Ltd introduced Distinction Doors nxt-gen composite door range into their portfolio last year and have been delighted by the results. Hugh Jones, Director of South Wales-based APC Panels said: "We added the nxt-gen door to our product portfolio following its launch and it has further enhanced our already impressive range of door products.

 

 

Consumer Rights Act

Knowing the rights consumers have when providing a home improvement or maintenance service

At West Yorkshire Trading Standards we have identified a worrying trend in the number of consumer complaints relating to

 
Colour

Lazy, hazy summer greys

A 'grey outlook' might not sound like the most appealing summer view, but – if you're in the home improvement market – VEKA Group

 

 

Roger Hartshorn announces Liniar leaving date

Roger Hartshorn, the creator and driving force behind two of the UK's biggest PVCu systems houses, has announced that he will be leaving his role at Liniar later this year in order to spend more time on other personal and business interests.

 

 

Colour

More colours stocked from Modplan

Leading VEKA trade fabricator Modplan has just announced more colours from its

 
| | | |
| --- | --- | --- |
| | 0780 505 1322 | |