15th November 2018
TITON'S FRICTION HINGES AWARDED 'SECURED BY DESIGN' STATUS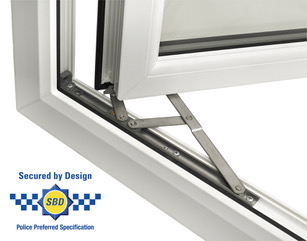 Titon's Venture and Adventure friction hinges have attained Secured by Design (SBD) certification, adding to the company's range of 'Police Preferred Specification' products. Both types of hinge have been developed by the experienced window fittings team in Titon's 'AREA 24' hardware development and testing laboratory, with all dimensions and opening geometries calculated and designed to fit the most commonly used window profiles.
Commenting on the products being awarded SBD status, Tyson Anderson, Sales & Marketing Director at Titon, said: "Obtaining Secured by Design approval for our Venture and Adventure friction hinges is an outstanding achievement. This further demonstrates our commitment to producing....
Secured by Design

Modplan's Secured by Design-accredited range extended

Leading VEKA trade fabricator Modplan has just announced its Secured by Design-accredited range has grown by over a third and the certification all...

 

 

1 ST AND 2 ND PLACE HONOURS FOR QUICKSLIDE IN NFA AWARDS

Weeks of anticipation were finally over when Quickslide were announced as winners of the National Fenestration Awards' Vertical Sliding Window Company category on 2 nd November. The NFA's Winners Week commenced on Monday 29 th October and was filled with surprises...

 

 

Flushsash Windows

As tech arrives, Aztec offers more mechanical joints

Long-standing Halo fabricator Aztec Windows (Coventry) Ltd has invested in new machinery to meet greater customer demand for mechanically jointed frames.

 
Recycled Solution

Grosvenor provides complete recycled solution for Macclesfield HA

Long-standing VEKA fabricator Grosvenor Windows has removed, recycled and replaced 160 windows for a respected Macclesfield housing association.

Working with VEKA and VEKA Recycling, Grosvenor was not only able to recycle the old frames, but also install high quality recycled VEKA systems into Arcon's Fir Court development.

 

 

SAINT-GOBAIN BUILDING GLASS CELEBRATES SECOND WIN YOUR WINDOWS BACK COMPETITION WINNER

A couple from Bognor Regis have become the second winners of the Win Your Windows Back competition from Saint-Gobain Building Glass, winning over £6,000 to cover the cost of their new Planitherm windows.

After spending £6256.20 replacing all the upstairs windows of their home, as well as glass in their front and back doors, with Planitherm Energy Standard glass, the couple were encouraged to enter by local Planitherm installation company, Wayne Windows.

The couple commented: "When we chose who to have for our windows I wanted a company that fitted the best materials and the fitting to be carried out by a...

 

 

Planning and Conservation

NEW PLANNING AND CONSERVATION GUIDE FROM THE RESIDENCE COLLECTION

A new and detailed Planning and Conservation Guide has been published by The Residence Collection for trade partners, installers, architects, planners and homeowners, covering all aspects of timber casement alternative window design and specification.

The new 12-page guide is available as a download from...

 
Consumer Brochure

IT'S ALL SQUARED FOR THE RESIDENCE COLLECTION

With demand for contemporary living high on the style agenda for consumers, R 2 from The Residence Collection is enjoying an increase in demand and has been supported by the launch of a new, premium 20-page consumer brochure.

R 2 shares the same front to back dimensions of R9, but instead of...

 

 

VEKA continues to offer a safe pair of hands, when the industry needs it most

As we see more and more companies struggling and subsequently closing their doors, in today\'s challenging economic climate, VEKA Group has reaffirmed its position as a stable systems company that continues to prepare for growth.

Sales Director Neil Evans explains: "It\'s been saddening to hear of companies ceasing to trade in recent weeks, not only within our industry. The fenestration sector as a whole has been facing a relatively flat market but I\'m proud to say that VEKA Group...

 

 

Outlet Expansion

Further Expansion for the Conservatory Outlet Network

Styleglaze Installations Ltd (Daventry), has become the latest addition to the Conservatory Outlet Network of retailers - the second installation company to move to the leading fabricator so...

 
Acoustic Vents

TITON ACOUSTIC VENTS SET THE TONE FOR FAIRVIEW HOMES IN LONDON

Over 2,000 SF Sound Attenuator (SFSA) Xtra 2500EA vents and canopies from Titon have been installed throughout a variety of Fairview New Homes' newly built houses and apartments in Greater London...

 

 

Changes at the helm at Exlabesa Building Systems

Exlabesa Building Systems has announced the promotion of Paul Benn to General Manager. Paul joined the business back in 2015 and his promotion reflects what he has achieved during his time. In his new role, Paul will report to Director of Exlabesa Building Systems (Global), Paco Quinta.

Commenting on Paul's promotion, Derek Hodgson, former General Manager of Exlabesa Building Systems said: "Having been with the business for seven years, I had recently made a personal decision to take a step...

 

 

Ask for Ali

Senior offers more colour choices when you 'ask for Ali'

Leading manufacturer Senior Architectural Systems is bringing a splash of colour to homes across the UK as the company reports an increase in orders for its popular Ali FOLD aluminium doors and Ali VU aluminium windows in a variety of eye-catching powder-coated shades and finishes.

 
Sales Leadership Team

ERA'S OEM SALES TEAM NOW HEADED UP BY JOHN CHAMBERS

As part of its ongoing approach to putting the customer first, ERA's OEM area sales team is now headed up by John Chambers. With over forty years' experience in the industry, John will be a familiar face to many. Overseeing seven area managers, John is part of ERA's Sales Leadership Team.

ERA's commitment to Investors in People means a focus..

 

 

VEKA remembers with Tommy

A leading Burnley manufacturer is commemorating the centenary of the end of the 1914-1918 First World War, and supporting a number of charities, with the installation of a 'Tommy' silhouette from Artist Martin Barraud. Visitors to VEKA Group will find the six-foot aluminium soldier in pride of place next to the reception building.

VEKA Group MD Dave Jones explains: "'There But Not There' is the 2018 Armistice project for the charity Remembered. The charity's aims are threefold; to inspire communities to purchase and install silhouettes recognising these fallen soldiers, to educate people about their sacrifice, and to raise valuable funds to...

 

 

Manufacturer Of The Year

Conservatory Outlet Ltd Announced as Wakefield Manufacturer of the Year 2018

Leading UK fabricator, Conservatory Outlet Ltd, Wakefield has been recognised as 'Manufacturer of the Year 2018' at the Wakefield...

 
Ticking Time Bomb

Wage increases and underinvestment in automation a 'ticking time bomb' for UK window and glass industry

Promac Group has warned that heading into the new year, the UK window industry faces a perfect storm of wage inflation and declining availability of labour.

Figures published by the Office for National Statistics (ONS) in October, reveal...

 

 

1,000,000

This is the sales milestone reached earlier this year of the innovative and game changing trickle ventilator the Link Vent, launched by Glazpart in just 2016. Up to 1,000,000 windows have been fitted with the Link vents across the country. Reducing call backs, minimising negative feedback and maximising potential margins.

Homeowners love the smaller size and greater performance delivered by the product as it is less drafty when closed and there are fewer gaps to create those little whistles combined with complete control of the closure plate to allow just the right level of fresh air.

 

 

The Veka Difference

Clip-on cills and large outerframes - even more benefits that make the 'VEKA difference'

Alongside its newly unveiled laminated moulding offering, VEKA Group is also proud to offer clip-on cills and a new, Halo large outerframe option; some of the many benefits of choosing systems from VEKA Group.

 
Turf Moor Sleepout

Rain doesn't 'stop play' for Turf Moor Sleepout

A wet and windy October evening saw three VEKA Group Directors take part in the first ever charity Sleepout event held at Burnley FC's Turf Moor ground.

The event raised £28,000 (and counting) for the three charities involved; Burnley FC in the Community...

 

 

KÖMMERLING'S STRONGER SALES TEAM

profine UK have just finished putting together a new and experienced sales team to help push the KÖMMERLING brand further in the UK, with the promise of additional product and marketing investment over the next 12 months and beyond.

With new managing director Gareth Jones on board and Brian McDonald promoted to sales director, the new sales team have been tasked with nurturing existing business and bringing on new customers, something the latter task has already been achieved in just their first month together. The new team includes area sales managers Leigh Cooper for the north, Ian Smith – midlands and...

 

 

Half A Million

Mackenzie Glass investment tops half a million

Mackenzie Glass' investment programme has topped more than half a million pounds in less than a year including new laminate cutting capability, IT, fleet and processing equipment, plus the creation of new apprenticeship roles.

Global giant, NSG, sold its Pilkington Bristol business to Mackenzie Glass at the end of last year. Supplying more than one million square metres of flat glass a year with a turnover in excess of £5m, the deal saw assets and employees transferred with Mackenzie Glass also assuming...

 
Glass Safety Day

Workplace safety about much more than PPE and safe manual handling

Bohle has held its first Glass Safety Day, aimed at driving improved standards of health and safety plus employee wellbeing.

Coinciding with World Mental Health Day, mental well-being at work – and its potential pitfalls for employers – was explored by a series...

 

 

Eiffel Tower Bonanza!

Leading UK Fabricator, Conservatory Outlet, has celebrated its 6th Annual Gala Dinner in its most extravagant venue to date – none other than The Eiffel Tower.

With an exclusive invitation, the owners and directors of the close-knit Conservatory Outlet Network of retail partners, as well as their wives/husbands and partners, were treated priority entry to the tower, then to be greeted with the stunning private views from The Gustave Eiffel Salon.

Overlooking the striking backdrop of the city of Paris at sunset, guests were thanked for traveling to the city for this year's event, and a special mention given to those...

 

 

Quote Happy

Force 8 Can Now Quote You Very Happy

The new quote system from Force 8 now gives a full-scaled visual of your new door and frame including a complete breakdown of the specification. In the past, quotes have been based on the installer's drawings and measurements, and sometimes the product has not matched up, due to the limitations of the product and the size...

 
Kevlar Gloves

DuPont Announces Winners of the European 2018 DuPont™ Kevlar® Glove Innovation Awards

Recognizing Advances in Protective Gloves Made with DuPont™ Kevlar®

GENEVA, Oct. 29, 2018 – DuPont Safety & Construction (DuPont) announced the winners of its third annual DuPont™ Kevlar® Glove Innovation Awards...

 

 

Optimism about the future at UK Construction Week as flagship show puts industry in the spotlight

Confirming its position as the largest event for the UK construction industry, a record-breaking 34,000 industry professionals attended this year's UK Construction Week (UKCW). Built environment professionals from all parts of the industry came for new ideas and innovation, eager to explore new ways of working in a sector that is hungry to embrace the latest technology and products.

The 'Future of Construction', this year's theme, pervaded throughout the nine different shows within UKCW, and was brought to life through an innovation trail, 3D printing, AI, AR, numerous construction site simulators, and robotic technologies such as the Robocop-esque ExoSkeleton.

 

 

Curtain Walling

Kawneer systems are sitting on the dock of the bay

The manufacturer's curtain walling, windows and doors all feature at Bayscape.

The full range of architectural glazing systems from leading UK manufacturer Kawneer were specified for a stunning residential development at Cardiff marina because they are tried and tested products.

The Kawneer systems were selected for Phase One of Bayscape Ltd's £40 million mixed-use development, which has itself been shortlisted...

 
| | | |
| --- | --- | --- |
| | 0780 505 1322 | |