18th October 2018
Addressing the skills shortage: Avantek Machinery takes the lead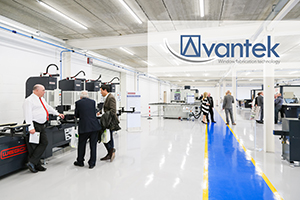 It's a common theme throughout the industry – there just aren't enough young people learning a skilled trade, which will have a major impact on us all in years to come. Recruitment is already difficult and employment costs are rising across the sector.
Innovative machinery company Avantek is helping to address this, both internally and for fabricators – with two very different focuses!
Managing Director Nigel Bishop explains:
"Our company and wider group has always had a history of apprentices – so when the Apprenticeship Levy was introduced earlier this year we saw it as a great opportunity to recruit even more young people.....
G18 Awards!

VBH delighted to reach G18 shortlist

Leading hardware supplier VBH (GB) has been shortlisted for 'Component Supplier of the Year' at the prestigious G18 Awards.

The awards attract a large number of entries of a very high standard and the competition...

 

 

Next stop – library!

VEKA helps local school start new chapter

Industry-leading PVC-U systems supplier VEKA Group, has transformed a double decker bus into an inspirational reading space for a local primary school, after it won thousands of online votes.

Children at Whittlefield Primary School were delighted to get a first look inside their new school library when it was officially opened by the Mayor of Burnley; who is also a former pupil of the school!

 

 

Obituary

Heinrich Laumann obituary

The founding father of VEKA AG, Heinrich Laumann, has passed away aged 89.

With his death, VEKA MD Dave Jones believes the window industry has lost one of its most distinguished entrepreneurs of the last 50 years.

Dave explains: "I was moved to hear of the passing of...

 
Pet Project

What a feline! Everglade builds 26 VEKA \'cat pens\' for charity

VEKA Group fabricator and installer Everglade of Wythenshawe has completed a \\'pet project\\' of building and fitting almost 30 PVC-U profile cat pens at the Society for Abandoned Animals (SAA).

Sharston-based Everglade was asked...

 

 

FORE! Hundred pounds raised for charity at IN golf tournament

Independent Network (powered by VEKA) has hosted another fantastic golf tournament, giving members the chance to have fun, speak to other like-minded fabricators and installers, catch up with the IN team and raise some money for charity in the process.

VEKA Group's Head of Partner Programmes Karen Lund explains: "Here at Independent Network, we know that meetings don't need to be held in the board room to be...

 

 

Flush Sash Windows

Listers and VEKA, flush with success!

Every partnership is built on two things; trust and respect and after working together for 14 years, VEKA and Listers have developed the perfect relationship.

 
Laminated Mouldings

The complete package; laminated mouldings delivered direct from VEKA

Industry-leading systems supplier VEKA Group has added another string to its bow, for the benefit of fabricators and installers. The Burnley-based PVC-U giant now offers perfectly colour-matched laminated mouldings.

 

 

Trade Frames Become Part of the Selecta Family!

Somerset based trade window and door supplier, Trade Frames, have announced that they have started fabricating the Advance 70 Window and Door System and become part of the Selecta 'family'. Managing Director, Keith Matthews, and General Manager, Paul French, explain the reasons behind the move, future partnership plans and the enthusiasm to join the independently owned and fastest growing PVCu systems company.

With 30 years of trading under our belt, Trade Frames have grown in size and prominence over the years to become one of the South West's leading...

 

 

G18 Awards!

VEKA nominations shortlisted on the double

VEKA Group is proud to have been shortlisted in not one, but two categories at this year's G Awards.

The G18 Awards will take place at Park Lane's London Hilton in November and will see VEKA among those named in the 'Promotional Campaign of the Year' and 'Training and Development Initiative of...

 
Solid Tiled Roofs

Continued growth at LEKA Systems

Roof innovators, LEKA Systems have reported an impressive 100% upturn in sales of its roofing products. This upturn is driven by demand for the company's LEKA Warm Roof and LEKA Orangery roof products. Rhys Hoddinott...

 

 

Charity work? VEKA Directors do it in their sleep!

Three VEKA Group Directors will be ditching their duvets and buttoning up their winter coats for a chilly overnight stay at Burnley FC's Turf Moor this October.

The Turf Moor Sleep Out event has been planned to heighten awareness of Homelessness in the local area and raise money for three charities: Burnley FC in the Community, Emmaus, and SafeNet Domestic Abuse Service for Jane's Place Women's Refuge.

 

 

Glasstec

HEGLA presents forward thinking solutions at Glasstec

The HEGLA Group, HEGLA-HANIC and HEGLA boraident will all be exhibiting together jointly at glasstec trade fair in Düsseldorf. Visitors to Stand A56 in Hall 14, will be able to discover new technology...

 
Sash Windows

BARKING TOWN HALL - OLD MEETS NEW IN A SPECTACULAR REFURBISHMENT

Barking Town Hall, an iconic building and landmark in Barking has been lovingly refurbished.

Externally, all visual aspects of the original architecture have been maintained whilst creating a...

 

 

Aspiring ironmongers receive globally recognised door hardware qualification

The next generation of architectural ironmongers is celebrating its Guild of Architectural Ironmongers (GAI) education results.

Exams were sat in 23 different countries by 355 learners. So far, 102 students have attained the Certificate in Architectural Hardware and 32 students have now completed the GAI Diploma this year...

 

 

Letter to the Editor

LETTER TO THE EDITOR FROM OLIVER BURGESS, SUPPLY CHAIN DIRECTOR, MILA

Dear Chris

There are less than six months to go now until the UK officially leaves the EU at 11pm on 29th March 2019.

While we still don't have any clear indication...

 
Tool Theft

Half of builders are victims of tool theft, new FMB research reveals

Tool theft is plaguing the construction industry with more than half of builders in the UK having had their tools stolen, according to new research by the Federation of Master Builders (FMB).

The key results into the FMB's research into tool theft are as follows:

More than half (51%) of UK builders have...

 

 

Book now for Bristol CIMCIG Immersive Marketing seminar

CIMCIG's latest seminar, on Immersive Marketing in construction, is being held on Tuesday 30 th October at Bristol Business School, University of the West of England in Bristol. The morning workshop (9am-11am) is organised by the Chartered Institute of Marketing's Construction Industry Group (CIMCIG) and features presentations from three speakers, all experts in Augmented and Virtual Reality: Graeme Lipschitz, Will Humphrey and Mark Miles.

Graeme Lipschitz is co-founder of Wonderland Creative and has been at the helm of over 50 projects focusing on construction marketing, using new technology and customer-led strategy. Sugar Creative Studio's Will Humphrey specialises in digital branding and...

 

 

Gate Safety

Leading independent authority on gate safety, DHF, calls for improved compliance ahead of 'Gate Safety Week'.

On the eve of its fifth 'Gate Safety Week' initiative, Tamworth-based trade association, the Door & Hardware Federation, (DHF) is calling for continued commitment to improving industry compliance with regards to automated gate safety...

 
Construction Role Model

Role model of the year announced at UK Construction Week

Breaking down barriers in construction, Arleta Andreasik-Paton, an engineering project manager at Aecom, has been awarded Role Model of the Year at UK Construction Week (UKCW).

 

 

DOUBLE SHORTLIST FOR QUICKSLIDE IN NATIONAL AWARDS

Yorkshire based firm Quickslide has been shortlisted in two categories as part of the prestigious industry celebration of glazing, the National Fenestration Awards.

There are just under four weeks to go until the awards - now in their fifth year - announce the winners of this years' competition. Quickslide have been nominated in Vertical Sliding Window Company of the Year and Sliding Patio Door Company of the Year categories, both of which are new for 2018.

Quickslide Chairman Adrian Barraclough said:

"To be recognised within your industry, by your industry for exceptional service and standards is, in itself, a huge compliment. Discovering that...

 

 

Mates in Mind

Welcoming developments to Britain's mental health culture but still striving to do better and make a change

Today Britain's first Minister for Mental health, Inequalities and Suicide Prevention Mrs Doyle-Price was appointed ready for World Mental Health Day 2018. Mates in Mind welcomes this significant step in prioritising the nation's mental wellbeing.

In recent years, a conversation about...

 
Health & Safety Merit

Newly joined member of the Federation, Slimline Glazing Systems Ltd, has attained Bronze

The Glass and Glazing Federation (GGF) is pleased to announce that a newly joined Member of the Federation, Slimline Glazing Systems Ltd, has attained Bronze Level 2 in the GLASS Charter Merit Scheme.

 

 

Bison Frames Launches The Full WarmCore Range

Bison Frames is well known for its high-end manufacturing methods on PVC-U windows with a long-established reputation for vertical sliders, but the company is pleased to announce that it is also growing its aluminium division with the addition of WarmCore patio doors to its existing range of WarmCore windows and bi-folding doors.

Mark Tetley, Director of Bison explains: "We're extending our WarmCore range of products because there is an increasing demand for high-end windows and doors. As with the rest of our Genesis Collection range...

 

 

Gold Award!

THE WINDOW COMPANY (CONTRACTS) LTD GAINS FIRST EVER GOLD IN GLASS CHARTER

The Window Company (Contracts) Ltd has become the first ever GGF Member to achieve a Gold rating in the GGF GLASS Charter Merit Scheme, taking a giant leap into the health and safety record books.

 
FENSA Road Shows

FENSA ROADSHOWS HEAD NORTH WEST

After a successful week in the South West, FENSA is bringing its free and information-packed Roadshows to the North West of England in October and November.

 

 

Safe Cleaner

The RENOLIT EXOFOL Professional Cleaner helps against stubborn dirt.

Cramlington, 01 September 2018 – A new professional cleaner has been launched for use on profiles laminated with RENOLIT EXOFOL Exterior films. Construction dirt, adhesive residue, and stubborn marks

can all quickly contribute to extensive contamination. Whereas homeowners are recommended that warm soapy water and a soft sponge is usually all that is needed to keep window frames looking pristine, after fabrication or installation additional support...

 

 

Stay Connected

Stay Connected with Selecta

As a business, it's become imperative to make use of the available advancements in online technology and stay in touch with digital innovations and developments. However, it's just as significant not to lose the warmth that the personal touch brings and become a faceless, impersonal and almost robotic business.

 
| | | |
| --- | --- | --- |
| | 0780 505 1322 | |