4th April 2019
Freefoam's product range and service underpin relationship with Mac Home Improvements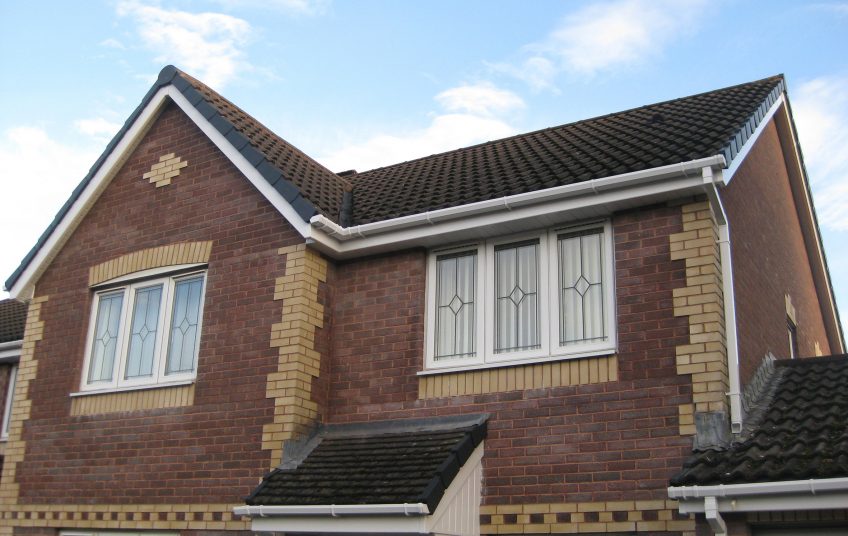 Established in 1998 and installing PVC-UE roofline across South Wales, Mac Home Improvements, the leading roofline specialist in South Wales, provides professional installation of fascias, soffits, guttering and cladding. The company has used Freefoam exclusively since 2007.
Catherine Bressington, Director of Mac Home Improvements, says: "We use Freefoam's full range of fascias, soffits, guttering and cladding – there's no-one else we'd rather use. When our previous supplier stopped selling Freefoam we moved to another supplier, as our relationship with Freefoam is so positive. They offer great service and products in a wide range of colours and understand the domestic market very....
Apprenticeships

Aventek Adds One To The Team

Vital to keeping the lifeblood of the fenestration industry pumping, fresh minds, young people and new ideas need to be recruited. One of Avantek Machinery's operational priorities is to bring in young people with fresh eyes and talent for working with specialised window fabrication...

 

 

A WINDOW TO THE FUTURE Cairngorm Group invests in new Sawing & Machining Centre with help from Ignition

The Cairngorm Group in Inverness is a collective of specialist businesses manufacturing and supplying energy performance windows, doors, conservatories and kitchens across the UK and beyond. Operating since 1953, the company has seen substantial growth and regularly updates its equipment to stay at the cutting-edge of the industry.

 

 

Machinery

More Haffner Murat machines installed at Just Trade Windows

The team at Just Trade Windows have been so delighted with the quality and reliability of Haffner Murat machinery that the company has invested in a further three new machines.

 
3D Window

Print's Charming Another UK first for VEKA Group – with 3D printed window

VEKA Group has produced what is believed to be the UK's very first fully operational 3D-printed window.

The industry-leading...

 

 

Highly Commended

Conservatory Outlet Ltd has been recognised as 'Highly Commended' in the category of Manufacturer of The Year (under £25m) at the high profile Made in Yorkshire Awards 2019. Hosted annually by the Yorkshire Business Insider, the awards are designed to recognise and celebrate excellence in manufacturing amongst the region's business community.

Top manufacturers from across Yorkshire were honoured at the ceremony at the Hilton City Hotel in Leeds on 7th March 2019, with well-known names from a host of industry sectors amongst the winners at the event.

Conservatory Outlet was awarded the 'Highly Commended' certificate by judges for the way in which...

 

 

Homeowner Website

All new website INspires and INforms

Independent Network has unveiled an inspiring new website making it even easier for homeowners to find information and connect with their local member.

VEKA Group's Head of Partner Programmes Karen Lund explains: "We're really excited to launch the new website which I, personally, believe will set a new standard for the industry. A huge amount of hard work has gone into...

 
Sponsorship Deal

PROFINE BECOMES RECORD MAIN SPONSOR OF 1. FSV MAINZ 05

Profine Group, with its KÖMMERLING brand have already been a sponsorship partner for five years of Bundesliga football club 1. FSV Mainz 05 and since 2015 as the shirt sponsor of the team. Now they have extended this commitment for another four years until 2023.

The contract had originally run until...

 

 

Even more INvestment for membership

Independent Network has collaborated with two of the UK's favourite magazines, for the benefit of member companies across the country.

A joined-up marketing campaign has been built across House Beautiful and Sainsbury's Magazines, which have a combined average monthly circulation of 594,994, not to mention an impressive online following. The campaign has been designed to utilise a combination of online and offline elements to best effect. Full page press ads and an eye-catching insert are supported by social media posts, an incredible digital advent calendar that ran alongside the Sainsbury's adverts, and interactive online adverts that link directly to the IN...

 

 

GGF Presidents Day

SPECIAL EVENING FOR THE GGF

It was a memorable and enjoyable occasion as the good and the great of the industry attended the Glass and Glazing Federation (GGF) President's Reception on the 26TH March at Blackfriars in London.

GGF Members from over 20 different sectors were joined by GGF senior management and guests from the fields of politics, IT, media and related...

 
Modular Buildings

Top three benefits of modular builds

Whether you love or loath IKEA, there is no denying the thrill of picking out furniture and seeing it in your home on the same day. More and more house builders are now taking a leaf out of Ikea's book with housing estates being constructed using modular build practices.

While modular builds...

 

 

VEKA Group named Manufacturing Company of the Year

Industry-leading PVC-U systems supplier VEKA Group has been crowned the best Manufacturing Company in the region, with the team collecting a custom-made trophy in front of more than 1,000 of their business peers at the prestigious Red Rose Awards 2019.

The Red Rose Awards, organised by Lancashire Business View magazine, are held in Blackpool's iconic...

 

 

Self Build

Researching the Self-Build Process

Thanks to aspirational TV programmes like Grand Designs, it's no surprise that 1 in 7 Brits are currently researching the self-build process.

 
Construction Drop

Brexit uncertainty causes another drop in construction output, warns FMB

The Government and Parliament must break the Brexit deadlock and find a way forward warns the Federation of Master Builder (FMB), in response to the latest Construction PMI data, which shows another drop in construction output.

 

 

Liniar Gives Back

Part of the culture at Liniar is being active in the local community. Whether it\\'s supporting employees as they jump from an airplane or run a marathon for charity, sponsoring local football clubs or donating toys for children during the holiday season, Liniar's trading company HL Plastics is always helping those less fortunate in the East Midlands and beyond.

This March, HLP's Training Co-ordinator Paula Wright was contacted by CT Skills, Liniar\\'s biggest supplier for apprenticeships and training.

 

 

Poythene Films

New technique to make transparent polythene films as strong as aluminium that could be used in impact resistant glazing, windscreens, and displays

Research led by Professor Ton Peijs of WMG at the University of Warwick and Professor Cees Bastiaansen at Queen Mary University of London, has devised a processing technique...

 
Charity News

Adrian Lewis Takes On The GM Fundraising Challenge

When a space became available on the upcoming 'From Russia With Hope' cycling challenge, taking place in June this year, GM Fundraising turned to the fenestration media for help in recruiting someone to take up the challenge. As a result, Adrian Lewis, Owner & Managing Director of Frames Conservatories Direct in Bury St Edmunds has stepped forward to take up the challenge.

 

 

Fastener focus offers complete supply chain assurance for Stevenswood customers

Trade customers of Stevenswood are benefiting from assured fastener quality in both the manufacture and installation of windows and doors thanks to a total supply chain partnership with Rapierstar.

Having supplied a wide range of its high performance StarPVCU® screws to Stevenswood's window and door manufacturing operation Polyframe for more than three years, Rapierstar is now supplying its StarFix® range of plug-free masonry screws and StarTurn® universal timber screws to the company's rapidly expanding network of trade counters. This gives Stevenswood customers complete assurance that only superior quality fasteners are used in the manufacture of the windows and doors supplied...

 

 

Apprenticeships

Apprenticeship Levy is exacerbating construction skills shortage, says FMB

The Apprenticeship Levy is exacerbating the construction skills shortage and must be reformed urgently, according to the Federation of Master Builders (FMB).

The latest statistics released by the Department for Education show that the number of new construction apprenticeship starts for January 2019 has fallen to 950 compared with 1,216 the previous year. In particular, the number of starts for Level 2 apprenticeships, that is equivalent to GCSE...

 
Rewards Scheme

VELUX® GIVES £40 SPRING BOOST TO REWARDS SCHEME - £40 rewards up for grabs with top retailers and restaurants for every VELUX white painted roof window purchased -

Installers, builders and homeowners across the UK and Ireland are being offered an extra boost this Spring, courtesy of roof window manufacturer VELUX®.

Launched in 2015, VELUX Rewards allow customers to earn rewards all year round every time they buy a VELUX roof...

 

 

Celuform launches new product overview

Celuform, the UK's first manufacturer of PVC-UE roofline products, has launched a new product overview for specifiers.

Following a major overhaul of the brand, the 28-page product overview illustrates the complete range of fascias, cladding, soffits and window line trims, with added technical and product details.

Known for exceptional high standards and longevity, Celuform was launched almost 47 years ago, to offer weather-resistant, low-maintenance alternatives to timber for the specification market.

Celuform's national specification manager Keith Hart explained: "Celuform is regarded as a pedigree...

 

 

Bring steel windows and doors into the kitchen

Open plan kitchens are hugely popular as they allow more natural light into the space. However, there\'s a lot to be said for separate spaces, so the development of broken plan kitchens arrived. Steel windows incorporate the best of both worlds with internal partitions to break up the space, as well as external windows that maximise the area for light to enter the kitchen.

External steel windows can be amalgamated into kitchen extensions as a replacement for exterior walls. This is a perfect way to bring light into the home and create the illusion of a larger room, blending the indoors...

 
FIT Show

ALUK REVEALS C70S AT FIT – WITH PRE-INSERTED GASKETS

AluK will be revealing a brand new 70mm window system at the FIT Show – complete with pre-inserted gaskets.

This is thought to be the first time that an aluminium window system has been available in the UK with the gaskets pre-inserted – a move with AluK estimates could halve the time it takes customers to manufacture a window.

 

 

CICAIR LAUNCHES NEW WEBSITE

CICAIR Limited, the body designated by the Secretary of State in England and Welsh Ministers in Wales to maintain and operate the Approved Inspectors Register has launched a fresh, new website at https://cicair.org.uk.

The completely redesigned website features a clean and intuitive user experience, improved functionality and enriched content areas to help Approved Inspectors, and the clients who wish to engage their services, find the information and guidance that they need easily.

The new website has been optimised for desktop and mobile devices so content can be accessed at home, in the office, on site or on the move.

 

 

Installations

Amber Home Improvements Blend with Costa Coffee

Leading Norfolk installer Amber Home Improvements has blended with British multinational coffeehouse - Costa Coffee for the high-profile installation of a maximum comfort conservatory for their Meadow Centre branch in Stowmarket.

The company, which is part of the Conservatory Outlet Network of retailers, was approached by...

 
FIT Show

ISO-CHEMIE ANNOUNCES NEW PARTNERSHIP AT FIT SHOW

Foam tape sealant specialist ISO-CHEMIE stand (N35) will be marking 10 years in the UK at the FIT Show 2019 with plans for an 'exciting' new partnership and displays of high-performance airtightness and energy efficiency solutions for windows and doors.

 

 

THE PERFECT GARAGE DOOR

With the market awash with a never-ending range of products, choosing the perfect garage door for your home can be overwhelming. In addition, in recent years, garages have evolved from a place to park a vehicle to an 'extra space' for the family, with many now used as areas for storage, work or exercise. Together with this change of use, has been the transformation of garage doors themselves. Originally constructed from wood, today's garage doors are widely available in a vast array of materials such as aluminium, fibreglass, steel and composite. Further considerations such as colour, insulation requirements and specification...

 

 

Height Safety

STAYING ALIVE: WHILST WORKING AT HEIGHT

On Tuesday 26th February the All-Party Parliamentary Group on Working at Height published its report into serious injuries and fatalities of employees whilst working at height. The Group took verbal and written evidence and the Glass and Glazing Federation (GGF) played its part in this Consultation. The Report revealed some stark figures showing that the UK has 0.55 fatalities per 100,000 employees.

 
| | | |
| --- | --- | --- |
| | 0780 505 1322 | |