22nd August 2019
NEW INLINE ARCHITECTURAL WINDOW HANDLE NOW AVAILABLE FROM ERA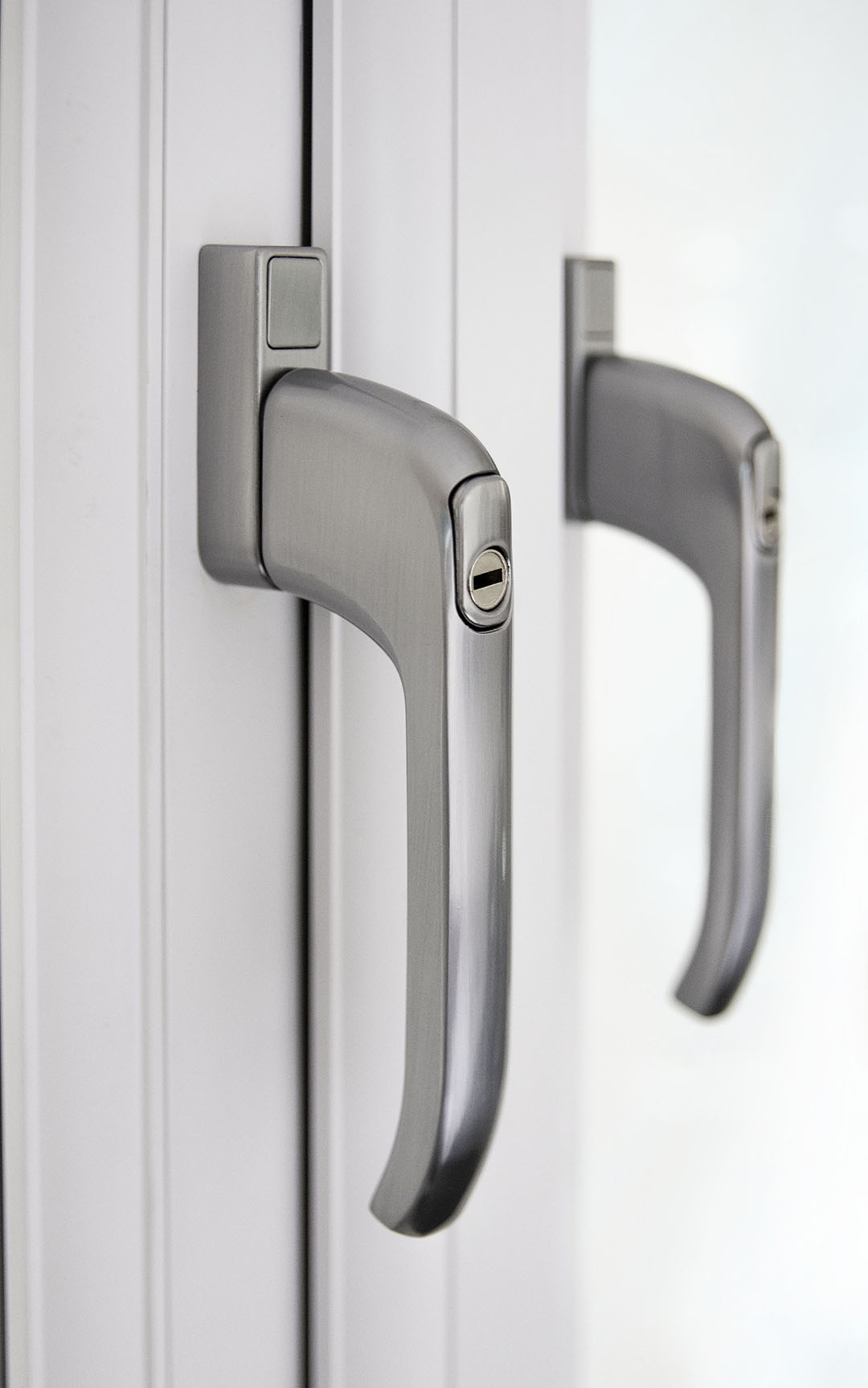 ERA, the security expert, now has available an inline architectural window handle for casement windows. Forming part of ERA's Fab&Fix range of perfectly matching hardware, the new handle is suited to the Architectural Range of door and window furniture. With a contemporary, squared off shape, the new long-length handle is particularly ideal for high-end applications in modern settings such as upmarket apartments and commercial buildings.
The handle has a solid diecast construction, making it heavyweight with a sturdy feel. It features an ergonomically designed flush button and heavy duty sprung latching wedge, ensuring a positive click on closing.
Composite Doors

ODL Europe's in-house door prepping facility proves popular for customers

Following a six-figure investment at their Bootle Manufacturing plant, ODL Europe opened their new in-house composite door prepping service earlier this year. The bespoke door prepping service has proved to be popular addition to their growing customer base due to the company's flexible approach. Nathan Barr, ODL Europe's Managing Director, explains...

 

 

Creative upcycling with VEKA UK Group

Industry-leading PVCu systems supplier VEKA UK Group has been helping students at a local Sixth Form get 'hands on' with creative engineering.

Mark Jones and Ben Kenny from VEKA UK Group's maintenance department have been assisting with the Thomas Whitham Sixth Form STEM project which saw students recycle bicycles into a range of creative new items.

'Renovate-Innovate-Create' were the aims of the four-day programme where students were tasked with dismantling a bicycle and documenting the process before re-building it back to working order. They were then able to dismantle it once again and work with the VEKA UK Group team for a...

 

 

Composite Doors

RESIDENCE IS BACKING PANEL DOOR PERFORMANCE

With the launch of Residence Doors at the FIT Show and true to form, The Residence Collection are embracing bespoke and hand-crafted entrance door manufacturing by using existing sash and bead profiles, coupled with a performance door panel in either 28 or 44mm.

This means that existing manufacturers...

 
Children\'s Charity

£5000 for children's charity

VEKA UK Group presents cheque to Child Action North West

Industry-leading PVCu profile manufacturer VEKA UK Group has donated £5000 to support children across the North West.

The company presented the cheque to Child...

 

 

Alimatic Architectural Aluminium Systems turns to Haffner Murat to improve manufacturing efficiencies

Alimatic Architectural Aluminium Systems, a successful and growing commercial aluminium fabricator in Braintree, Essex, has just invested in a new Spring S4 4 Axis Machining Centre, a TT405 Double Mitre Saw and a HP114 Corner Crimping Machine from Haffner Murat.

Sean Folley, Director at Alimatic said: "We're a commercial fabricator so product quality and manufacturing efficiency are fundamental to our continued success. As we continue to grow, we needed to invest in further high-quality fabrication machinery to maintain the quality and turnaround time we're known for. We turned to Haffner Murat as their machines offer excellent value and are made to...

 

 

Scottish Installers

More VEKA options for Scottish installers

Andrew Wright Windows, a long-standing VEKA fabricator based in Irvine has adopted VEKA UK's M70 profile for the benefit of customers across Scotland.

Andrew Wright Windows added this popular bevelled system to the company's already extensive offering in order for trade customers to access the coveted profile from a local supplier.

 
New VAT Rules

Introduction of New VAT Rules to Target Fraud due in October 2019

Businesses which provide construction services are urged to make themselves aware of changes to the way VAT is charged prior to the introduction of reverse VAT charging later this year. Changes to VAT charging are being introduced in order to tackle the growing problem of VAT fraud in the construction industry. Tax preparation expert and director ofDSR Tax Claims Ltd, David Redfern, cautioned...

 

 

Sash UK completes the Imagine suite with Vertical Slider

Sash UK, based in Barnsley South Yorkshire and serving customers up and down the country, is proud to announce they are now fabricating VEKA UK's 'next generation' Imagine Vertical Slider.

The long established company decided to manufacture the VS allowing them to offer the full Imagine suite from VEKA UK, giving customers the many fabrication and installation benefits that come with the newly launched Imagine Vertical Slider.

John Riordan Managing Director explains: "Our customers already love the Imagine Patio Door and Imagine Bi-Fold Door System that we offer and when we saw all the benefits of the brand new Imagine Vertical Slider,...

 

 

Glass Recycling

Glass waste shows road to recycling waste

Thanks to scientists based in South Yorkshire and 27 European partners working together on a £9million project, glass is helping to build a new highway to sustainability.

Researchers at Glass Technology Services, and its sister company British Glass which represents the UK's £1.6bn glass manufacturing sector, are leading on the glass element of a project which aims to work...

 
Aluminium

Exlabesa Building Systems committed to UK manufacturing

Exlabesa Building Systems is one of the few UK aluminium system companies who extrude all their products in the UK. And with the uncertainty surrounding Brexit and the current economic climate, surely it makes sense to...

 

 

Interconnected and Complex: The PVCu Supply Chain

The UK fenestration industry is many things: innovative, welcoming, creative, friendly, hardworking – and offers a multitude of opportunities.

It can also be confusing and complex. The fenestration industry's inter-dependent supply chain can lead to a lack of understanding about the products themselves. Something as simple as a PVCu casement window can be involved with up to nine different companies on its way to being a finished product, thanks to specialised manufacturing processes – and the absolute reliance these companies have on each other can lead to delays and frustrations.

Paul Garforth, Liniar's Technical Director takes a look at the UK's fenestration...

 

 

Machinery

Phoenix Windows invests in a new SMR-4 welder from Haffner Murat

Phoenix Windows has invested in a new SMR-4 welder from leading machinery specialists Haffner Murat Ltd.

The SMR-4 welder has been marketed as the fastest and most accurate welder on the market today. So, when Phoenix Windows...

 
Aluminium

All for ali!

Leading fenestration systems manufacturer Senior Architectural Systems has welcomed more trade customers on board, as the aluminium revolution continues to take the domestic residential market by storm and more customers 'ask for ali'.

Offering a practical and stylish alternative to PVCu and timber systems, aluminium windows and doors have become a popular...

 

 

PiGsset to hog the limelight in Atlanta

In September 2013, a group of wild hogs hit the headlines when they terrorised an Atlanta suburb, leaving many residents afraid to leave their homes. Six years later, a bunch of not quite so feral PiGs will be descending on the American city, although this time the locals have no need to be afraid.

Due to popular demand, the People in Glazing Society's bonusevent will be held in tandem with GlassBuild America in Atlanta on Wednesday 18 September, and unlike the famous swine from years ago, it's doubtful that attendees will "eat people's trash and lounge around in their yards."

"I found...

 

 

New Window

SENIOR'S PURe® RANGE MOVES FORWARD WITH NEW PARALLEL PUSH WINDOW

Senior Architectural Systems has added further flexibility to its innovative PURe® range of ultra-low U-value aluminium windows with the development of a new parallel push option.

 
Composite Doots

Conservatory Outlet go Extreme with new Solid Core Door

Leading UK fabricator, Conservatory Outlet Ltd, has this week launched its ground-breaking new Solid Core Door Collection.

The team officially unveiled the Extreme Solid Core Door to its UK-wide network of retailers at a launch event in Clitheroe on Wednesday 3rd July.

The product has been heralded for its robust...

 

 

TITON REACHES NEW HEIGHTS IN GLASGOW HOTEL

Titon has supplied over 370 Sobinco Chrono aluminium tilt and turn window systems as part of the new Motel One project in Glasgow. Situated next to Glasgow Central Station at the junction of Oswald Street, Motel One Glasgow has 374 rooms spread over 13 floors, making it one of the largest – and tallest – in Scotland.

The new hotel was designed by Leach Rhodes Walker Architects and built by Ogilvie Construction, while the windows were fabricated by another Glasgow-based company, Marshall Brown Limited.

 

 

Aluminium Growth

ALUFAST expand with Exlabesa Building Systems

There is no better endorsement of a product's quality than if you're willing to use it in your own projects. Yorkshire's ALUFAST has been working with Exlabesa Building Products for over two years. When the time came to upgrade and expand their own premises, the team had no hesitation in specifying Exlabesa curtain walling for the project.

James of ALUFAST said: "Exlabesa's products really sell well. The quality and the price are at the right level for the market and we have attracted regular...

 
Awards

VEKA UK Group's Khaleel is Young Employee of the Year

VEKA UK Group's Trainee Operations Manager, Khaleel Mahmood, has been named joint winner of the Young Employee of the Year Award at the prestigious Burnley Business Awards 2019.

The trophy was presented in recognition of the valuable contribution Khaleel has made to the industry-leading PVCu systems supplier since he joined in 2017.

 

 

Yale sets the standard by upgrading to stainless steel

Yale has announced that it is upgrading to stainless steel on all of its multipoint lock faceplates as standard, providing new user features and benefits in terms of durability, aesthetics and reduced carbon footprint.

Stainless steel is instantly associated by the consumer with its anti-corrosion properties; is more durable in transportation and fabrication and is less susceptible to surface damage and corrosion, ensuring a longer lasting and sturdier locking solution.

Yale's shift to stainless steel supports the ASSA ABLOY group's sustainability initiatives, tackling industrial processes that are present and challenging throughout the hardware industry today.

The chemical process of plating has always created...

 

 

Energy Report

NEW REPORT HIGHLIGHTS GREATER ENERGY EFFICIENCY WINDOWS

As a new report calls for action to tackle energy inefficient homes in the UK, Andy Swift, sales and operations manager at Iso Chemie, says architects who adopt new approaches to sealing specification will improve the energy efficiency around window and door installations.

The Business, Energy and Industrial Strategy (BEIS) Select Committee's report*, Energy Efficiency: building towards net zero, which follows recommendations laid out in the 2018 National Infrastructure Assessment, stresses the importance of pushing more energy efficient buildings to...

 
New Appointment

Liniar Appoints New Design and Development Director From Within

More than 15 years ago, Chris Armes began his journey at Liniar as a young apprentice in the tool room. Chris learned quickly and having spent time in different departments decided his career path would be best focused on...

 

 

Modplan announces Leka Systems Open Days

Trade fabricator Modplan has just announced a series of Leka Systems Open Days. Modplan's International Sales and Marketing Director Justin Williams said: "The latest additions to the Leka Systems portfolio attracted a great deal of interest at FIT. The Modplan Open Days build on this interest. They are a fantastic opportunity to understand the products in more detail and speak to the Leka team and our experts."

The event will give installers more detail on the new Leka Xi, the Modular Conservatory Walls and Base System, which provides a warm, sustainable alternative to a traditional block/brick built conservatory base/wall. There will...

 

 

New Door Slab

ODL Europe's in-house door prepping facility proves popular for customers

Following a six-figure investment at their Bootle Manufacturing plant, ODL Europe opened their new in-house composite door prepping service earlier this year. The bespoke door prepping service has proved to be popular addition to their growing customer base due to the company's flexible approach. Nathan Barr, ODL Europe's Managing Director, explains...

 
Door Security

ULTION SMART HAS HOMEOWNER SECURITY AT ITS HEART

Brisant Secure has a long track record as a security company, that creates locks and handles which keep people safe. In Brisant's development of Ultion SMART, homeowner security was at the top of the wish list.

Ultion SMART has been developed in collaboration with Salto Systems. Their tried...

 

 

On the safe side, when it comes to Fire Doors

North East Panels, a proud trade supplier of high quality PVCu panels, PVCu internal doors, garage roller shutters doors and composite doors has put its fire door through extensive independent testing to ensure it achieves FD30 certification, demonstrating that the exceptional doors in its FD30 range meet all the relevant fire safety requirements for commercial and domestic use.

 

 

Fire Doors

West Port's fastener focus helps deliver assured fire door performance

Rapierstar's specialist technical support has played a key role in helping West Port to achieve high performing fire rated door-sets, by eliminating the risk...

 
| | | |
| --- | --- | --- |
| | 0780 505 1322 | |