21st February 2019
ABACUS AGENTS' LOYALTY TO FAB&FIX DECORATIVE HARDWARE
- Over Thirteen Years in Partnership with ERA -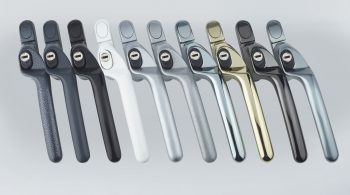 ERA, the security expert, is currently celebrating thirty years of heritage for its Fab&Fix range of decorative hardware. With three decades of real world testing and featuring truly matching products, it is no wonder that the brand has forged a durable loyalty with many fabricators and installers and their suppliers.
One such supplier is Abacus Agents, who offers a wide range of products to the glass, glazing, window and door industries. Abacus Agents has worked in close partnership with ERA for over thirteen years, distributing the Fab&Fix range to customers throughout Scotland from....
Glamping Windows

Pod Almighty

Homes-away-from-home, with only the best from M&M Windows

Independent Network member M&M Windows has secured an ongoing contract with a 'glamping pod' supplier based in Morecambe.

 

 

VEKA Group's core colour offering – laid out in black and white

Straight-talking PVC-U systems supplier VEKA Group has simplified its Variations colour offering, to make it even more useable, helpful, and easy to understand for customers.

95% of VEKA Group foil sales will now be from stock; 27 colour combinations across 14 colours, covering all products.

Working out ex-stock colour availability can be a confusing....

 

 

Fabricators Forum

VEKA Group makes a statement at The Fabricators' Forum

VEKA Group representatives took part in the inaugural Fabricators' Forum, hosted by the British Fenestration Rating Council (BFRC). The event, held at The Royal Berkshire Conference Centre, Reading, welcomed a...

 
Burglary Prevention

TIGER LOCKS PROVIDE SUPER SECURITY FOR NEW BUILD

Tiger Locks has secured 59 doors on an estate in West Yorkshire in just 9 days, after a spate of burglaries in the area, using Ultion.

The new build estate had been built with doors featuring basic cylinders that can be snapped in less than 10 seconds.

 

 

The science, the style, and the substance - behind VEKA Group's next generation Vertical Slider

Renowned PVC-U systems supplier VEKA Group has unveiled the industry's 'next generation' Vertical Slider.

Marketing Director Dawn Stockell explains: "We're thrilled to bring the Imagine Vertical Slider to market because we absolutely believe it is the most technically advanced Vertical Slider product out there, giving VEKA Group customers a real sales edge in an area of genuine industry growth.

 

 

Window Restrictor

Double the holding force of window restrictors, Cubelock's "Belt and Braces" solution

To tackle the problem that window restrictors may be inadequate in preventing a...

 
Windows Reborn

Windows 'Reborn' with Genesis Collection

Windows and doors in The Genesis Collection are 'reborn' thanks to Bison Trade Frames' extensive investment in R&D.

"We have expertly re-engineered existing systems to create the highest level of detailing and performance,"...

 

 

High Growth for the Highlands

Scottish Highlands home improvement company, ERG Scotland Ltd, has become the latest addition to the Conservatory Outlet Network of retailers.

 

 

Solid Roofing

There are no negatives with LEKA

Ecoglaze UK has worked with LEKA Systems for just over a year and in that time has been extremely impressed with the conservatory roof products. When asked what he considers the key benefit of LEKA roofs to be, Josh Whale...

 
Installer Support

Liniar launches online search facility

Over the last few years, the marketing team at Liniar has witnessed a marked increase in customer enquiries across all of its product ranges. Following increases of 150%...

 

 

Toolden and illbruck prove their firm bond at Scotland Build

Scotland Build, SEC Glasgow, 20 – 21 March 2019, Stand number C46

illbruck's proven and widely used range of professional sealants and adhesives has been developed to give the retailer, merchant and distributor the very best portfolio of technologically-advanced products demanded by the various trade markets today.

 

 

Commercial Project

Hitting New Heights with Liniar

When James Stuart, Technical Director for Abbey Windows (Thames Valley) Ltd, received the tender for a multi-storey student...

 
Fire Resistant Training

FIRE RESISTANT GLAZING TRAINING? BOOK NOW!

As part of the Glass and Glazing Federation (GGF) "Training the Industry" programme, all specialist glaziers and installers who work with fire resistant glazing systems are...

 

 

Appeal of Haffner Murat's SMR-5 welder shows no signs of slowing down

Since its launch, the SMR-5 welder from Haffner Murat has been an overnight success. Sales have continued to rise as more and more fabricators see how much it has to offer their production. Dave Thomas, Managing Director of Haffner Murat, said: "The SMR-5 welder is one of the fastest and most accurate welders on the market today, which is why we're seeing such strong sales."

It's easy to see why the SMR-5...

 

 

Fit Show

#COMEALONG TO KOMMERLING AT THE FIT SHOW

KÖMMERLING have just launched their #ComeAlong video and social media campaign for the FIT Show to encourage customers, fabricators, installers and business partners to visit them at the show in May this year at the NEC, Birmingham.

 
Door Range Expanded

Force 8's ever expanding door collection

Leading Manchester based fabrications company, Force 8 have made a great start to 2019 with their ever-expanding door collection.

Their industry leading door portfolio has introduced the Oslo, Bergen and Geneva doors to the exclusive...

 

 

Continued investment from Saveheat Group

Saveheat Group targets growth in the PVCu sector and invests £1M into its manufacturing facilities

In 2018 The Saveheat Group become the first company in Scotland to manufacture, timber, aluminium, PVCu and glass products for trade installers, commercial and construction industries.

 

 

Lock Lock Design Award

LOCK LOCK SECURES A GOOD DESIGN AWARD

The Lock Lock security handle that is part of the Sweet range of door furniture from Brisant Secure has just won an internationally acclaimed GOOD DESIGN® Award for 2018...

 
Walk on Roof Lights

TUFFX WALK ON ROOF LIGHTS ILLUMINATE RENOVATION PROJECT

It takes the right blend of old and new to elegantly renovate an historic, feature filled building, using modern materials. For Merseyside's toughened glass specialist TuffX...

 

 

Modplan's manufacturing expansion reflects its commitment to its customers

Leading trade VEKA fabricator Modplan has further expanded its production facility with the installation of a new 12,000 sqft mezzanine floor at its Newport, Gwent headquarters. The additional production space will be utilised for the manufacture of its LEKA roofing products and will allow Modplan to further improve its manufacturing efficiencies for this rapidly growing product range.

The latest expansion takes Modplan's total manufacturing space to 137,000 sqft. This expansion is testament to Modplan's continuing success and, in this case, the increase in demand for their LEKA roof products. Neil Gater, Modplan's Communications Manager, said: "We were the first fabricator to...

 

 

Composite Doors

HURST UNVEILS MAJOR REBRAND

Hurst has kicked-off the new year with a major re-brand to strengthen its position as a leading manufacturer of composite doors and PVC-U door panels. As part of the launch, the company has unveiled a bold new identity to capture its unique pedigree and appeal to a new generation of customers.

The move heralds the next exciting phase of development for Hurst as Marketing Manager Hayley Barker explains: "This launch marks the beginning of what will...

 
Trade Counters

Freefoam's 'five-star service' supports Northern Building Plastics

Northern Building Plastics Ltd (NBP), is a fast-growing independent stockist of maintenance-free PVC building materials covering England and Wales through two large supercentres in Leeds and Bolton. NBP has been a Freefoam supplier for over seven years, and has recently noticed a significant change in customer buying patterns, with a marked increase in...

 

 

Livingston building supplier to open 12 new trade centres across the UK

A Livingston-based supplier of windows and doors is set to open 12 new trade centres across the UK, in a move to create the UK's leading distribution company of its kind.

Stevenswood aims to grow turnover by £10million as it increases its geographic footprint and expands its range of products and services throughout the country.

The firm has seen significant growth since being acquired by Cairngorm Capital in November 2016 – merging with trade-suppliers Polyframe Trade Centres, Sameday Trade Frames and Truemans and organically adding five new trade centres to its portfolio in 2018.

By providing access to capital,...

 

 

Curtain Walling

Continued growth for Exlabesa's ECW 50 curtain walling system

Exlabesa Building Systems' ECW 50 curtain walling system continues to deliver on all levels with a 20% year of year growth being achieved. Paul Benn, Exlabesa Building Systems' General Manager, comments: "Our ECW-50 curtain walling system is recognised as...

 
Building Our Skills

Tracey Jackson Appointed has first Champion Supporter for Building Our Skills

With a shared passion and drive to help youngster choose Fenestration as a career of choice Tracey Jackson, Business Development Manager for Howells Patent Glazing Limited has become Building Our Skills campaign's first official Champion Supporter.

Tracey has been working with local colleges and enterprises in the West...

 

 

Building high-rise better - using ground-breaking design to realise the world's most inventive skyscrapers.

Tall buildings present unique challenges in terms of both design and construction. Their sheer scale demands that particular attention is paid simultaneously to strategic and detailed issues. Tall Buildings Conference is intended to assist engineers in understanding the common challenges associated with transferring standard engineering principles...

Conference speakers include:

Tony Palgrave, Project Director at Mace & John Parker, Director at WSP - The Shard: Innovations in Design and Construction. With a height of 310m, the Shard is the tallest building in Western Europe. The design and construction of the Shard incorporated numerous innovations that...

 

 

Brexit Uncertainty

Construction output rises despite Brexit uncertainty, says FMB

The Government must not be complacent about the damage a 'no deal' Brexit would cause amid positive signs of growth in the UK construction industry, says the Federation of Master Builders (FMB).

Commenting on the construction output figures for November 2018, published by the Office for National Statistics, Sarah McMonagle, Director of External Affairs at the FMB, said: "The UK construction sector grew by 2.1 per cent during September to November

 
| | | |
| --- | --- | --- |
| | 0780 505 1322 | |