13th June 2019
LEKA Xi Conservatory Base System is a huge hit at FIT 2019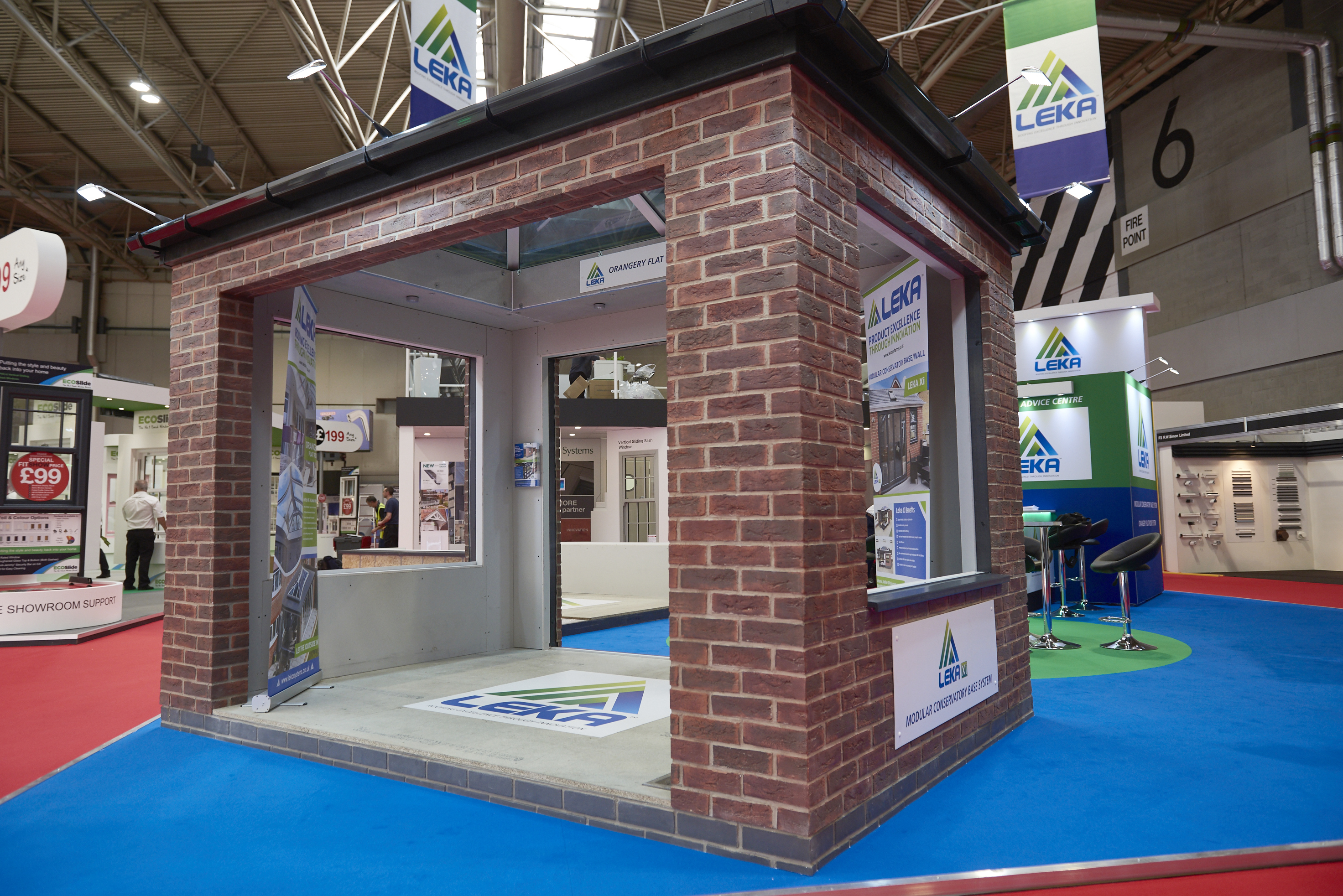 LEKA Systems has done it again – for the third FIT in a row LEKA Systems have delivered something new for the industry. Rhys Hoddinott, Managing Director of LEKA Systems, said: "We knew the new LEKA Xi Modular Conservatory Base System was going to take FIT by storm. It is a new modular extension that raises the bar in thermally efficient home extensions or garden rooms. And due to the intelligent design, it can be constructed in just three to five days."
Like the LEKA Warm Roof and the LEKA Orangery Roof, the LEKA Xi is a unique proposition that sets....
Fit Show Review

Haffner Murat enjoys most successful FIT Show to date

As exhibitors return from FIT, few will be as satisfied as Haffner Murat. Dave Thomas, Managing Director of Haffner Murat, says: "It was our best show ever in terms of interest and orders taken."

There was plenty to attract fabricators to the stand but the star of the show was the OPTI-Weld quad welding machine, which can be used for PVC-U, aluminium and wooden profiles. Dave says: "Fabricators could instantly see the benefits it brings. Not only can it be used as a conventional welder, it can also weld a square without the need for pre or post cleaning of the...

 

 

FREEFOAM RELEASE NEW CLADDING BROCHURE

Freefoam Building Products are pleased to announce the launch of a brand new cladding brochure – The Complete Cladding Solution. Featuring all PVC-UE cladding products within the range – the Single Shiplap in white and woodgrain options, the popular Fortex Double Shiplap and Weatherboard styles with attractive wood effect embossed finish and the most recent addition X-Wood, a premium composite cladding with foiled woodgrain finish.

With detailed information on each range, colour options, board dimensions, fitting trims and technical data the new brochure gives customers all the information they need. Also featuring attractive imagery, the brochure highlights the wide range of...

 

 

Fit Show Review

#COMEALONG CAMPAIGN FUELS SHOW SUCCESS FOR KOMMERLING

Boosted by the award for Best Creative in the FIT 2019 marketing campaign with their #ComeAlong campaign, the FIT Show was nothing short of an extraordinary success for KÖMMERLING, as existing and new customers flocked to their stand en masse.

The show was a culmination of an outstanding marketing campaign, geared to generating considerable footfall, along with a range of window...

 
Exclusive New Material

VEKA UK Group rolls out the welcome matt

Industry-leading systems supplier VEKA UK Group has unveiled an exclusive ultramatt material unlike anything else in the industry.

This innovative surface...

 

 

Last GM Fundraising Cycling Challenge Underway

A team of eighteen cyclists from the fenestration industry set off on Monday for the ride of their lives. 'From Russia With Hope' is the last of its kind for GM Fundraising and promises to be the hardest challenge yet: 12 countries, 2,780 miles, 34,000ft of climbing in just 10 days, all to raise money for Hope House Children's Hospices, GM Fundraising's nominated charity.

Gary Morton, founder of GM Fundraising and 'From Russia With Hope' cyclist comments: "This is our final cycling challenge and promises to be the hardest ride we've ever done. As such we want to raise our biggest...

 

 

Fit Show Review

Back in the summer of '69

VEKA UK Group celebrated the global Group's 50th birthday in typically German style at this year's FIT Show, with plenty of beer and bratwurst!

Customers...

 
Aluminium Patio

AC Aluminium project showcases excellence of Exlabesa's patio door system

County Durham fabricator and installer AC Aluminium has recently installed a 9 metre wide anthracite grey aluminium patio door in a home in County Durham using the KLS patio system from Exlabesa Building Systems. Carl Buckingham, of AC Aluminium, said: "The door looks stunning. We're delighted with the results – and so is the customer."

 

 

KORNICHE BI-FOLDING DOORS WOW AT FIT

Stand K10 bristled with anticipation and activity on the first day of this Year's FITSHOW as Made for Trade pre-launched the new Korniche Aluminium Bi-Folding Doors alongside the established and successful Korniche Aluminium Roof Lantern.

NEW Bi-folding Doors did not disappoint – Imposing 6 and 5 sashes in specialist RAL's welcomed visitors from the Hall 6 entrance in a pavilion style stand, with a further 4 leaf door set inside enclosing a space showcasing the new bi-folding doors.

A clip bead demo plinth demonstrated one of the most innovative step changes in bi-fold technology in many years alongside a plinth showing sections...

 

 

Solid Roofing

Modplan adds LEKA's Eco range to its portfolio

Trade fabricator Modplan has just announced it is adding the Eco roofing range from LEKA Systems to its portfolio. Justin Williams, International Sales and Marketing Director at Modplan, said: "The LEKA Eco range is the perfect example of our commitment to delivering added value to our customers. The range opens up a wealth of new opportunities for installers looking to capitalise on the solid roof market by offering solutions at more...

 
Thermal Separation

In the frame for success / Plastics specialist Ensinger explains the influential variables in the thermal separation of metal windows, doors and façades

Plastics specialist Ensinger explains the influential variables in the thermal separation of metal windows, doors and façades...

 

 

World Class Service in Scotland

Industry-leading systems company Liniar\'s PVCu products are found as far as New Zealand, Thailand, Indonesia and Australia as well as across European countries, such as Germany, Sweden, France and the Netherlands. Now, with the signing of The Window Supply Company in Livingston, you can count Scotland among those destinations.

One of Liniar\'s five-year strategic objectives, entering the Scottish market, has been achieved. After visiting Liniar's world class facilities and meeting the team, the Window Supply Company has signed with Liniar and had a robust first few months producing Liniar's 70mm system and as the first mass fabricator of the company's Reversible...

 

 

Flush Door

ERA COLLABORATION WITH DECEUNINCK BRINGS INNOVATION TO FLUSH DOOR MARKET

ERA's UKAS accredited testing laboratory and R&D design team together play an integral role in the company's new product development. They...

 
Licencing Scheme

Construction industry launches Licensing Task Force

The construction industry has come together to develop a mandatory licensing scheme for all UK construction companies to transform the sector into a high quality and professional industry, announces the Federation of Master Builders (FMB).

A new Construction Licensing Task Force, supported by a range of leading industry bodies, will lead the...

 

 

There's no business like Show business for VEKA UK Group

VEKA UK Group has celebrated an incredibly busy and successful FIT Show. The industry-leading PVCu systems supplier not only unveiled a brand new product at the show, but also claimed a FIT Award, welcomed two Kitemark presentations from the BSI, announced Independent Network's official partnership with Which? Trusted Traders, celebrated a major birthday, and received overwhelmingly positive feedback on the products displayed.

The 'big news' on stand J55 was the unveiling of VEKA UK Group's latest innovation. The company chose the 2019 FIT Show to launch its exclusive new ultramatt surface technology SPECTRAL to the industry, which prompted a great response...

 

 

Doors

HURST DOORS INVESTS OVER £1MILLION TO MEET GROWING DEMAND

Hurst Doors has invested over £1m in the last two years to keep up with the growing demand for their composite doors and PVC-U panels.

Hull, UK – Hurst Doors has announced today that total investment into the business in the last 24 months is over £1million, as it expands its operations and yield loads to meet the growing demand for its products.

 
New Products

FIT 2019 - Quality over Quantity for Selecta Systems

Over the course of the three days at FIT Show 2019, Selecta Systems' stand and overall presence characterised their now accustomed 'family feel', as they revealed a range of exciting new product developments and advancements, which reinforced the true versatility of the Advance 70 System and embraced the fully...

 

 

IN members help transform property of injured homeowner

Frames Conservatories Direct (FCD), based in Bury St Edmunds, has completed a conservatory for a local caretaker who was left partially paralysed after a devastating fall.

MD and Owner of FCD, Adrian Lewis, contacted Colin White and his wife Jo to offer assistance after reading their story in the local paper.

Adrian explains: "I saw that the family were hoping the community would help them in some way to build a conservatory at the back of their home. It would mean that Colin, who suffered spinal cord damage to his neck after a fall down the stairs, could look out onto his...

 

 

Sound Control

TITON HELPS GLASGOW STUDENTS ENJOY THE SOUND OF SILENCE

Over 400 Titon SFX Sound Attenuator vents and Sobinco Chrono side-hung windows with night vent device adaption have been used throughout the new St Mungo's student accommodation complex at St James Road, Glasgow.

The new property opened in September 2018, offering...

 
FIT Review

ENTRANCE ENQUIRIES FUELLED BY FIT

The FIT Show proved to be the perfect platform for the launch of the new Entrance Composite...

 

 

Two 'zero landfill' years in a row for CMS Window Systems

CMS Window Systems has maintained a zero waste to landfill rate for the second year in a row, ensuring it continues to lead the way in the re-use and recycling of waste collected throughout its manufacturing and installation operations.

The company, which is one of Scotland's leading designers, manufacturers and installers of PVC-U and aluminium windows, doors and curtain walling, pioneered the concept of closed-loop windows and doors more than 13 years ago by establishing comprehensive in-house waste recycling facilities alongside its manufacturing operations. This ensures all its waste materials can be fed back into the manufacture of new...

 

 

FIT Review

A New Look for Avantek Machinery

In line with Avantek Machinery\\'s reputation for world class service and excellent customer support, the company is delighted to announce the launch of its brand new website – www.avantekmachinery.co.uk.

Offering a more updated look and feel, the functionality of the new site is focused on offering a smooth experience for the user whilst showcasing Avantek's state-of-the-art machinery ranges and providing fabricators with options which are designed to streamline production...

 
Document Q

BSI launches verification scheme for Approved Document Q

BSI, the business improvement company has today launched a new verification scheme to help non-manufacturer installers of windows and doors demonstrate compliance with Approved Document Q.

This new scheme provides installers with independent verification that they fulfil this aspect of The Building Regulations by assessing their organization's capability to supply and install products that meet...

 

 

PAUL SWIFT IS ERA'S SALESPERSON OF THE YEAR

For ERA, the security experts, high quality training underpins all of the company's business functions. This applies both to its fabricator and installer cutomers and to its own staff. So it was unsurprising that when Paul Swift won ERA's 2018 Salesperson of the Year award recently, the National Account Manager modestly attributed his success to the great training he had been given.

Paul says:

"When I joined ERA at the beginning of last year I'd already notched up 27 years in the window industry, and along the way gained an MBA. I had lots of experience in hardware business development, but nevertheless,...

 

 

Marketing Support

Get Customised with Liniar Marketing

Many double glazing businesses, fabricators and installers don\\'t have an in-house marketing team able to design and print brochures, technical documents and advertising materials in order to help generate leads for their company. As the designers of the products themselves, systems companies are ideally placed to be able to produce literature that is not only technically accurate, but looks...

 
Safety Code

HEALTH AND SAFETY: NEW CODE OF PRACTICE LAUNCHED

NEW GGF GUIDE FOR SAFE HANDLING, TRANSPORTATION AND SITE STORAGE OF GLASS.

The Glass and Glazing Federation (GGF) is pleased to announce the launch of the newly revised Code of Practice for the Safe Handling, Transportation and...

 

 

GGF SET TO RAISE PROFILE OF FIRE RESISTANT GLAZING

FIREX International returns to ExCeL London on 18-20 June 2019 with a packed agenda of timely, informative and entertaining seminars, presentations, case studies and educational sessions…and the Glass and Glazing Federation (GGF) is at the heart of it all.

FIREX International will host 130 exhibitors from all over the world at ExCeL London and the GGF will be exhibiting at stand number FX715 – a 30m2 space situated in a prime central position near the entrance of the show. Visitors to the GGF stand will see live glass exhibits showing the before and after effects of fire, heat and smoke on...

 

 

Installer Network

GIN Becomes the Best Tonic for Installers

Glazing retailers across the country have raced to join 'GIN', the new Genesis Installer Network designed to unite forward thinking installation companies with a product portfolio of premium windows, doors and comprehensive support.

 
| | | |
| --- | --- | --- |
| | 0780 505 1322 | |