21st March 2019
New EPDs for Thermix and insulbar from Ensinger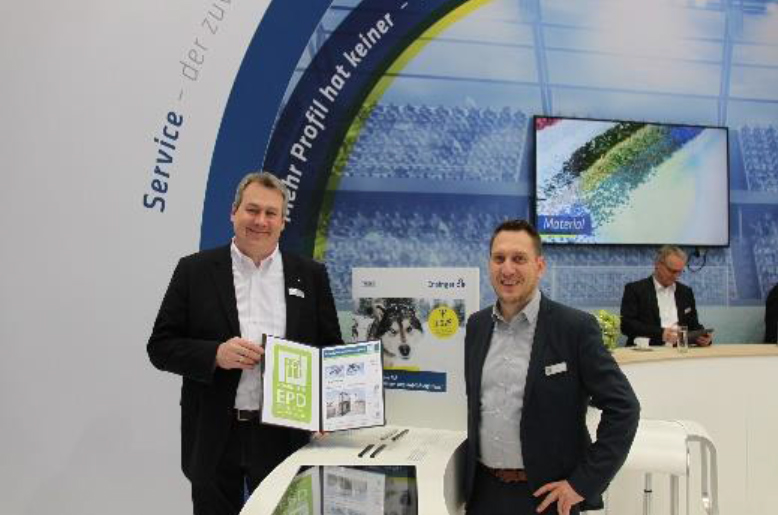 The certification of sustainable construction products and buildings is being made easier thanks to precise environmental product declarations from the ift Rosenheim
Plastics specialist Ensinger is strengthening its commitment to "green" construction. There is now an Environmental Product Declaration (EPD) for the insulated glass spacers Thermix TX Pro and Thermix Low Psi. In addition, the EPD for insulbar insulating profiles for thermal separation in windows, doors and façades made from metal has been updated. The EPDs illustrate – with the aid of key figures – the environmental impact of the thermally insulating construction products from Ensinger across their entire production process.
Within....
FIT Show

Camden launch new patio doors at the FIT Show

The Camden Group has chosen the FIT Show to launch their innovative oversize sliding patio door.

The profile have been specially engineered to ensure the PVCu door frames are strong enough to take the extra size of the glazing units. Until now PVCu were limited in size and the only option for householders wanting large doors would...

 

 

Celuform launches new product overview

Celuform, the UK's first manufacturer of PVC-UE roofline products, has launched a new product overview for specifiers.

Following a major overhaul of the brand, the 28-page product overview illustrates the complete range of fascias, cladding, soffits and window line trims, with added technical and product details.

 

 

Steel Windows

Bring steel windows and doors into the kitchen

Open plan kitchens are hugely popular as they allow more natural light into the space. However, there\\'s a lot to be said for separate spaces, so the development of broken plan kitchens arrived. Steel windows incorporate the best of both worlds with internal partitions to break up the space, as well as external windows that maximise the area for light to enter the kitchen.

 
FIT Show

ALUK REVEALS C70S AT FIT – WITH PRE-INSERTED GASKETS

AluK will be revealing a brand new 70mm window system at the FIT Show – complete with pre-inserted gaskets.

This is thought to be the first time that an aluminium window system has been available in the UK with the gaskets...

 

 

CICAIR LAUNCHES NEW WEBSITE

CICAIR Limited, the body designated by the Secretary of State in England and Welsh Ministers in Wales to maintain and operate the Approved Inspectors Register has launched a fresh, new website at https://cicair.org.uk.

The completely redesigned website features a clean and intuitive user experience, improved functionality and enriched content areas to help Approved Inspectors, and the clients who wish to engage their services, find the information and guidance that they need easily.

 

 

Installations

Amber Home Improvements Blend with Costa Coffee

Leading Norfolk installer Amber Home Improvements has blended with British multinational coffeehouse - Costa Coffee for the high-profile installation of a maximum comfort conservatory for their Meadow Centre branch in Stowmarket.

 
FIT Show

ISO-CHEMIE ANNOUNCES NEW PARTNERSHIP AT FIT SHOW

Foam tape sealant specialist ISO-CHEMIE stand (N35) will be marking 10 years in the UK at the FIT Show 2019 with plans for an 'exciting' new partnership and displays of high-performance airtightness and energy efficiency solutions for windows and doors.

 

 

THE PERFECT GARAGE DOOR

With the market awash with a never-ending range of products, choosing the perfect garage door for your home can be overwhelming.  In addition, in recent years, garages have evolved from a place to park a vehicle to an 'extra space' for the family, with many now used as areas for storage, work or exercise.  Together with this change of use, has been the transformation of garage doors themselves.  Originally constructed from wood, today's garage doors are widely available in a vast array of materials such as aluminium, fibreglass, steel and composite.  Further considerations such as colour, insulation requirements and specification...

 

 

Height Safety

STAYING ALIVE: WHILST WORKING AT HEIGHT

On Tuesday 26th February the All-Party Parliamentary Group on Working at Height published its report into serious injuries and fatalities of employees

 
New Appointment

GGF APPOINTS REGIONAL MANAGER FOR IRELAND

The GGF Regional Membership Team has been strengthened by the appointment of Noreen McNairney who will be responsible for managing membership in Ireland as Regional Membership Manager.

Belfast based Noreen will be responsible for all membership matters in Northern Ireland and the Republic of Ireland. With broad experience of working within membership...

 

 

Exlabesa Building Systems invests in UK manufacturing

Exlabesa Building Systems has announced the installation and completion of a £4.5 million extrusion press at its Doncaster headquarters. The investment will take capacity to 18,000 tonnes a year. General Manager of Exlabesa Building Systems, Paul Benn said: "As our business continues to grow, this investment ensures we can continue to deliver for our growing customer...

 

 

FIT Show

GGF CONFIRMS OPENING SEMINAR AT THE FIT SHOW

The Glass and Glazing Federation (GGF) is delighted to confirm that Kevin Buckley, GGF Group Chief Executive will present the opening seminar at The FIT Show in Birmingham NEC on 21 May at 10.30am in the Insight Theatre in Hall 20.

In his presentation, Kevin will cover the major...

 
Chancellor\'s Statement

GGF RESPONDS TO CHANCELLOR'S SPRING STATEMENT

Amidst all things Brexit in the last seven days, the Chancellor, Philip Hammond delivered his Spring Statement with some encouraging proposals made for the construction industry.

 

 

ERA TO SUPPORT ALZHEIMER'S RESEARCH UK

2019 will see ERA, the Wolverhampton-based security expert, lend its support to Alzheimer's Research UK, having made the organisation its chosen charity for the year. ERA has set a £10,000 target, and staff at the company will use their ingenuity to come up with a broad variety of fund-raising activities.

Darren Waters, ERA's CEO said: "As we do every year, we asked employees to vote for one of a selection of...

 

 

Apprenticeship Awards

Liniar Goes for the Hat Trick

While cutting-edge systems company Liniar has been hard at work designing ground-breaking new products before the FIT Show in May, that\\'s not all they\\'ve been up to.

 
New Appointment

Gemini announces new manager to head-up expansion plans

Telford-based Gemini Windows and Doors has announced the appointment of Steve Miller as their new Retail Sales Manager.

 

 

Fastener focus offers complete supply chain assurance for Stevenswood customers

Trade customers of Stevenswood are benefiting from assured fastener quality in both the manufacture and installation of windows and doors thanks to a total supply chain partnership with Rapierstar.

Having supplied a wide range of its high performance StarPVCU® screws to Stevenswood's window and door manufacturing operation Polyframe for more than three years, Rapierstar...

 

 

New Appointment

New Appointment at ODL Europe

ODL Europe, supplier of the market-leading TriSYS frame system, the Capstone composite door slab...

 
Fire Safety

FIREX 2019 – GGF SET FOR EUROPE'S BIGGEST EXHIBITION FOR FIRE SAFETY

The GGF is looking forward to FIREX International (18-20 June 2019) at London Excel and is exhibiting on stand number FX715.

At the Europe's largest show for fire safety, the GGF will be display live before...

 

 

Camden Group's growth leads to £700,000 logistics investment

Camden Group's growth leads to £700,000 logistics investment

Camden's continued growth has led to investment in their logistic department, with the £700,000 purchase of seven new Volvo lorries.

The new additions to the fleet allow for greater loads to be carried as they have extra horsepower, whilst maintaining their eco-friendly credentials with twin fuel tanks, side skirts and roof deflectors.

This recent commitment brings the Camden Group's fleet up to 20 lorries, with plans to invest more over in the future.

Seamus Lavery, spokesperson at Camden said: "This is a significant expenditure for Camden, but it makes good economic sense."

"We expect a good return...

 

 

Consumer Website

MYGLAZING.COM HITS ONE MILLION

The GGF's consumer advice website MyGlazing.com has hit a landmark one million page views in just over three years since was set up.

MyGlazing.com was set up in 2016 to help homeowners make a more informed choice when selecting windows, doors and conservatories.

Since then, the site...

 
Manufacturing News

ALMOST A THIRD OF SME MANUFACTURERS "MOVING SUPPLIER BASE FROM EU TO UK" – ACCORDING TO NEW RESEARCH

From investment to turnover, recruitment to profits, forecasts are down for UK SME manufacturing bosses as they divert valuable resources to manage Brexit uncertainty, says the national Manufacturing Barometer published today.

 

 

First Master Builder appointed to Construction Leadership Council, announces FMB

A Master Builder has been appointed to the influential Construction Leadership Council, and will help ensure the Council is more representative of the hundreds of thousands SME firms in our industry, according to the Federation of Master Builder (FMB).

Chris Carr, Joint Managing Director of SME house building firm Carr & Carr (Builders), and Board member of the FMB, has been selected to join...

 

 

Modular Building

Hornsea couple's business wins prestigious award

An East Yorkshire company's meteoric rise to success within its first year has earned it a prestigious regional business award.

Frontier Modular Services, launched in late 2017 by Hornsea man Rich Pooley (who was joined by his partner Lindsey Nicklin later in 2018), has won the 'Start-Up Business of the Year' category for the Yorkshire and the Humber region in the Federation of Small Businesses (FSB)...

 
Wood for Good

Wood for Good Marketing Summit to put health and wellbeing into practice

Promoting timber's health and wellbeing benefits is the focus for Wood for Good's next Marketing Summit on 12 March at CILIP in London.

Christiane Lellig...

 

 

Selecta – Confronting the Fear to Change

It's said that, 'fear to change, can be the enemy of success' and Selecta Systems Sales Director, Andy Green, believes there are no truer words spoken when it comes to fabricators and installers when choosing not only the right profile system, but also the right systems company. Andy speaks out about confronting that fear, how Selecta go about making that change-over and transition as smooth as possible and why a record number of fabricators are choosing to #bepartofthefamily

 

 

Apprenticeships

More of us would rather our children did an apprenticeship than a degree, says FMB

More parents in the UK want to see their child undertake an apprenticeship than a university degree, according to new research by the Federation of Master Builders.

 
| | | |
| --- | --- | --- |
| | 0780 505 1322 | |