16th May 2019
VEKA SHOWS IT'S FIT, 50 AND STILL LEADING THE WAY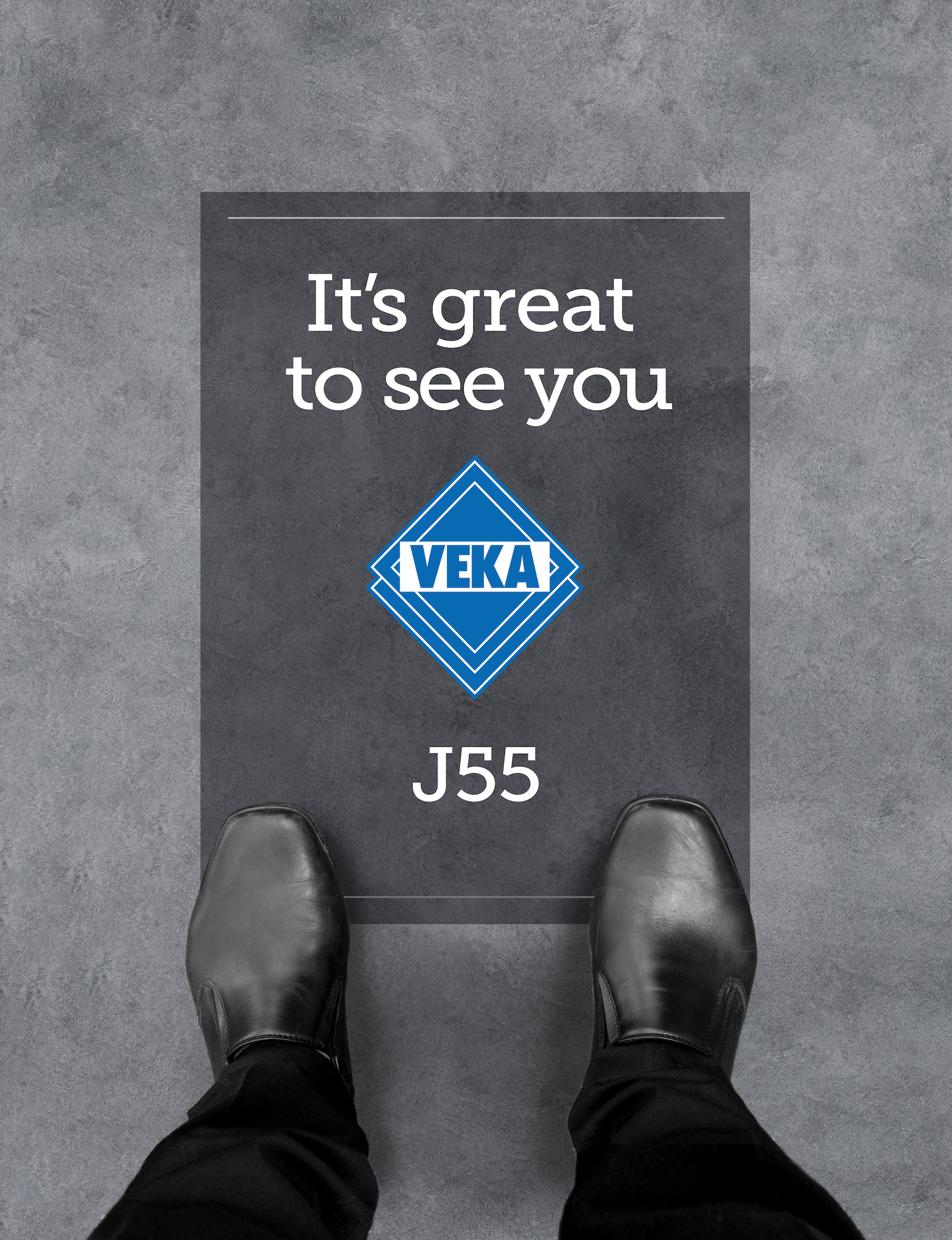 VEKA Group is getting ready for a FIT Show with a difference, celebrating its 50th birthday in style.
Not only will the team be demonstrating the newly unveiled, next generation Imagine Vertical Slider, it will also be introducing an exclusive, technical innovation the industry is yet to see the likes of.
Dawn Stockell, Marketing Director explains: "As ever, the FIT Show gives us an opportunity to demonstrate exactly why VEKA Group leads the field in innovation and offers customers strength and stability in such an ever-changing industry. This year has the added bonus of being the global Group's 50th birthday, so we....
FIT Show

TeknosGBI at FIT Show

For the first time, Teknos GBI is exhibiting at the FIT Show 2019 to showcase the technologically-advanced range of coating systems for manufacturers of doors, windows and conservatories.

With a 28-year pedigree in the UK and Ireland, the company is a leading supplier of water-based paint to the Industrial Wood industry. Highlighted at the FIT show are -

HYDROPUR 2K Colour 7515- a waterborne...

Dempsey Dyer and Deceuninck: 35 years of partnership

Trade fabricator Dempsey Dyer is celebrating its 42nd anniversary and 35 years of successful partnership with Deceuninck.

Founded in 1977, Dempsey Dyer is a leading trade and commercial fabricator, supplying high quality PVC-U, timber and aluminium windows and doors. For the past 35 years Deceuninck's service and product range has supported Dempsey Dyer's growth.

Managing Director Peter Dyer says: "Our strong partnership with Deceuninck spans over three decades, and we value their willingness to work with us to solve problems. Deceuninck wants us to succeed, and crucially they support our business as a whole...

FIT Show

MERLIN, BLAIRS AND SAVEHEAT TURN TO KÖMMERLING

Merlin Network, which is part of Saveheat Group, made the decision at the back end of 2018 to single source from KÖMMERLING and the decision has been one which has been particularly successful. On the back of this, the group has now made the decision to open up the Blairs brand, which is renowned for timber windows, to the KÖMMERLING brand and range of window and door systems.
New Trade Centres

Scotia opens new factory and celebrates 35 successful years with Halo

Long-standing Halo fabricator Scotia Windows and Doors has moved into an expansive new factory in Kilmarnock, with even greater capacity to serve trade customers across Scotland.

Supported by two trade centres in Alloa and Hamilton, the company is well placed to...

APEER LAUNCHES LUMI2 ROOFLIGHT TO COMPLETE 'EXTEND & RENOVATE' PACKAGE

Apeer has unveiled the Lumi2 rooflight, a product that is aimed squarely at the retrofit market, and which has been designed to complement the existing Lumi2 window and lift & slide door, as part of the manufacturer's 'Extend and Renovate' package.

The latest addition to the Lumi stable offers the same edge-to-edge 'frameless' aesthetics that feature on the original Lumi window – a product that wowed the industry when it was launched back in 2015 ­– but with a slimmer 70mm outerframe depth and 28mm double-glazing, the Lumi2 range is designed to be more suitable for the home improvement market.

Linda Tomb, Apeer's marketing...

Phishing Scams

HMRC Phishing Scams Continue to Rise despite Repeated Warnings

Despite continued action and warnings, HMRC phishing scams continue to rise with criminals using increasingly sophisticated methods to target UK taxpayers. With reports of criminal activity using landlines, emails, text messages and social media to distribute bogus HMRC information, you might be forgiven for not knowing which forms of HMRC contact you can trust.
Hope House

A HOPE HOUSE VISIT FOR BRISANT SECURE

June 2019 sees a group of 18 men from the industry cycle through 12 countries in 10 days "From Russia with Hope". Brisant Secure, the security hardware company, is the event sponsor. With this and all riders covering their own costs every bit of sponsorship goes to Hope House Hospice to help kids with life limiting illnesses and their families live their lives to the fullest extent.

Gary Morton from...

VEKA comes to the four on Burnley Business Awards shortlist

Industry-leading PVCu systems supplier VEKA Group has been shortlisted in four categories of the upcoming Burnley Business Awards!

The Lancashire manufacturer is no stranger to these Awards having, in recent years, been named 'Business of the Year' twice in a row, and 'Employer of the Year' at the most recent BBA event.

2019 sees VEKA Group shortlisted for 'Manufacturing Excellence', 'Employer of the Year' and 'Burnley Business of the Year' while hard-working Junior Operations Manager Khaleel Mahmood is a finalist in the 'Young Employee of the Year' category.

These nominations come just weeks after VEKA Group was crowned 'Manufacturing Company of the Year' at Lancashire's...

Fabric Structures

Access North Ltd celebrates tripled turnover with new office and team growth

In the wake of tripled turnover and the launch of a brand-new division, West Yorkshire-based Access North Ltd is marking its biggest financial year to-date with an office relocation, following a recruitment drive which has seen the team double in size.

Company owners, Berenice and Daniel Northcott, credit the new Access North Build division – launched in 2018 – as the driving force behind the...
Cut VAT

Cut VAT on home improvements to boost economy, says FMB

The Federation of Master Builders (FMB) is calling for the Government to cut the VAT on home improvement work following official data from the ONS published today. While there has been a rise in output over the first quarter of the year...

GGF PROMISES STIMULATING SEMINAR AT FIT SHOW

The Glass and Glazing Federation's Group Chief Executive, Kevin Buckley is set to open the Seminar Programme at this year's FIT Show and he is promising a "stimulating presentation" with "new information" about the industry.

On his presentation which takes place at 10.30am on 21st May in the Insight Theatre in Hall 20 of the Show, Kevin commented, "In my presentation, I will be sharing information that our industry will never have heard before. There will be revealing insights from the extensive market research we conducted last year and also some internal plans that we have yet to share.

Our aim is...

Mental Health Week

How to beat stress and keep the mind healthy

British Safety Council launches wellbeing videos with exercises and advice to help workers beat stress and maintain good mental health

Ahead of Mental Health Awareness Week (13 – 19 May), it is still true to say that mental health is considered the poor...
New Recruit

Recent Appointments Boost Liniar & Avantek Sales Team

The announcement of Nigel Bishop as Group Sales Director for the Flamstead Group brings even closer together two of the industry's leading businesses - HL Plastics, home of innovative systems house Liniar, and sister company Avantek Machinery.

Group Managing Director Martin Thurley commented, "I'd like to congratulate Nigel on this new strategic appointment for the Group. He brings with him many years of experience – and...

Security Access Systems' Martin Keelagher named Chairman of DHF's 'Automated Gate Group'

Director of his family business, Security Access Systems, Martin Keelagher, has been named as the new Chairman of DHF\'s (Door & Hardware Federation) 'Automated Gate Group'. Martin's new position was confirmed this month by DHF's CEO, Bob Perry.

The Automated Gate Group was formed in 2009 in response to requests from the Health and Safety Executive. The government safety organisation sought an industry-wide trade body that would develop higher standards of safety for automated gates, following a number of fatal accidents since 2007. The group represents manufacturers, suppliers, installers and maintainers of automated gates, who demonstrate their credentials of quality, safety...

Flush Window

Industry-first collaboration results in perfection at every level

Known for its innovation, close-knit culture and commitment to excellent quality, support and customer service, industry-leading systems company Liniar has taken innovation and product design to the next level with its latest launch. The brainchild of the company\\'s Design and Development team, the double-rebated Resurgence flush sash window is more than just another window.
Flood Door Failings

Poor quality hardware in spotlight following Cumbrian flood door failings

With a recent BBC news report highlighting numerous failures in flood doors which were fitted into Cumbrian homes as part of a major flood resilience programme, Rapierstar is advising flood door manufacturers and installers to seek specialist guidance on the types of fasteners being used to ensure long term...

Senior adds flush casement window to Ali VU range

Senior Architectural Systems has added further flexibility to its popular Ali range of aluminium doors and windows with the launch of the new Ali VU flush casement window.

Already available as an open out casement, Senior's popular Ali VU window system is ideally suited for use in the residential sector thanks to its sleek and slimline appearance. The new flush casement option will...

Crowded Market

Stand out in a crowded conservatory market

Justin Williams, International Sales and Marketing Director at trade fabricator Modplan, is on an awareness-raising mission when it comes to conservatory roofs. He says: "The LEKA Warm Roof and the LEKA Orangery Roof are the standout exceptions in a market where consumers think all warm room replacement systems are the same. Our LEKA roof options give installers the ability to create...
Membranes /Adhesives

illbruck products prominent in power stations campus specification

The creation of a major accommodation complex to house workers constructing the new Hinkley Point C nuclear power station has included the use of illbruck ME011 Breather Membrane...

WHAT ARE REHAU UP TO AT THE FIT SHOW 2019?

Visitors to this year's FIT Show will be looking into what the future holds for the windows industry, and profile manufacturer REHAU is excited to be helping to lead the conversation – joining seminars and revealing its new Flush Fit product.

With many developments currently taking place at the polymer specialist, REHAU is delighted to be showcasing the newly launched Rio Flush Fit product at the FIT Show, being exhibited on the MACO Hardware stand, number J40.

An alternative to traditional timber windows, the Rio Flush Fit offers a competitive range of colours and finishes for fabricators and installers....

Aluminium Windows

More choice with Exlabesa

Doncaster-based aluminium systems house Exlabesa Building Systems offer a range of aluminium window solutions that are proving popular across both retail and commercial markets. Paul Benn, General Manager at Exlabesa said: "Today's fabricator is looking for choice. Whether they work in the retail or commercial arena customers are demanding more choice in order to fulfil the expectations of their clients. At Exlabesa Building System we have a platform of window systems suitable for all markets and allowing...
Members Weekend

Gatsby Glamour and a Hollywood Host - it's the Independent Network Members' Weekend

Independent Network is planning a Members' Weekend to remember!

The installer support organisation's annual Members' Weekend will be held at The Queen's Hotel in Leeds on June 8th 2019. And the host of the weekend's glittering awards evening will be Star Wars and Harry...

TITON SHOWCASES NEW HAVERHILL CONFERENCE AND DISPLAY FACILITIES

Titon has completed the refurbishment of its state-of-the-art 4.5-acre manufacturing base in Haverhill, further strengthening its offering to customers and suppliers. The company has invested significantly in modernising the conference and display facilities, as well as the two onsite reception areas. Titon's extensive range of ventilation and hardware products is now on display, creating a visually appealing area to enhancecustomers' experience.

Changes to the buildings include fresh carpets, ceiling tiles, lighting and stair balustrades, as well as the addition of wall graphics, some featuring an illustrated history of the company. Plus, the main reception area now boasts a large LCD display...

Glass Processing

HEGLA'S ECOLAM STREAMLINES PRODUCTION AT KISH GLASS LTD

Well known in Dublin as a glass processor and manufacturer, Kish Glass Ltd has recently made investments in HEGLA automation to diversify the range and streamline production methods. In order to optimize space and efficiency on the production floor a HEGLA EcoLam cutting table has been installed.

Originally launched in 1973 Kish Glass has seen a steady rise as a reliable, quality manufacturer of glass...
Contracts Upturn

Residential sector looking positive with an upturn in contracts awarded during March

The residential sector had a particularly positive March with £1.8 billion contracts awarded, an increase of 8.3% on February. Residential unit numbers also increased – up by 2.1% on February at 10,066 units. Of the total contracts awarded in March, residential accounted for 31.6%. Following residential was the commercial & retail sector with a 16.1% share and then hotel...

Rapierstar invests in training and NPD with new 2,500 sq. ft. Learning & Development Centre

Window and door fastener specialist Rapierstar is creating a new state-of-the-art Learning & Development Centre dedicated to boosting the essential technical skills and knowledge required by its customers and supply chain partners to achieve superior window and door quality.

Setting the standard for investment and innovation in the window and door industry, the new 2,500 sq. ft. facility, located within its head office complex near Macclesfield, will be the first of its kind by a UK fastener supplier in the sector. The expertise and resources available here will also help fabricators to manufacture more efficiently and profitability whilst staying compliant with...

FIT Show PIGS

Trot along to PiGs at FIT to see who's snout and about

PiGs, the glazing industry's biggest networking event, has added two extra dates to its regular calendar of get-togethers – with the first set to 'hog' the limelight as part of the FIT Show's Late Night Tuesday.

Tuesday night will see the Balls2 Marketing stand (D30) transform into the PiGs Bar for a spot of late night...
| | | |
| --- | --- | --- |
| | 0780 505 1322 | |