2nd May 2019
Selecta – FIT and Fully Furnished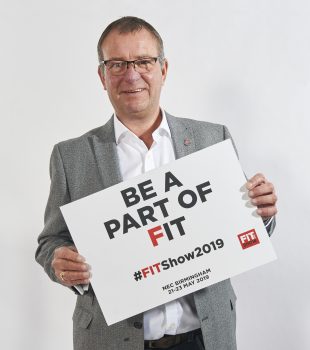 With the FIT Show just around the corner, Selecta Systems Sales Director, Andy Green, and Marketing Manager, Mark Walker, speak about what to expect from Selecta as the team descend on the industry's leading fabricator and installer show.
"The FIT Show provides Selecta with the perfect platform to formally reveal a range of new supplementary products and exciting product development news that will extend and compliment the versatility of the Advance 70 Window and Door Profile System. We see these innovations and developments greatly enhancing the appeal of the Advance 70 System to fabricators and installers even further" says Andy.
Flood Door Failings

Poor quality hardware in spotlight following Cumbrian flood door failings

With a recent BBC news report highlighting numerous failures in flood doors which were fitted into Cumbrian homes as part of a major flood resilience programme, Rapierstar is advising flood door manufacturers and installers to seek specialist guidance on the types of fasteners being used to...

 

 

BUILDING BRICK BY BRICK

"At Quickslide, we know that we are built on the successes of our trade partners," says Chairman Adrian Barraclough, "and to help them achieve these successes we know that we need to be more than just a reliable supplier. The best way for us to stimulate the growth of our trade partners, and Quickslide, is to invest our time and resources in the continuous development of each individual partner company. That's why our philosophy for the upcoming FIT Show is 'Brick by Brick' – the bricks that represent the elements we believe are fundamental in supporting the growth and development...

 

 

Crowded Market

Stand out in a crowded conservatory market

Justin Williams, International Sales and Marketing Director at trade fabricator Modplan, is on an awareness-raising mission when it comes to conservatory roofs. He says: "The LEKA Warm Roof and the LEKA Orangery Roof are the standout exceptions in a market where consumers think all warm room replacement systems are the same. Our LEKA roof options give installers...

 
Membranes /Adhesives

illbruck products prominent in power stations campus specification

The creation of a major accommodation complex to house workers constructing the new Hinkley Point C nuclear power station has included the use of illbruck ME011 Breather Membrane, together with other products from the illbruck brand range of tremco illbruck.

Already a long-established supplier to Caledonian Modular, illbruck was selected to supply system...

 

 

WHAT ARE REHAU UP TO AT THE FIT SHOW 2019?

Visitors to this year's FIT Show will be looking into what the future holds for the windows industry, and profile manufacturer REHAU is excited to be helping to lead the conversation – joining seminars and revealing its new Flush Fit product.

With many developments currently taking place at the polymer specialist, REHAU is delighted to be showcasing the newly launched Rio Flush Fit product at the FIT Show, being exhibited on the MACO Hardware stand, number J40.

An alternative to traditional timber windows, the Rio Flush Fit offers a competitive range of colours and finishes for fabricators and installers....

 

 

Aluminium Windows

More choice with Exlabesa

Doncaster-based aluminium systems house Exlabesa Building Systems offer a range of aluminium window solutions that are proving popular across both retail and commercial markets. Paul Benn, General Manager at Exlabesa said: "Today's fabricator is looking for choice. Whether they work in the retail or commercial arena customers are demanding more choice in order to fulfil the expectations of their clients. At Exlabesa Building System we have a platform of window systems suitable for all markets and allowing...

 
Members Weekend

Gatsby Glamour and a Hollywood Host - it's the Independent Network Members' Weekend

Independent Network is planning a Members' Weekend to remember!

The installer support organisation's annual Members' Weekend will be held at The Queen's Hotel in Leeds on June 8th 2019. And the host of the weekend's glittering awards evening will be Star Wars and Harry...

 

 

TITON SHOWCASES NEW HAVERHILL CONFERENCE AND DISPLAY FACILITIES

Titon has completed the refurbishment of its state-of-the-art 4.5-acre manufacturing base in Haverhill, further strengthening its offering to customers and suppliers. The company has invested significantly in modernising the conference and display facilities, as well as the two onsite reception areas. Titon's extensive range of ventilation and hardware products is now on display, creating a visually appealing area to enhancecustomers' experience.

Changes to the buildings include fresh carpets, ceiling tiles, lighting and stair balustrades, as well as the addition of wall graphics, some featuring an illustrated history of the company. Plus, the main reception area now boasts a large LCD display...

 

 

Glass Processing

HEGLA'S ECOLAM STREAMLINES PRODUCTION AT KISH GLASS LTD

Well known in Dublin as a glass processor and manufacturer, Kish Glass Ltd has recently made investments in HEGLA automation to diversify the range and streamline production methods. In order to optimize space and efficiency on the production floor a HEGLA EcoLam cutting table has been installed.

Originally launched in 1973 Kish Glass has seen a steady rise as a reliable, quality manufacturer of...

 
Contracts Upturn

Residential sector looking positive with an upturn in contracts awarded during March

The residential sector had a particularly positive March with £1.8 billion contracts awarded, an increase of 8.3% on February. Residential unit numbers also increased – up by 2.1% on February at 10,066 units. Of the total contracts awarded in March, residential accounted for 31.6%. Following residential was the commercial & retail sector with a 16.1% share and then hotel...

 

 

Rapierstar invests in training and NPD with new 2,500 sq. ft. Learning & Development Centre

Window and door fastener specialist Rapierstar is creating a new state-of-the-art Learning & Development Centre dedicated to boosting the essential technical skills and knowledge required by its customers and supply chain partners to achieve superior window and door quality.

Setting the standard for investment and innovation in the window and door industry, the new 2,500 sq. ft. facility, located within its head office complex near Macclesfield, will be the first of its kind by a UK fastener supplier in the sector. The expertise and resources available here will also help fabricators to manufacture more efficiently and profitability whilst staying...

 

 

FMB Research

Workloads for small builders dip for first time in six years, warns FMB

Workloads for small and medium-sized (SME) construction firms have taken a dip for the first time in six years, according to the latest research from the Federation of Master Builders (FMB).

 
FIT Show PIGS

Trot along to PiGs at FIT to see who's snout and about

PiGs, the glazing industry's biggest networking event, has added two extra dates to its regular calendar of get-togethers – with the first set to 'hog' the limelight as part of the FIT Show's Late Night Tuesday.

Tuesday night will see the Balls2 Marketing stand (D30)...

 

 

Which expenses can be claimed as an allowable business expense and which are not allowed by HMRC

A fundamental rule of business is that profit equals income minus business expenditure and because businesses are only taxed on their profits, ensuring that all allowable expenses are accounted for makes good business sense. But which expenses are allowable by HMRC and which must be shouldered by the business? Tax preparation expert and managing director of DSR Tax Claims Ltd, David Redfern, explains what can and cannot be claimed for as an allowable expense.

Whatever the expense, HMRC rules state that the expense must be purely business related - no expenses for personal or non-business use are allowed by...

 

 

Permitted Development

Planning must be properly funded if permitted development is scrapped, says FMB

If a future Labour Government was to scrap commercial to residential permitted development it must also come forward with...

 
Solid Roofs

BWM showroom showcases LEKA roofs from Modplan

Leading South Wales fabricator and installer BWM has just opened a showroom at its Pontypridd headquarters. The showroom features BWM's extensive range but one of the highlights is the section devoted to LEKA roofs from Modplan.

BWM buys in LEKA roofs from fellow South Wales company Modplan. Victoria Moreton...

 

 

LEKA Systems to unveil LEKA Xi Conservatory Base System at FIT 2019

LEKA Systems will be unveiling its latest innovation at this year's FIT Show. Rhys Hoddinott, Managing Director of LEKA Systems, said: "The LEKA Xi Conservatory Base System is a new modular extension that raises the bar in thermally efficient home extensions or garden rooms. And due to its intelligent design, they can be constructed in just three to five days."

Like the LEKA Warm Roof and the LEKA Orangery Roof, the LEKA Xi is a unique proposition that sets a new standard for the industry.

It's a modular system that's tailored to homeowner and installer requirements and is constructed using a LEKA...

 

 

Flush Sash Window

Modplan add new Flush Sash Window options to its portfolio

Trade fabricator Modplan has just added the welded and mechanical transom versions of the VEKA Halo Flush Sash Window to its portfolio. Justin Williams, International Sales and Marketing Director at Modplan, said: "Our focus is always to give customers what they need. The popularity of high value specialist windows is...

 
Fit Show

VBH to launch 11 new products at FIT

Fabricators and installers have good reason to visit Stand Q20 at the FIT Show in May – 11 of them. VBH (GB) will be showcasing an impressive 11 new solutions for bi-fold and patio doors, windows and entrance doors.

Among the new products are two additions to the Aspire patio handle suite.

 

 

A decade after detonation

Ten years ago, Wrightstyle tested one of its systems against a lorry bomb and, immediately afterwards, a car bomb.

It was a breakthrough test, conducted independently at a specialist site in Northumberland, and involved the company's structurally-glazed system being subjected to the equivalent of 500 kilos of TNT.

Wrightstyle is one of Europe's leading companies involved in the design and fabrication of advanced glazing systems to mitigate against fire, bomb or ballistic attack.

It remains a landmark event that established Wrightstyle as a trusted supplier in this highly specialised and international market.

The importance of the test was that, in urban areas, between 80-85%...

 

 

New Website Launch

TITON UNVEILS ITS BRAND-NEW, CUSTOMER FOCUSSED WEBSITE

Titon has launched a brand new website, showcasing its full range of products, across both the company's Ventilation Systems and Window & Door Hardware divisions. The site can be accessed at www.titon.com and has been designed with end users and customer support in mind.

The new, responsive site boasts a fully in-depth 'resources' section, which can then...

 
Smart Home Innovation

VELUX ACTIVE RECOGNISED FOR SMART HOME INNOVATION

Roof window manufacturer VELUX® has been awarded "Best Services Product" at this year's Housebuilder Product Awards for its...

 

 

A DAY TO REMEMBER FOR MITCHELL GLASS

The 26th March was a day to remember for Peter and Susan Roden, owners of Mitchell Glass who were invited to the Glass and Glazing Federation (GGF) London offices for VIP treatment. First there was a guided tour of the GGF's historic timeline of the glass and glazing industry, then a photo-shoot as they were re-acquainted with a special piece of Scottish glazing history and topped off with a special GGF award for "Outstanding Service to the Industry" at The President's Reception held at St Bride Foundation Institute in the shadow of St Paul's Cathedral.

On receiving the award, Peter said,...

 

 

EU Standards

New British Standard guides bring door hardware professionals up-to-date

A raft of revised British Standards has prompted the publication of three new technical guides from the Guild of Architectural Ironmongers (GAI) for door and window hardware specialists.

 
Mates in Mind

Celebrating action taken across the construction sector

On Friday 5 April 2019, Mates in Mind announced the Highly Commended and Winners of their 2019 Impact Awards. This was the second year that the awards have taken place, hosted as part of the British Safety Council's prestigious the 2019 International Safety Awards gala dinner held at Grosvenor House...

 

 

Haffner Murat launches revolutionary Opti-Weld™ machine technology

Fabricators wanting to take advantage of welding Aluminium and PVC-u without the need for corner cleaning or crimping should make a beeline for stand G10 at the FIT Show. It's where fabrication machinery specialist Haffner Murat will be launching its latest patented machine technology, Opti-Weld™. Dave Thomas, Managing Director of Haffner Murat, said: "Opti-Weld™ is a patented method of welding PVC-u, Aluminium and wooden frames. The technology can weld a square in under two minutes in a range of materials. It's a real game-changer in fabrication and I urge every fabricator to visit our stand at FIT to find out...

 

 

Training

NEW LOCATIONS FOR GGF TRAINING COURSES

To develop its "Training the Industry" campaign the Glass and Glazing Federation (GGF) is pleased to announce it has secured four new locations in Glasgow, Belfast, Manchester and Dublin for its high quality training courses for installers and surveyors.

Course details:

Installer Training Courses

Glasgow – The Academy, Nisbet Business Centre

 
| | | |
| --- | --- | --- |
| | 0780 505 1322 | |