30th May 2019
3% Growth in the Conservatory & Glazed Extensions market in 2018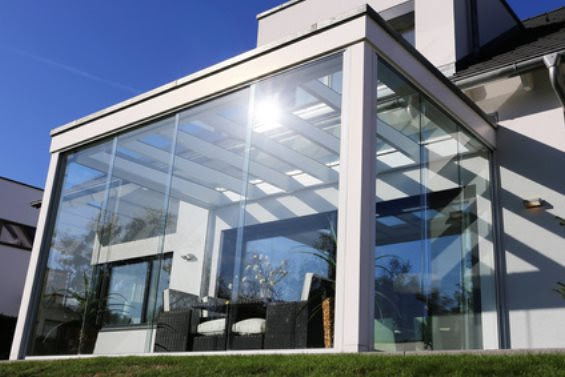 The latest 'Conservatory and Glazed Extensions Report 2018-2022' from AMA Research highlights modest growth of the market increasing by 3% in 2018.
Last year the market offered a wide range of options for domestic projects including conservatories, glazed extensions with a solid or a glass roof, orangeries, verandas, loggias, hybrids etc.
RMI has played an important factor in this growth, as homeowners are opting to replace conservatories and glazed extensions with higher energy efficient roofs, windows and doors. Conservatories have lost their old image as a warmer garden room only to a year-round everyday living area. Key product features which have changed....
FIT Review

SEALING SUCCESS FOR HODGSON AT FIT

Hodgson Sealants had a hugely successful debut at the FIT Show, launching their next generation HY-SPEC 25 hybrid sealant for installers to great acclaim, along with presenting their proven heritage glazing systems.

HY-SPEC 25 is superior to typical silicone sealants in that it is paintable, UV stable, suitable for interior or exterior use, can...

 

 

IN members help transform property of injured homeowner

Frames Conservatories Direct (FCD), based in Bury St Edmunds, has completed a conservatory for a local caretaker who was left partially paralysed after a devastating fall.

MD and Owner of FCD, Adrian Lewis, contacted Colin White and his wife Jo to offer assistance after reading their story in the local paper.

Adrian explains: "I saw that the family were hoping the community would help them in some way to build a conservatory at the back of their home. It would mean that Colin, who suffered spinal cord damage to his neck after a fall down the stairs, could look out onto his...

 

 

FIT Review

#COMEALONG CAMPAIGN FUELS SHOW SUCCESS FOR KOMMERLING

Boasted by the award for Best Creative in the FIT 2019 marketing campaign with their #ComeAlong campaign, the FIT Show was nothing short of an extraordinary success for KÖMMERLING, as...

 
FIT Review

ENTRANCE ENQUIRIES FUELLED BY FIT

The FIT Show proved to be the perfect platform for the launch of the new Entrance Composite Door Solutions brand and their stand was busy throughout the show, with visitors eager to find out more about some of their latest product developments and unique support package for composite door manufacturing.

 

 

Two 'zero landfill' years in a row for CMS Window Systems

CMS Window Systems has maintained a zero waste to landfill rate for the second year in a row, ensuring it continues to lead the way in the re-use and recycling of waste collected throughout its manufacturing and installation operations.

The company, which is one of Scotland's leading designers, manufacturers and installers of PVC-U and aluminium windows, doors and curtain walling, pioneered the concept of closed-loop windows and doors more than 13 years ago by establishing comprehensive in-house waste recycling facilities alongside its manufacturing operations. This ensures all its waste materials can be fed back into the manufacture of new products with...

 

 

FIT Review

A New Look for Avantek Machinery

In line with Avantek Machinery\\'s reputation for world class service and excellent customer support, the company is delighted to announce the launch of its brand new website – www.avantekmachinery.co.uk.

Offering a more updated look and feel, the functionality of the new site is focused on offering a smooth experience for the user whilst showcasing Avantek's state-of-the-art machinery ranges and providing fabricators with options which are designed to streamline production processes.

 
Document Q

BSI launches verification scheme for Approved Document Q

BSI, the business improvement company has today launched a new verification scheme to help non-manufacturer installers of windows and doors demonstrate compliance with Approved Document Q.

This new scheme provides installers with independent verification that they fulfil this aspect of The Building Regulations by assessing their organization's capability to supply and install products that meet...

 

 

PAUL SWIFT IS ERA'S SALESPERSON OF THE YEAR

For ERA, the security experts, high quality training underpins all of the company's business functions. This applies both to its fabricator and installer cutomers and to its own staff. So it was unsurprising that when Paul Swift won ERA's 2018 Salesperson of the Year award recently, the National Account Manager modestly attributed his success to the great training he had been given.

Paul says:

"When I joined ERA at the beginning of last year I'd already notched up 27 years in the window industry, and along the way gained an MBA. I had lots of experience in hardware business development, but nevertheless,...

 

 

Marketing Support

Get Customised with Liniar Marketing

Many double glazing businesses, fabricators and installers don\\'t have an in-house marketing team able to design and print brochures, technical documents and advertising materials in order to help generate leads for their company. As the designers of the products themselves, systems companies are ideally placed to be able to produce literature that is not only technically accurate, but looks good too.

 
Safety Code

HEALTH AND SAFETY: NEW CODE OF PRACTICE LAUNCHED

NEW GGF GUIDE FOR SAFE HANDLING, TRANSPORTATION AND SITE STORAGE OF GLASS.

The Glass and Glazing Federation (GGF) is pleased to announce the launch of the newly revised Code of Practice for the Safe Handling, Transportation and Site Storage of Glass.

 

 

GGF SET TO RAISE PROFILE OF FIRE RESISTANT GLAZING

FIREX International returns to ExCeL London on 18-20 June 2019 with a packed agenda of timely, informative and entertaining seminars, presentations, case studies and educational sessions…and the Glass and Glazing Federation (GGF) is at the heart of it all.

FIREX International will host 130 exhibitors from all over the world at ExCeL London and the GGF will be exhibiting at stand number FX715 – a 30m2 space situated in a prime central position near the entrance of the show. Visitors to the GGF stand will see live glass exhibits showing the before and after effects of fire, heat and smoke on...

 

 

Installer Network

GIN Becomes the Best Tonic for Installers

Glazing retailers across the country have raced to join 'GIN', the new Genesis Installer Network designed to unite forward thinking installation companies with a product portfolio of premium windows, doors and comprehensive support.

 
New Recruit

The new Technical Support Manager is IN

Independent Network is pleased to welcome the organisation\\'s new Technical Support Manager Paul Stevens.

Independent Network has long been committed to providing all the practical and business guidance that members

 

 

DOORS FIT FOR A BEAUTIFUL RESIDENCE

The Residence Collection presented a beautiful stand at this years' FIT Show with the usual panache from the brand with the launch of a number of engineered doors, the way they're meant to be. On Tuesday night the stand was also graced by Jamie B and a waitress service with canapes and drinks, as the show rocked on until 8pm.

There were both contemporary and traditional entrance doors on show, with the addition of a strawberries and cream inspired panel door. French doors were shown in the popular Painswick finish in R9, while R2 showcased a contemporary inward opening balcony door...

 

 

New Bi-Fold

BI-FOLDING DOORS

The Korniche brand evolves as Made for Trade launch a revolutionary all new Aluminium Bi-folding Door.

When we first launched Korniche at the FIT show 2017 I will never forget the gentleman, who walked past our stand and remarked to his colleague, "it's just another lantern". I gave chase to explain to him the innovative features that meant it really wasn't "just another lantern...

 
Flood Door Failings

Poor quality hardware in spotlight following Cumbrian flood door failings

With a recent BBC news report highlighting numerous failures in flood doors which were fitted into Cumbrian homes as part of a major flood resilience programme, Rapierstar is advising flood door manufacturers and...

 

 

ISO-CHEMIE IN NEW INDUSTRY LEADING PARTNERSHIP LAUNCH

First of its type, claims sealing tape specialist

Foam sealant tape company ISO-CHEMIE has linked-up with other industry leaders in a new partnership that will provide a package of benefits for the fenestration sector.

The initiative, launched at FIT Show 2019, sees the specialist in window and door-sealing solutions join with profile supplier Kommerling, glass processor St Gobain and several other industry specialists, in a move that provides a comprehensive 'cradle-to-grave'

 

 

Crowded Market

Stand out in a crowded conservatory market

Justin Williams, International Sales and Marketing Director at trade fabricator Modplan, is on an awareness-raising mission when it comes to conservatory roofs. He says: "The LEKA Warm Roof and the LEKA Orangery Roof are the standout exceptions in a market where consumers...

 
Membranes /Adhesives

illbruck products prominent in power stations campus specification

The creation of a major accommodation complex to house workers constructing the new Hinkley Point C nuclear power station has included the use of illbruck ME011 Breather Membrane, together with other products from the illbruck brand range of tremco illbruck.

Already a long-established supplier to...

 

 

Independent Network endorsed by Which? Trusted Traders

Which? Trusted Traders has announced its official endorsement of Independent Network.

For over 60 years, Which? has been rigorously testing products and services – now the consumer champion assesses tradespeople too, and only the most customer-focused and trustworthy are endorsed.

This official 'badge of honour' demonstrates to potential customers, that Independent Network members meet all the stringent requirements demanded by the Which? Trusted Traders assessment process.

VEKA UK Group's Head of Partner Programmes Karen Lund explains: "We're delighted to be allied with Which? Trusted Traders. It's yet...

 

 

Aluminium Windows

More choice with Exlabesa

Doncaster-based aluminium systems house Exlabesa Building Systems offer a range of aluminium window solutions that are proving popular across both retail and commercial markets. Paul Benn, General Manager at Exlabesa said: "Today's fabricator is looking for choice. Whether they work in the retail or commercial arena customers are demanding more choice in order to fulfil the expectations of their clients. At Exlabesa Building System we have a platform of window systems suitable for all markets and allowing our customers to have degree of flexibility on product offering but with one common factor– every window system is easy to fabricate...

 
Members Weekend

Gatsby Glamour and a Hollywood Host - it's the Independent Network Members' Weekend

Independent Network is planning a Members' Weekend to remember!

The installer support organisation's annual Members' Weekend will be held at The Queen's Hotel in Leeds on June 8th 2019. And the host of the weekend's glittering awards evening will be Star Wars and Harry...

 

 

TITON SHOWCASES NEW HAVERHILL CONFERENCE AND DISPLAY FACILITIES

Titon has completed the refurbishment of its state-of-the-art 4.5-acre manufacturing base in Haverhill, further strengthening its offering to customers and suppliers. The company has invested significantly in modernising the conference and display facilities, as well as the two onsite reception areas. Titon's extensive range of ventilation and hardware products is now on display, creating a visually appealing area to enhancecustomers' experience.

Changes to the buildings include fresh carpets, ceiling tiles, lighting and stair balustrades, as well as the addition of wall graphics, some featuring an illustrated history of the company. Plus, the main reception area now boasts a large LCD display...

 

 

Glass Processing

HEGLA'S ECOLAM STREAMLINES PRODUCTION AT KISH GLASS LTD

Well known in Dublin as a glass processor and manufacturer, Kish Glass Ltd has recently made investments in HEGLA automation to diversify the range and streamline production methods. In order to optimize space and efficiency on the production floor a HEGLA EcoLam cutting table has been installed.

Originally launched in 1973 Kish Glass has seen a steady rise as a reliable, quality manufacturer of...

 
| | | |
| --- | --- | --- |
| | 0780 505 1322 | |