28th November 2019
Record sales for ERG following first year with Conservatory Outlet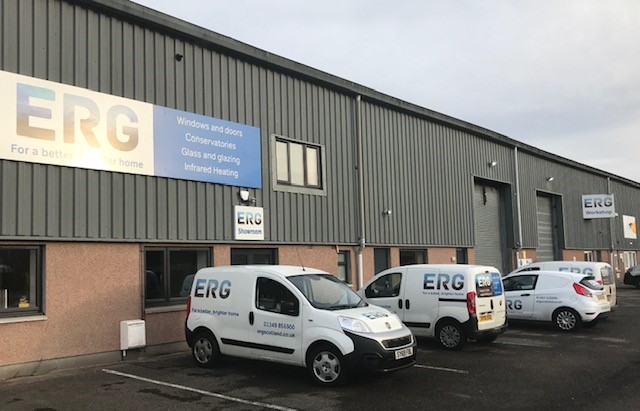 Retail installation business ERG Scotland Ltd has broken through the £4m annual sales barrier for the first time in the company's history, marking the end of a bumper first year as part of the Conservatory Outlet Network.
The Invergordon-based business, headed up by husband and wife duo, Ian and Greer Joy, has been through an intense year of re-structuring and repositioning following a challenging 2018, and has now firmly established itself as a key player in the home improvement sector across the Highlands.
Award Winners

VBH Wins Product Innovation Award

Hardware specialist VBH has extended its recent run of success by winning the Product Innovation category at the 35th running of the prestigious Medway Business Awards.

The MBAs were set up in 1984 to fanfare the rejuvenation of the Medway area following the closure of the Royal Naval Dockyard, which caused massive unemployment in the Towns at that time.

This is the first time...

 

 

Modplan reveals how to take strategic advantage in the conservatory roof market

With the continued growth in the solid conservatory roof market, trade fabricator Modplan has confirmed that their Leka Solid Roof System provides the perfect opportunity to take a strategic advantage.

Justin Williams, International Sales and Marketing Director at Modplan explains: "Research shows the majority of fabricators and installers see the market for solid conservatory roofs overtaking the market for the typical glazed conservatory roof in the next few years. Then consider the fact that the number of solid roof installers is dwarfed by the number of aluminium/PVC-U roof installers, so there's more potential to take market share."

Justin is also clear about...

 

 

Christmas Givaways

Christmas advent giveaways from Epwin Window Systems

Epwin Window Systems is bringing some Christmas cheer to the industry with the return of its popular annual Advent Calendar event.

As in previous years, the Advent Calendar will run from 1st – 25th December inclusive where a prize will be won each day by one lucky person, selected at random, who has entered the daily advent draw. Gerald Allen, Marketing Manager at Epwin Window...

 
Patio Doors

PatioMaster South East reports strong sales growth

PatioMaster SouthEast has reported a 12% year-on-year sales growth. Simon Spiers, Director at the company, said: "We are an independent, family-run company that offers customers the best of both worlds: the ability to buy locally alongside the reassurance of a nationally respected and proven brand. As the...

 

 

Deceuninck's Heritage Collection is a hit with Dekko's customers

Sales of Deceuninck's iconic Heritage Collection are flying at Dekko Window Systems. The national trade fabricator says Deceuninck's Heritage Flush Window and new Heritage Flush Door combine beautiful style with performance.

Kurt Greatrex, Dekko Sales Director says: "Sales of Deceuninck's Heritage Flush Window are going up and up – it's a big hit with customers – and the new Heritage Flush Door is a fantastic addition. The door looks great and there are some superb design features like the double gasket mullion which gives outstanding weather performance. Probably the best you can get on a flush door."

Deceuninck's wide colour range is...

 

 

Windows

New build property in Herefordshire benefits from Optima windows and doors from Profile 22

Retail installer County Windows has just completed the installation of 26 Optima windows, two sets of Optima French doors with side screens and a single Optima residential door in a stunning new build detached property in Herefordshire. Mitch Luckman, owner of County Windows, said: "We are delighted with the results of this build. It was a one-off...

 
GM Fundraising

GM Fundraising announces its 2020 women-only event

GM Fundraising has just announced its 2020 women-only event to raise money for Hope House Children's Hospices. It's called Peak, Paddle, Pedal and the 12 members of the team will each be climbing Snowdon, canoeing 150 miles down the length of the River Severn and cycling 150 miles back to Hope House in Oswestry – all over seven days next August.

Gary Morton, founder...

 

 

Bedfordshire Windows invests in FOM Industrie Adir C CNC Machining Centre from Haffner Murat

Trade and retail fabricator Bedfordshire Windows has just invested in a FOM Industrie Adir C CNC Machining Centre from Haffner Murat. The investment will help the company meet growing demand for its aluminium bifolding doors.

Tom Pitts, Director at Bedfordshire Windows, said: "We've seen demand for aluminium bifolds increase considerably so we took the decision to bring manufacturing in-house. The Adir C CNC Machining Centre ticked all the boxes on what we needed from our machinery and we are delighted with the purchase."

As well as the quality and capabilities of the Adir C CNC Machining Centre, Tom also praises the support...

 

 

Colour

SENIOR HAS IT COVERED WITH NEW FACTORY INVESTMENT

As the popularity of coloured aluminium fenestration products continues to soar, Senior Architectural Systems has invested an additional £200k in its in-house powder-coating facility to improve the quality of its finishes.

Senior already boasts one of the most technically advanced and environmentally efficient powder-coating facilities in the UK, and the latest investment is set to further enhance the service the leading...

 
New Website

Exlabesa Building Systems launch their new website

Exlabesa Building Systems has just launched its new stylish website at www.exlabesa.co.uk highlighting its comprehensive range of aluminium systems.

Aesthetically, the new site offers an updated, modern format that immediately attracts viewers' attention. Paul Benn, General Manager at Exlabesa, said: "Our new modern website has been designed to showcase our wide range of architectural aluminium windows, doors and façades and is both intuitive and easy-to-navigate. Visitors...

 

 

WINDOW AND RESIDENTIAL DOOR TRENDS FOR 2020

As 2019 draws to a close, The Residence Collection are already looking towards 2020, with a view to leading the market in terms of tomorrow's window and residential door design convention, across their R2, R7 and R9 pioneering product platforms.

The Residence Collection was the first brand in the PVCu sector to develop a flush casement window, in the form of what still remains the only true timber casement alternative, based on traditional 19th Century window dimensions. The brand has also been fundamental in the adoption of dual colour finishes and still stands alone with foiled rebates and in the case...

 

 

Hardware

ERA'S UKAS ACCREDITED TESTING LABORATORY PLAYS KEY ROLE IN COLLABORATION WITH VEKA UK AND MODPLAN

ERA's UKAS accredited testing laboratory plays an important role in the company's new product development. It also offers an invaluable service to ERA customers developing their own new products too. The facility demonstrated its market-leading credentials recently as part of a UK first for the fenestration industry that involved a high level of collaboration involving VEKA UK and Modplan.

The outcome of...

 
GM Fundraising

GOING OUT ON A RECORD-BREAKING HIGH

GM Fundraising is renowned for their long-distance cycle rides but 'From Russia With Hope', which took place in June this year, was announced as the last of its kind. All funds have been collected and the group announces they are going out on a record-breaking high with the total of £208,891.72, all of which raised for Hope House Children's Hospices.

"When we announced that this was going to be our final cycling challenge, we were...

 

 

Sash window specialist Quickslide adds the Spectus Vertical Slider to its portfolio

One of the pioneering fabricators of PVC-U sliding sash windows, Quickslide, has recently added the market leading Spectus Vertical Slider to its portfolio.

Tom Swallow, Sales and Marketing Director of Quickslide, said: "We chose the Spectus VS because it is a market-leading system from a systems supplier we know can perform. We take care to choose suppliers we can rely on to deliver the right level of service, investment and support. We know from our existing relationship with Epwin Window Systems that that's exactly what we'll get."

Quickslide will be putting its own stamp on the Spectus Vertical Slider, which will be...

 

 

Awards

BEST ROOFLIGHT AND LANTERN SYSTEM

At the glittering inaugural Conservatory & Orangery Awards on October 30th the Korniche Aluminium Roof Lantern picked up yet another independently judged award - Best Rooflight and Lantern System and even though not launched yet achieved a finalist position in the Technical Innovation Category for the Korniche Bi-folding doors composite clip-in bead system which when launched in 2020 will be a huge benefit to installers.

The C&O Awards are...

 
Architectural Glass

Altitude Glass complete major project with UCLan

One of the North West's leading architectural glass firms, based in Blackburn, has completed the final element of a scheme with UCLan.

Altitude Glass has been working with contractor...

 

 

A New Lease on Life

Wanting to provide ostomy patients with a better quality of life, a comfortable place to recover from surgery and neutral environment to gain their independence and confidence with their stoma, online-based charity Stomawise chose to provide holiday homes with Liniar's low maintenance decking as part of its Caravan Appeal.

What is Stomawise?

Helping to educate patients, families and the general public about the ostomy journey, stomas and living with a stoma, Stomawise seeks to be a hub of easy to access information and support. With advice about pre-treatment, surgery and, helpful tips and tricks about living with a stoma, Stomawise is an...

 

 

Timber Doorsets

National Timber Group acquires Cotswold Manufacturing, consolidating its leadership of the timber doorset market

National Timber Group, the largest independent added-value timber distribution and processing group in the UK and parent of Arnold Laver, is pleased to announce that it has acquired the trade and assets of Cotswold Manufacturing Limited, to accelerate its growth and consolidate its position as the industry leader in the UK timber interior...

 
Eco EnvironmentEco Environment

NHIC MEMBER, TRUSTMARK SCHEME IN NEW REGUALTIONS GIVES HOUSEHOLDERS MORE PROTECTION FOR HOME ENERGY IMPROVEMENTS

The government's Energy Company Obligation (ECO) regulations to...

 

 

GQA SIGNS UP TO FIT SHOW 2020

GQA Qualifications has once again signed up to take part at the FIT Show. Following encouraging levels of visitors to its stand at this year's event, the fenestration industry's awarding body is expecting to enjoy even more engagement with the industry at the 2020 show.

GQA is the sole provider of CSCS cards for the fenestration and glazing industries, and provides nearly fifty fenestration industry relevant qualifications across the UK, delivered nationwide via a network of seventy specialist training centres. The organisation is also a major promoter of practical training for the industry to underpin the many hands-on roles that employees...

 

 

CSCS Partner Scheme

DHF launches CSCS card partner scheme

Tamworth-based trade association, DHF (Door & Hardware Federation), has, this week, launched its CSCS-approved card partner scheme in collaboration with the Automatic Door Suppliers Association (ADSA). The DHF CSCS card provision is for those who work with industrial doors, domestic garage doors, automated gates & traffic barriers and metal or timber doors.

"Whilst not a legislative...

 
Roofline

MD of Trims and Things: "I wouldn't be where I am without Freefoam."

After 25 years of trading, Yorkshire-based Trims and Things has grown to be a market-leading supplier of PVC-UE roofline products and building plastics. The company prides itself on its experience-based knowledge of products, so Freefoam's continually evolving range of products and support have been a perfect fit...

 

 

Stellar commercial brochure available now

Epwin Window Systems has just released a new 36-page brochure on Stellar, its brand new aluminium window and door system, for the commercial sector. Mark Austin, Sales Director (Aluminium) at Epwin Window Systems, said: "Stellar was designed for retail and light commercial use and its intelligent design and superior aesthetics deliver a powerful competitive advantage. This brochure showcases the Stellar difference and equips commercial fabricators with the technical details they need. It completes the suite of Stellar marketing material that gives fabricators and installers in all sectors the literature they need to sell the system to their customers. It will...

 

 

Timber Windows

George Barnsdale to Supply Windows for Former Dickensian Workhouse

George Barnsdale is delighted to announce it has been chosen to manufacture and install the timber windows for a renowned Grade II listed former workhouse building in Fitzrovia, London. Part of the Bedford Passage Development, the project is being undertaken by University College...

 
Flush Windows

200 Spectus Flush Tilt & Turn Windows fitted in high profile social housing development

200 Spectus Flush Tilt & Turn Windows were specified and installed in the construction of 44 high quality social housing properties for Crawley Borough Council.

A former depot in Southgate Crawley, the 22 houses and 22 flats were situated in a high-profile location and aesthetics of the development was vital. Architecturally, a...

 

 

More Haffner Murat machines installed at Planet Roofing

The team at Planet Roofing have been so delighted with the quality and reliability of Haffner Murat machinery that the company has invested in asecond new machine.

Paul Rickman ofPlanet Roofing explains: "We first approached Haffner Muratat the start of 2019 and purchased a new TT405 Computerised Saw. The quality and the efficiency of the machine has resulted in us approaching them again and have now purchased a second TT405 ComputerisedSaw to help further improve our manufacturing efficiencies."

The TT405ComputerisedSaw is a double cut saw for PVC-u and aluminium profiles up to 70mm which gives it great flexibility. The accuracy of the...

 

 

Heritage Frames

Heritage Trade Framespraises Profile 22's Optima system for the benefits that it can provide for its users.

Longstanding Profile 22 fabricator Heritage Trade Frames switched to Optima when Profile 22 launched the system in 2016. The Bolton-based trade fabricator has seen steady growth year-on-year ever since.

Phillip Cresswell, Sales and Marketing Manager at Heritage Trade Frames, said: "Optima is a superb system on...

 
| | | |
| --- | --- | --- |
| | 0780 505 1322 | |