17th October 2019
SENIOR WELCOMES NEW NATIONAL SALES MANAGER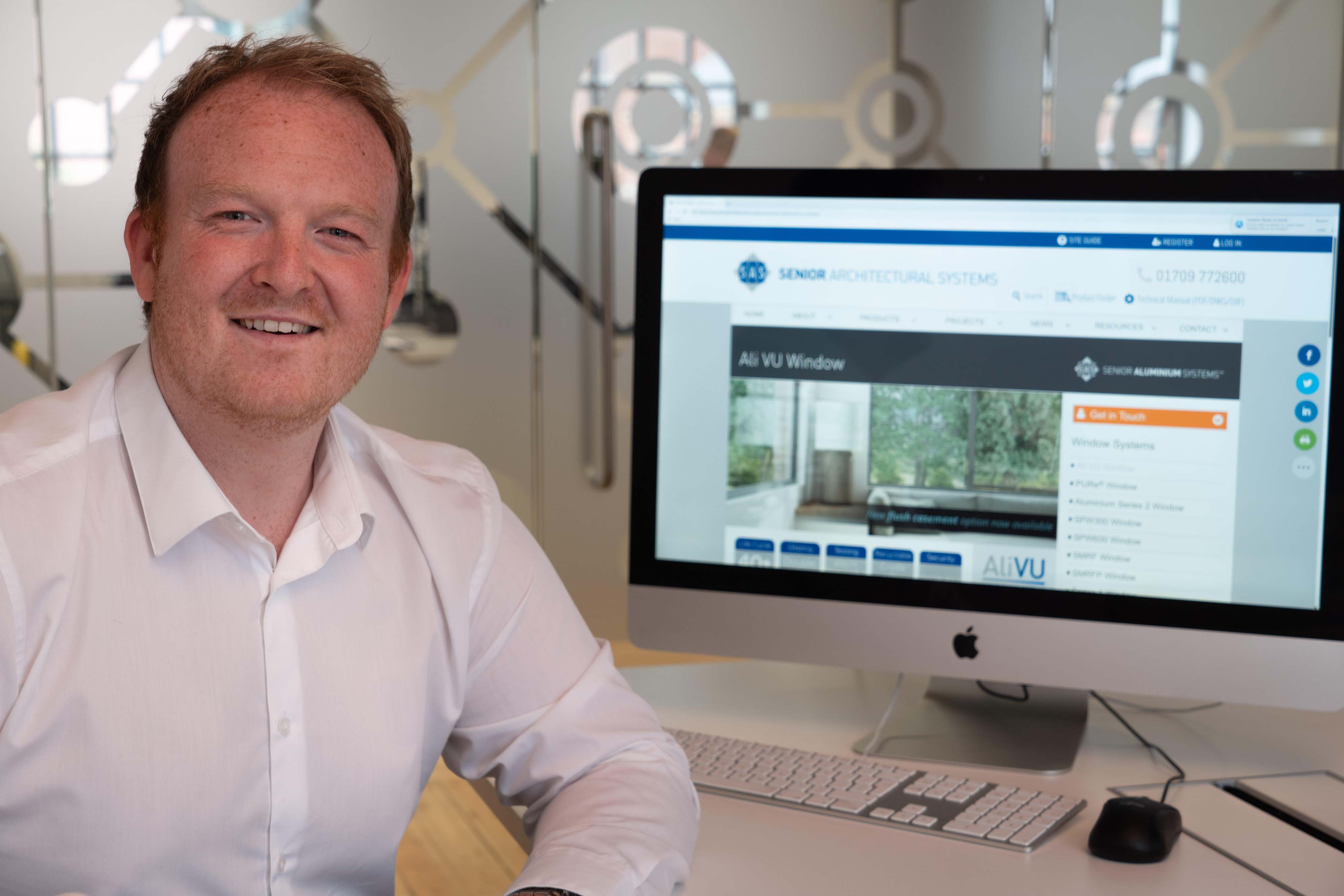 Aluminium fenestration solutions provider Senior Architectural Systems has strengthened its technical sales team with the appointment of Steve Kendrick to the role of national sales manager.
Steve has nearly a decade of experience working in the glass and glazing sector and is a familiar face to many, having previously worked with some of the biggest names in the industry. In his new role overseeing Senior's regionally-based team...
Roofline

MD of Trims and Things: "I wouldn't be where I am without Freefoam."

After 25 years of trading, Yorkshire-based Trims and Things has grown to be a market-leading supplier of PVC-UE roofline products and building plastics. The company prides itself on its experience-based knowledge of products, so Freefoam's continually evolving range of products and support have been a perfect fit – and the starting point for a twenty-year relationship.

John Gough, Managing Director of Trims and Things, explains: "We've been using Freefoam...

 

 

VELUX and Guardian Warm Roof join forces to help create the perfect indoor environment for homeowners

Leading roof window manufacturer VELUX Company Ltd and lightweight roof replacement firm Guardian Warm Roof are joining forces to help create the perfect indoor environment for homeowners.

The new partnership means that Guardian Warm Roof will now exclusively fit VELUX roof widows in their range of roof and extension projects across the UK and Ireland.

Both brands share a passion for creating better living environments for homeowners and have a reputation for quality and innovation within the industry.

 

 

Timber Windows

George Barnsdale to Supply Windows for Former Dickensian Workhouse

George Barnsdale is delighted to announce it has been chosen to manufacture and install the timber windows for a renowned Grade II listed former workhouse building in Fitzrovia, London. Part of the Bedford Passage Development, the project is being undertaken by University College Hospitals Charity to provide mixed residential and commercial accommodation. The Strand Union Workhouse is said to have been used by Charles Dickens as inspiration for his...

 
Flush Windows

200 Spectus Flush Tilt & Turn Windows fitted in high profile social housing development

200 Spectus Flush Tilt & Turn Windows were specified and installed in the construction of 44 high quality social housing properties for Crawley Borough Council.

A former depot in Southgate Crawley, the 22 houses and 22 flats were situated in a high-profile location and aesthetics of the development was vital. Architecturally, a...

 

 

More Haffner Murat machines installed at Planet Roofing

The team at Planet Roofing have been so delighted with the quality and reliability of Haffner Murat machinery that the company has invested in asecond new machine.

Paul Rickman ofPlanet Roofing explains: "We first approached Haffner Muratat the start of 2019 and purchased a new TT405 Computerised Saw. The quality and the efficiency of the machine has resulted in us approaching them again and have now purchased a second TT405 ComputerisedSaw to help further improve our manufacturing efficiencies."

The TT405ComputerisedSaw is a double cut saw for PVC-u and aluminium profiles up to 70mm which gives it great flexibility. The accuracy of the...

 

 

Heritage Frames

Heritage Trade Framespraises Profile 22's Optima system for the benefits that it can provide for its users.

Longstanding Profile 22 fabricator Heritage Trade Frames switched to Optima when Profile 22 launched the system in 2016. The Bolton-based trade fabricator has seen steady growth year-on-year ever since.

Phillip Cresswell, Sales and Marketing Manager at Heritage Trade Frames, said: "Optima is a superb system on...

 
Flush Windows

Profile 22 Optima Flush Casement Windows specified for high quality housing development

Over 500 Profile 22 Optima Flush Casement Windows were installed in a private housing development in Whalley Range, Manchester.

The main contractor...

 

 

Taking Alumina to the Next Level

Innovative systems company Liniar is looking to raise the bar again. Always pushing for continuous improvement, Liniar's latest update to its aluminium door range Alumina takes the product options to a new level, especially for installers.

Already exceptional when it comes to security, appearance and thermal efficiency, the Alumina range of bi-folding doors, flush fit French doors and residential doors is now even faster to fit, thanks to a fully matching optional PVCu bead.

Alumina doors span up to 2.5m high, offering wide expanses of glass and slim sightlines in hundreds of warm touch foil finishes or three stunning RAL powder-coated finished,...

 

 

Retail Installers

The Genesis Installer Network (GIN) is a tonic for retail installers

Glazing retailers across the country are already reaping the benefits of joining the Genesis Installer Network 'GIN'. Marcus O'Boyle, Business Development and Marketing Manager of Bison Frames discusses the benefits...

 
GGF Members Day

GGF PRESIDENT DELIVERS SPIRITED SPEECH TO MEMBERS

At the recent Glass and Glazing Federation's Members' Day annual conference, the GGF President, John Agnew delivered a spirited speech that clearly showed Members the Federation's intentions going forward.

Entitled the "The Future of the Federation", John Agnew provided a brief background of the GGF's roots stressing that it...

 

 

ERA'S PRODUCT DEVELOPMENT COLLABORATION WITH SOLIDOR

ERA, the security expert, is continually investing in product development. Much of this is of course market-led, and from time to time fabricators and installers request very specific product development collaboration in order to future-proof their business and to be able to differentiate themselves effectively from their competitors.

 

 

GGF Members Day

GGF AGM PROPOSALS UNANIMOUSLY APPROVED BY MEMBERS

The GGF Annual General Meeting (AGM) held on 26th September in London was well attended with representation from over 30 Member companies from throughout the glass and glazing supply chain.

John Agnew, GGF President, chaired the meeting and received unanimous approval...

 
Awards

Epwin Window Systems confirmed finalists in four G Award 2019 nominations

Epwin Window Systems have been confirmed finalists in four G Award 2019 nominations.It has been shortlisted in the New Product of the Year category, the Promotional Campaign of the Year category and twice in the Commercial Project of the Year category.

 

 

The Sustainable Future of Fenestration?

Social media, the internet and news outlets are a platform for global conversation surrounding sustainability, climate change and humanity's impact on the environment; and as a part of the wider petrochemical industry, more and more eyes are centred on PVCu systems companies than ever before. The future of the fenestration industry will be shaped by sustainability and how systems companies adaptand renew their commitment to protecting the environment.

"Unplasticised", but still thrown into the same category as 'plastic', PVCu has an uphill battle when it comes to educating the public on the product's sustainability – and the fact that it isn't...

 

 

Awards

Sustainability Award Nomination for Liniar

With a continued focus on making a difference in the local community and ensuring that its impact on the environment is a positive one, leading PVCu systems company Liniar is delighted to announce it's been...

 
Aluminium

Faster aluminium fabrication with Stellar from Epwin Window Systems

Stellar, the new aluminium window and door system from Epwin Window Systems, is packed with innovative developments that set new standards for the aluminium industry. For fabricators, one of the most important developments is that it's 20% faster to fabricate.

Paul Booth, Design Director, Aluminium Products, Epwin Group Plc, who led the team that developed Stellar, said: "There are all kinds of operation efficiencies fabricators can look at to speed up fabrication times and help reduce material costs. But Stellar has been designed to be faster to fabricate in the first place. It gives...

 

 

Advance 70 and Selecta Going from Strength-to-Strength

The Selecta renaissance continues to go from strength-to-strength with conversions to the Advance 70 Window and Door System reaching record numbers.Sales Director, Andy Green, talks about the reasons why an array of fabricators and installers areembracing the huge opportunities of being part of the UK's only independent and family owned systems company.

The last two and a half years have been a tremendously busy period for everyone involved at Selecta, with the last six months in particular being busier than we've ever experienced in recent years. So much so, that I've had comments that I've not been seen in the industry...

 

 

Aluminium

Haffner Murat to supply Fom Industrie aluminium fabrication machinery

Leading machinery experts Haffner Murat has just announced it will be supplying Fom Industrie aluminium fabrication machinery. Dave Thomas, Haffner Murat's Managing Director, said: "Fom Industrie offers the state-of-the-art in aluminium automation machinery. By working with Fom, we'll be able to offer even more choice to fabricators looking to make the most of the growing opportunities in aluminium."

Italy's Fom Industrie is part of the worldwide FomGroup and has an outstanding product offering. Dave commented: "The scale of Fom means they...

 
Aluminium

Clearview Glaziers are ahead of the game with Stellar

In June, Clearview Glaziers were one of the first fabricators to manufacture Stellar, the brand new aluminium window and door system from...

 

 

PatioMaster North West sees strong demand for Triple-track patio doors

PatioMaster North West has reported strong sales growth for Triple-track patio doors in the last twelve months. Phillip Cresswell, Sales and Marketing Managerfor the North WestPatioMaster division, said: "The trend for wide apertures and large expanses of glass has never been stronger. We have seen a constant demand for Triple-track doors as installers take advantage of the growth in the market fromhomeowners looking to create the open-house feel that is so on trend and which a Triple-track patio door can deliver."

The Triple-track door offers 25% more open space compared to a conventional sliding door and has the option of having...

 

 

New Installer Website

New Installer Website Supportfrom Selecta

Providing a first rateand continuously developing service and support packagecontinues to bea prominent factor behind the continued success of Birmingham based PVCu window and door systems company, Selecta Systems.

 
Networking

'PiGgin' marvellous night in Glasgow

September saw PiGstrotting up to Scotland for the third year running, with the Glasgow event proving more and more popular with each visit.

St Judesbar was inundated with glazing guys and gals from both the north and south of the border, who took the opportunity to catch up with friends in the industryas well as making new acquaintances.

 

 

THE POWER OF GREAT DESIGN

The Genesis Collection from Bison Frames (UK) Ltd remains a popular choice for installers and you only have to look at the products on offer to understand why. Marcus O'Boyle, Business Development and Marketing Manager of Bison Frames discusses the added value benefits Genesis has to offer installers.

Your choice of products is critical to your business. We all know that when it comes to window and door products, today's consumers are much more design savvy than they once were. Market research continues to report that today's consumers are looking for high quality, feature rich products when it comes to...

 

 

New Appointment

New Appointment at Haffner Murat

Leading machinery supplier Haffner Murat Ltd has further strengthened its sales management team with the appointment of Chris Curran in the position of Technical Sales Manager.

Chris joins the team from Camden Frames and speaking on his appointment he said: "Haffner Murat is a...

 
Enhanced Security

DHF publishes new document – TS 007-2:2019 - in collaboration with the Glass and Glazing Federation

Tamworth-based trade association, DHF (Door & Hardware Federation), has published a new downloadable document for the building and hardware sector, named TS 007 - 2:2019 - Enhanced security for mechatronic cylinders and/or associated hardware.

DHF\\'s new Technical Specification (produced in association with the Glass and Glazing...

 

 

'The Rise of Aluprof in the UK'

An interview with Wojciech Brozyna Managing Director of Aluprof UK Limited

Established in the UK in 2006, Aluprof has grown in the UK to become one of the major players in the UK facade industry. With so many active facade systems companies operating in the UK, how did Aluprof succeed in taking a sizeable portion of the UK market? Wojciech Brozyna, MD of Aluprof UK, answers some of these questions:

So why break into the UK market when it was so well-established back in 2006?

"In Poland we have always viewed the UK as a challenge for us, we knew that it would...

 

 

GGF Annual Report

GGF ANNUAL REPORT REFLECTS STRENGTH AND STABILITY

The Glass and Glazing Federation (GGF) has released its Annual Report 2019 reporting on the activity and performance of the Federation for the year ending 31st December 2018.

The report covers a year that saw the GGF gain a record 67 new members during a year of change, influence and preparation as the regulations and standards came under Government scrutiny due to the inquiry in the Grenfell Tower fire tragedy and the UK's pending exit from the European Union.

 
| | | |
| --- | --- | --- |
| | 0780 505 1322 | |