3rd October 2019
BYSTRONIC GLASS AND HEGLA NOMINATED FOR NFA MACHINERY COMPANY OF THE YEAR 2019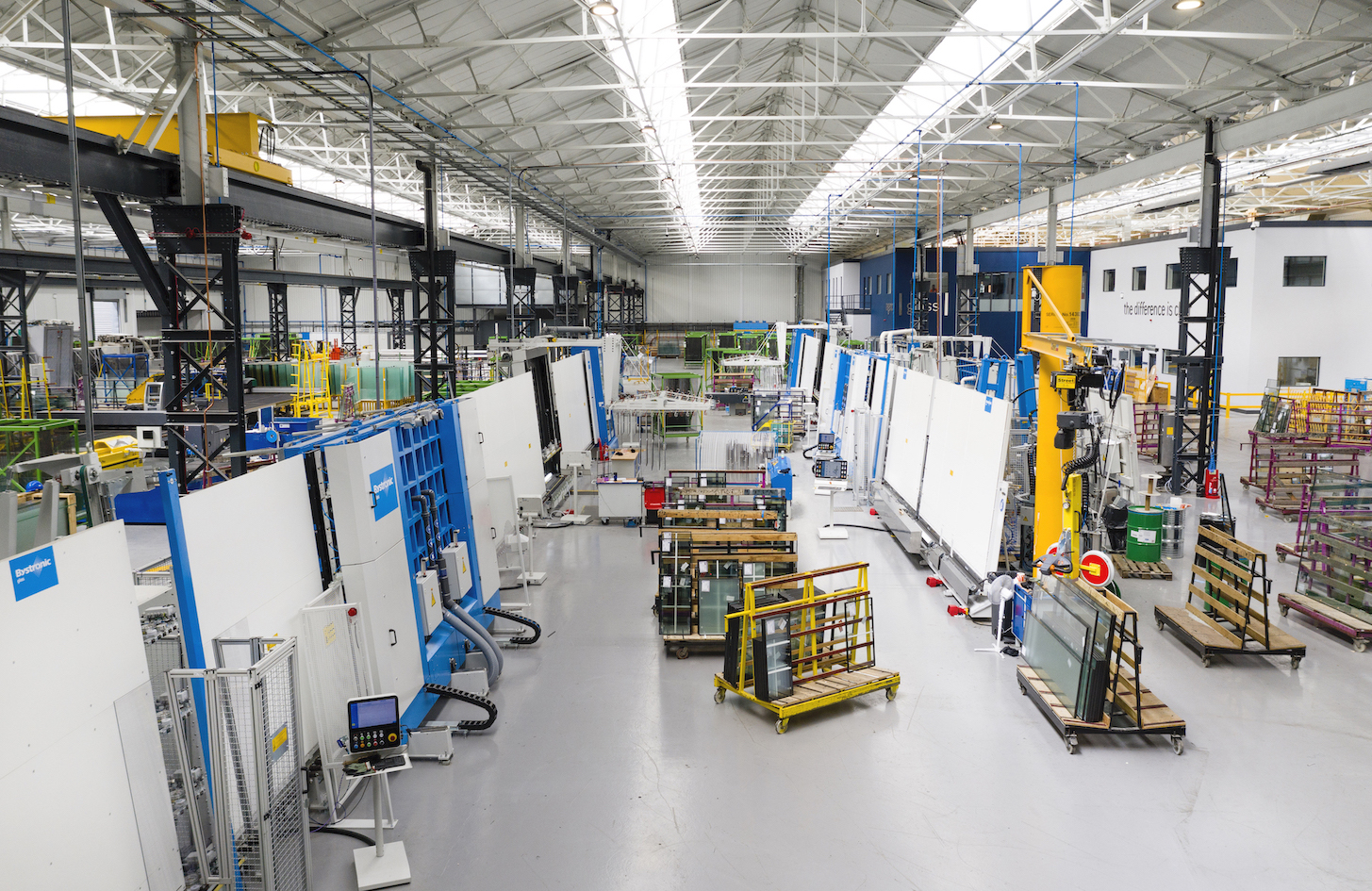 Hot on the heels of HEGLA's 'Best In Show' success at GlassBuild 2019, the Bystronic Hegla Preferred Partnership has once again been nominated in the best Machinery Company Award with the NFAs. Recognised as innovative system solutions suppliers for the UK glass sector both companies have been recognised by customers for their hard work and quality standards.
The preferred partnership union brings together the best of both worlds with engineering design and customer services kept as priorities. With the awards requiring both nomination and voting for by peers in the industry, Steve Goble believes that to have been nominated again, there....
Awards

Epwin Window Systems confirmed finalists in four G Award 2019 nominations

Epwin Window Systems have been confirmed finalists in four G Award 2019 nominations.It has been shortlisted in the New Product of the Year category, the Promotional Campaign of the Year category and twice in the Commercial Project of the Year category.

 

 

The Sustainable Future of Fenestration?

Social media, the internet and news outlets are a platform for global conversation surrounding sustainability, climate change and humanity's impact on the environment; and as a part of the wider petrochemical industry, more and more eyes are centred on PVCu systems companies than ever before. The future of the fenestration industry will be shaped by sustainability and how systems companies adaptand renew their commitment to protecting the environment.

"Unplasticised", but still thrown into the same category as 'plastic', PVCu has an uphill battle when it comes to educating the public on the product's sustainability – and the fact that...

 

 

Awards

Sustainability Award Nomination for Liniar

With a continued focus on making a difference in the local community and ensuring that its impact on the environment is a positive one, leading PVCu systems company Liniar is delighted to...

 
Aluminium

Faster aluminium fabrication with Stellar from Epwin Window Systems

Stellar, the new aluminium window and door system from Epwin Window Systems, is packed with innovative developments that set new standards for the aluminium industry. For fabricators, one of the most important developments is that it's 20% faster to fabricate.

Paul Booth, Design Director, Aluminium Products, Epwin Group Plc, who led the team that developed Stellar, said: "There are all kinds of operation...

 

 

Advance 70 and Selecta Going from Strength-to-Strength

The Selecta renaissance continues to go from strength-to-strength with conversions to the Advance 70 Window and Door System reaching record numbers.Sales Director, Andy Green, talks about the reasons why an array of fabricators and installers areembracing the huge opportunities of being part of the UK's only independent and family owned systems company.

 

 

Aluminium

Haffner Murat to supply Fom Industrie aluminium fabrication machinery

Leading machinery experts Haffner Murat has just announced it will be supplying Fom Industrie aluminium fabrication machinery. Dave Thomas, Haffner Murat's Managing Director, said: "Fom Industrie offers the state-of-the-art in aluminium automation machinery. By working with Fom, we'll be able to offer even more choice to fabricators looking to make the most of the growing opportunities in aluminium."

 
New Installer Website

New Installer Website Supportfrom Selecta

Providing a first rateand continuously developing service and support packagecontinues to bea prominent factor behind the continued success of Birmingham based PVCu window and door systems company, Selecta Systems.

 

 

PatioMaster North West sees strong demand for Triple-track patio doors

PatioMaster North West has reported strong sales growth for Triple-track patio doors in the last twelve months. Phillip Cresswell, Sales and Marketing Managerfor the North WestPatioMaster division, said: "The trend for wide apertures and large expanses of glass has never been stronger. We have seen a constant demand for Triple-track doors as installers take advantage of the growth in the market fromhomeowners looking to create the open-house feel that is so on trend and which a Triple-track patio door can deliver."

The Triple-track door offers 25% more open space compared to a conventional sliding door and has the option of having...

 

 

Aluminium

Clearview Glaziers are ahead of the game with Stellar

In June, Clearview Glaziers were one of the first fabricators to manufacture Stellar, the brand new aluminium window and door system from Epwin Window Systems. Four months on, Robin Squibb of Clearview Glaziers is delighted with the results and reports: "We have found the Stellar window and door system a breath of fresh air to fabricate. It seems...

 
Networking

'PiGgin' marvellousnight in Glasgow

September saw PiGstrotting up to Scotland for the third year running, with the Glasgow event proving more and more popular with each visit.

St Judesbar was inundated with glazing guys and gals from both the north and south of the border, who took the opportunity to catch up with friends in the industryas well as making new acquaintances.

"It's great to see the PiGsnight in...

 

 

THE POWER OF GREAT DESIGN

The Genesis Collection from Bison Frames (UK) Ltd remains a popular choice for installers and you only have to look at the products on offer to understand why. Marcus O'Boyle, Business Development and Marketing Manager of Bison Frames discusses the added value benefits Genesis has to offer installers.

Your choice of products is critical to your business. We all know that when it comes to window and door products, today's consumers are much more design savvy than they once were. Market research continues to report that today's consumers are looking for high quality, feature rich products when it comes to...

 

 

New Appointment

New Appointment at Haffner Murat

Leading machinery supplier Haffner Murat Ltd has further strengthened its sales management team with the appointment of Chris Curran in the position of Technical Sales Manager.

Chris joins the team from Camden Frames and speaking on his appointment he said: "Haffner Murat is...

 
Enhanced Security

DHF publishes new document – TS 007-2:2019 - in collaboration with the Glass and Glazing Federation

Tamworth-based trade association, DHF (Door & Hardware Federation), has published a new downloadable document for the building and hardware sector, named TS 007 - 2:2019 - Enhanced security for mechatronic cylinders and/or associated hardware.

DHF\\'s new Technical Specification (produced in association with the Glass and Glazing...

 

 

'The Rise of Aluprof in the UK'

An interview with Wojciech Brozyna Managing Director of Aluprof UK Limited

Established in the UK in 2006, Aluprof has grown in the UK to become one of the major players in the UK facade industry. With so many active facade systems companies operating in the UK, how did Aluprof succeed in taking a sizeable portion of the UK market? Wojciech Brozyna, MD of Aluprof UK, answers some of these questions:

So why break into the UK market when it was so well-established back in 2006?

"In Poland we have always viewed the UK as a challenge for us, we knew that it would...

 

 

GGF Annual Report

GGF ANNUAL REPORT REFLECTS STRENGTH AND STABILITY

The Glass and Glazing Federation (GGF) has released its Annual Report 2019 reporting on the activity and performance of the Federation for the year ending 31st December 2018.

The report covers a year that saw the GGF gain a record 67 new members during a year of change, influence and preparation as the regulations and standards came under Government scrutiny due to the inquiry in the Grenfell Tower fire tragedy and the UK's pending exit from the European Union.

 
VAT Change

Government delay to VAT change is a victory for common sense, says FMB

The Government's decision to delay by one year the implementation of potentially damaging VAT changes for construction companies is a victory for common sense, says the Federation of Master Builders (FMB).

Reverse charge VAT was due to come into force from 1st October 2019 but the Government today announced its decision to delay...

 

 

Survey Results Show a Premium Customer Service by Thermoseal Group

It is easy to see that it's not just Thermoseal Group's award-winning products that keep its customers happy. The outcome of the Group's 2019 Customer Satisfaction Survey has been outstanding, with 96% of customers rating their overall experience with Thermoseal Group as Excellent.

With now 40 years supplying to the glass and glazing industry offering an ever-growing range of over 2,500 insulated glass (IG) components - most of which are now manufactured by the Group in the UK - Thermoseal Group supplies to customers in over 27 countries across 5 continents.

 

 

UK Construction Week

The disruptors are here – new tech hits the headlines at UK Construction Week

Construction was told three years ago it had to 'Modernise or die.' That statement has clearly resonated with parts of the sector with new technology and techniques entering the industry, but what about the rest of the sector?

This drive for innovation encouraged UK Construction Week (UKCW) to throw down the gauntlet and ask the new disruptors to step forward and show others the way towards the next industrial revolution.

As part of this, UKCW 2019 will be bringing cutting edge...

 
Glass Solutions

SWISSPACER UK introduces premium solutions for glass

Leading warm edge spacer bar supplier SWISSPACER is developing its range...

 

 

The UK's newest skills academy finally opens its doors

A pioneering civil engineering skills academy unlike anything else in the North East has been officially opened in Hartlepool.

The new skills academy from Seymour Civil Engineering and principal partners Hartlepool College of Further Education and Hartlepool Borough Council will provide certified qualifications to future and current civil engineers both locally and nationally with the aim of helping to close the ever-growing skills gap in the industry.

According to the Construction Industry Training Board(CITB) the industry needs to recruit in excess of 31,000 people every year to 2022, while research by the UK Commission for Employment and Skills suggests more than 750,000...

 

 

New Builders Merchant

MKM LAUNCHES 65th BRANCH IN ABERDEEN CREATING 20 JOBS

Fantastic news for the building trade in Aberdeen, as MKM Building Supplies, the UK\\'s largest independent builder\\'s merchant has opened the doors of a brand new, state-of-the-art branch bringing all building needs under one roof and creating 20 jobs.

The branch is the first new builder\\'s merchant to open in Aberdeen for over a decade. The 3.2acre site with a...

 
Sliding Hardware

P C Henderson Expands its Range of Rustic Top Mount Systems with New Stainless Steel Finish

Sliding and folding door hardware manufacturer, P C Henderson, is pleased to announce the launch of a new stainless steel finish for its popular Rustic Top Mount system.

Launched earlier this year, Rustic Top Mount offers a stylish contemporary twist on the company's classic Rustic 100 system with its exposed steel hangers being mounted to the top of the door.

 

 

FREEFOAM, WORKING TO HELP ROOFING MERCHANTS GROW

Whilst Freefoam building products have traditionally been available from specialist PVC suppliers the more ambitiousroofing and general builders merchants are now seeing the potential and benefits of stocking fascia, soffit and gutter alongside their existing ranges.

Skyline Roofing are one such business.

Based in West London with 12 branches in and around the capital, Skyline made a strategic decision to add PVC roofline products to their range. Greg Homer, General Manager Hanwell branch explained "We have seen our customer base widen from our core roofing professionals, to now include builders, loft convertors, renovation companies and cladding contractors. We needed to...

 

 

Award Winning Building

Kawneer glazing features on an award-winning building

Aluminium systems used on the new HQ of the UK Hydrographic Office.

Architectural glazing systems by leading UK manufacturer Kawneer, including two types of curtain walling, two types of window vents and two types of entrance doors, feature on a multi-award-winning new headquarters for the UK Hydrographic Office.The aluminium Kawneer systems were installed by specialist sub-contractor Dudley's...

 
Profile Bending

Toadstools By Force 8

This is the second Toadstool frame and door Force 8 have fabricated and installed in Sale, Greater Manchester. The first client had three companies attempting to manufacture this unusual frame, two said it could not be done on viewing it, and one gave up at the survey stage. The second client approached Force 8...

 

 

Liniar boosts sales team to handle extraordinary growth

Innovative PVCu systems company Liniar has today announced the appointment of Mike Hobson as Regional Sales Director within the Liniar team.

Hobson is highly experienced within the sector, having 19 years' experience at Masco UK with Duraflexsystems, and prior to that at Deceuninck and Plasmo.

 

 

Skills Shortage

MANUFACTURERS TAKE ACTION TO TACKLE GROWTH-HARMING SKILLS SHORTAGE

To meet the challenge posed by a chronic shortage of suitable recruits coming into the UK manufacturing sector – a key factor hampering growth – bosses are increasingly "upskilling" their existing employees.

 
| | | |
| --- | --- | --- |
| | 0780 505 1322 | |