19th September 2019
Profile 22 Optima windows specified in Telford new build development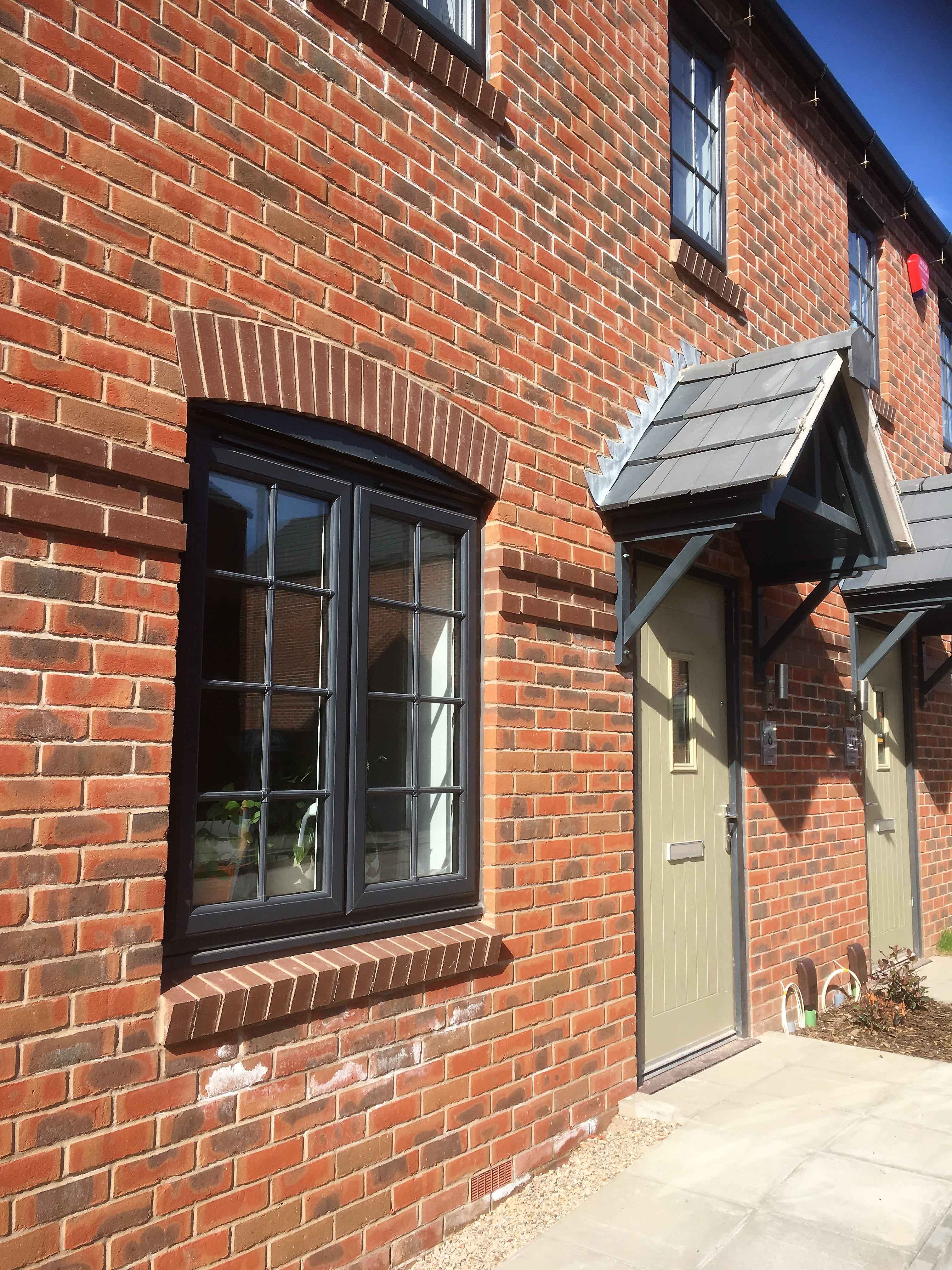 Profile 22' Optima Chamfered windows were specified and commissioned for 39 new build homes in Snedshill, Telford for private rent.
The window specification was for a RAL 7016 Grey on White sculptured profile that could achieve an overall U value of 1.4 W/m2K. Secured by Design accreditation was a requirement as was PAS24 / Part Q compliance. The site's location near a busy road meant acoustic glazing was required on some elevations. Trickle vents were required on some windows, including those with acoustic glazing requirements, which meant non-standard acoustic trickle vents were required. Other windows required astragal bars, which needed to....
Enhanced Security

DHF publishes new document – TS 007-2:2019 - in collaboration with the Glass and Glazing Federation

Tamworth-based trade association, DHF (Door & Hardware Federation), has published a new downloadable document for the building and hardware sector, named TS 007 - 2:2019 - Enhanced security for mechatronic cylinders and/or associated hardware.

DHF\\'s new Technical Specification (produced in association with the Glass and Glazing...

 

 

'The Rise of Aluprof in the UK'

An interview with Wojciech Brozyna Managing Director of Aluprof UK Limited

Established in the UK in 2006, Aluprof has grown in the UK to become one of the major players in the UK facade industry. With so many active facade systems companies operating in the UK, how did Aluprof succeed in taking a sizeable portion of the UK market? Wojciech Brozyna, MD of Aluprof UK, answers some of these questions:

So why break into the UK market when it was so well-established back in 2006?

"In Poland we have always viewed the UK as a challenge for us, we knew that it would...

 

 

GGF Annual Report

GGF ANNUAL REPORT REFLECTS STRENGTH AND STABILITY

The Glass and Glazing Federation (GGF) has released its Annual Report 2019 reporting on the activity and performance of the Federation for the year ending 31st December 2018.

The report covers a year that saw the GGF gain a record 67 new members during a year of change, influence and preparation as the regulations and standards came under Government scrutiny due to the inquiry in the Grenfell Tower fire tragedy and the UK's pending exit from the European Union.

 
VAT Change

Government delay to VAT change is a victory for common sense, says FMB

The Government's decision to delay by one year the implementation of potentially damaging VAT changes for construction companies is a victory for common sense, says the Federation of Master Builders (FMB).

Reverse charge VAT was due to come into...

 

 

Survey Results Show a Premium Customer Service by Thermoseal Group

It is easy to see that it's not just Thermoseal Group's award-winning products that keep its customers happy. The outcome of the Group's 2019 Customer Satisfaction Survey has been outstanding, with 96% of customers rating their overall experience with Thermoseal Group as Excellent.

With now 40 years supplying to the glass and glazing industry offering an ever-growing range of over 2,500 insulated glass (IG) components...

 

 

UK Construction Week

The disruptors are here – new tech hits the headlines at UK Construction Week

Construction was told three years ago it had to 'Modernise or die.' That statement has clearly resonated with parts of the sector with new technology and techniques entering the industry, but what about the rest of the sector?

This drive for innovation encouraged UK Construction Week (UKCW) to throw down the gauntlet and ask the new disruptors to step forward and show others the way towards the next industrial revolution.

 
Glass Solutions

SWISSPACER UK introduces premium solutions for glass

Leading warm edge spacer bar supplier SWISSPACER is developing its range of solutions for glass in the UK with the addition of the exclusive La Pensilina premium glass canopy. This – alongside new fittings and systems for glass balustrades - will be available...

 

 

The UK's newest skills academy finally opens its doors

A pioneering civil engineering skills academy unlike anything else in the North East has been officially opened in Hartlepool.

The new skills academy from Seymour Civil Engineering and principal partners Hartlepool College of Further Education and Hartlepool Borough Council will provide certified qualifications to future and current civil engineers both locally and nationally with the aim of helping to close the ever-growing skills gap in the industry.

According to the Construction Industry Training Board(CITB) the industry needs to recruit in excess of 31,000 people every year to 2022, while research by the UK Commission for Employment and Skills suggests more than 750,000...

 

 

New Builders Merchant

MKM LAUNCHES 65th BRANCH IN ABERDEEN CREATING 20 JOBS

Fantastic news for the building trade in Aberdeen, as MKM Building Supplies, the UK\\'s largest independent builder\\'s merchant has opened the doors of a brand new, state-of-the-art branch bringing all building needs under one roof and creating 20 jobs.

The branch is the first new builder\\'s merchant to open in Aberdeen for over a decade. The 3.2acre site with a...

 
Sliding Hardware

P C Henderson Expands its Range of Rustic Top Mount Systems with New Stainless Steel Finish

Sliding and folding door hardware manufacturer, P C Henderson, is pleased to announce the launch of a new stainless steel finish for its popular Rustic Top Mount system.

Launched earlier this year, Rustic Top Mount offers a stylish contemporary twist on the company's classic Rustic 100 system with its exposed steel hangers being mounted to the top of the door.

 

 

FREEFOAM, WORKING TO HELP ROOFING MERCHANTS GROW

Whilst Freefoam building products have traditionally been available from specialist PVC suppliers the more ambitiousroofing and general builders merchants are now seeing the potential and benefits of stocking fascia, soffit and gutter alongside their existing ranges.

Skyline Roofing are one such business.

Based in West London with 12 branches in and around the capital, Skyline made a strategic decision to add PVC roofline products to their range. Greg Homer, General Manager Hanwell branch explained "We have seen our customer base widen from our core roofing professionals, to now include builders, loft convertors, renovation companies and cladding contractors. We needed to...

 

 

Award Winning Building

Kawneer glazing features on an award-winning building

Aluminium systems used on the new HQ of the UK Hydrographic Office.

Architectural glazing systems by leading UK manufacturer Kawneer, including two types of curtain walling, two types of window vents and two types of entrance doors, feature on a multi-award-winning new headquarters for the UK Hydrographic Office.The aluminium Kawneer systems were installed by specialist sub-contractor Dudley's...

 
Profile Bending

Toadstools By Force 8

This is the second Toadstool frame and door Force 8 have fabricated and installed in Sale, Greater Manchester. The first client had three companies attempting to manufacture this unusual frame, two said it could not be done on viewing it, and one gave up at the survey stage. The second client approached Force 8 after recommendation from the previous customer. The project was a slightly different design from the first, with French PVC doors rather than a single composite door.

"In reality, there is no such thing as a...

 

 

Liniar boosts sales team to handle extraordinary growth

Innovative PVCu systems company Liniar has today announced the appointment of Mike Hobson as Regional Sales Director within the Liniar team.

Hobson is highly experienced within the sector, having 19 years' experience at Masco UK with Duraflexsystems, and prior to that at Deceuninck and Plasmo.

He joins Liniar at a time when two of Scotland's largest fabricators have commenced manufacture of the system, with installers North of the border increasingly turning to the easy-to-fit window and door system. Add this to a consistent sales growth of more than 10% per year for the last 10 years, and it's clear to see how...

 

 

Skills Shortage

MANUFACTURERS TAKE ACTION TO TACKLE GROWTH-HARMING SKILLS SHORTAGE

To meet the challenge posed by a chronic shortage of suitable recruits coming into the UK manufacturing sector – a key factor hampering growth – bosses are increasingly "upskilling" their existing employees.

At the same time a rapidly increasing number of manufacturing firms are seeing turnover and profits nosedive compared to this time last year.

These are two headline findings of the...

 
Boosting Growth

EU deal is essential to boosting growth, says FMB

The Government must bring an end to the threat of 'no deal' and give clarity to UK businesses by securing a new deal with the EU, according to the Federation of Master Builders (FMB), in response to the Construction PMI data released today. The data shows construction output has contracted again in August for the fourth month in a row, and new orders fell at the fastest pace for over ten years.

 

 

HEGLA, GLASTON AND BYSTRONIC GLASS SET NEW INDUSTRY STANDARDS AT REGENCY GLASS

An investment in machinery and equipment from three of the UK's leading machinery suppliers, will take one the industry's foremost IG unit manufacturers to a next generational level. HEGLA, Glaston and Bystronic Glass recently completed a state-of-the-art installation at Regency Glass, which firmly places the company as a main player in the sealed unit supply industry.

Based in the Northwest of England, the specialist glass manufacturer has made a firm commitment to customers through this investment. This has enabled Regency Glass to both future proof the business and reinforce the qualities associated with the Regency brand.

For an installation of such a...

 

 

Building Up

Revealed: 'Building Upwards' Could Help Overcome the UK's Housing Crisis

With the UK's housing crisis increasing evermore, the government has started to investigate alternative methods to accommodate the UK's growing population.

Part of this includes revising the National Planning Policy Framework (NPPF) to make it easier for developers to build upwards rather than outwards.

Not only would this create new homes for those who so desperately need them but it would also increase housing density across cities.

To raise awareness, Insulation Express...

 
Composite Doors

ODL Europe's in-house door prepping facility proves popular for customers

Following a six-figure investment at their Bootle Manufacturing plant, ODL Europe opened their new in-house composite door prepping service earlier this year. The bespoke door prepping service...

 

 

ALUMINIUM ALUMNI: STUDENTS IN SCOTLAND BENEFIT FROM TITON HARDWARE

Over 630 Sobinco Chrono aluminium tilt and turn window systems with SF Xtra trickle vents from Titon have been installed at three student accommodation blocks at Heriot-Watt University in Edinburgh. The new, contemporary designed halls of residence contain over 450 large single en-suite rooms, as well as shared kitchen/lounge areas. Named after past professors from the University (Anna MacLeod, Mary Fergusson and Muriel Sparks), the new student accommodation opened on the Edinburgh campus in September 2017.

The three buildings were designed by Fletcher Joseph architects and built by leading UK construction group Watkin Jones, with Glasgow-based company Marshall Brown (Windows) Limited...

 

 

Composite Doors

RESIDENCE IS BACKING PANEL DOOR PERFORMANCE

With the launch of Residence Doors at the FIT Show and true to form, The Residence Collection are embracing bespoke and hand-crafted entrance door manufacturing by using existing sash and bead profiles, coupled with a performance door panel in either 28 or 44mm.

This means that existing manufacturers of The Residence Collection can seamlessly move in...

 
New VAT Rules

Introduction of New VAT Rules to Target Fraud due in October 2019

Businesses which provide construction services are urged to make themselves aware of changes to the way VAT is charged prior to the introduction of reverse VAT charging later this year. Changes to VAT charging are being introduced in order to tackle the growing problem of VAT fraud in the construction industry. Tax preparation expert and director ofDSR Tax Claims Ltd, David Redfern, cautioned...

 

 

Sash UK completes the Imagine suite with Vertical Slider

Sash UK, based in Barnsley South Yorkshire and serving customers up and down the country, is proud to announce they are now fabricating VEKA UK's 'next generation' Imagine Vertical Slider.

The long established company decided to manufacture the VS allowing them to offer the full Imagine suite from VEKA UK, giving customers the many fabrication and installation benefits that come with the newly launched Imagine Vertical Slider.

John Riordan Managing Director explains: "Our customers already love the Imagine Patio Door and Imagine Bi-Fold Door System that we offer and when we saw all the benefits of the brand new Imagine Vertical Slider,...

 

 

Glass Recycling

Glass waste shows road to recycling waste

Thanks to scientists based in South Yorkshire and 27 European partners working together on a £9million project, glass is helping to build a new highway to sustainability.

Researchers at Glass Technology Services, and its sister company British Glass which represents the UK's £1.6bn glass manufacturing sector, are leading on the glass element of a project which aims to work...

 
Aluminium

Exlabesa Building Systems committed to UK manufacturing

Exlabesa Building Systems is one of the few UK aluminium system companies who extrude all their products in the UK. And with the uncertainty surrounding Brexit and the...

 

 

PiGsset to hog the limelight in Atlanta

In September 2013, a group of wild hogs hit the headlines when they terrorised an Atlanta suburb, leaving many residents afraid to leave their homes. Six years later, a bunch of not quite so feral PiGs will be descending on the American city, although this time the locals have no need to be afraid.

Due to popular demand, the People in Glazing Society's bonusevent will be held in tandem with GlassBuild America in Atlanta on Wednesday 18 September, and unlike the famous swine from years ago, it's doubtful that attendees will "eat people's trash and lounge around in their yards."

"I found...

 

 

Machinery

Phoenix Windows invests in a new SMR-4 welder from Haffner Murat

Phoenix Windows has invested in a new SMR-4 welder from leading machinery specialists Haffner Murat Ltd.

The SMR-4 welder has been marketed as the fastest and most...

 
| | | |
| --- | --- | --- |
| | 0780 505 1322 | |