9th April 2020
ALUMINIUM CURTAIN WALLING THAT'S FIT FOR PURPOSE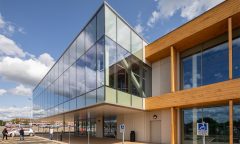 Combining strength and efficiency with a sleek slimline appearance, Senior Architectural Systems' SF52 aluminium curtain walling system has become a popular choice for use on leisure contracts of all shapes and sizes.
Repeat business with some of the major leading architects working in the sports and leisure...
Windows

FORWARD-THINKING IS PRUDENT PLANNING

The world around us is changing and along with it, consumer behaviour. Property owners are more aware of the impacts that the fenestration products they purchase have on the environment – whether that's through their manufacturing process or the environmental benefits they provide once installed. Because of this, more homeowners are requesting products that are manufactured in environmentally-friendly facilities who use...

 

 

FENTRADE'S NEW FLUSH CASEMENT WINDOW WILL OPEN OPPORTUNITIES FOR INSTALLERS WHEN THE MARKET RETURNS

Aluminium trade fabricator Fentrade Aluminium Building Products has announced it will start manufacturing the Optio 58BW Flush window from AluK when the industry reopens. Chris Reeks, Director of Fentrade Aluminium Building Products, said: "We know our installing customers will want to maximise every opportunity when the market returns. The Optio 58BW Flush window taps into the growing aluminium market and is perfect for contemporary new build and traditional refurbishment projects alike."

The Optio 58BW Flush window offers a powerful combination of performance, versatility and security. Key features include impressive U values as low as 1.5W/m2K as well as a double rebate...

 

 

Windows

FIRST PAST THE POST

Established just before the start of a new millennium, Pearl Windows has become one of the most widely renowned PVCu window and door fabricators in the industry. This exceptional reputation is all thanks to its forward-thinking nature, high-quality products and its commitment to go above and beyond for customers. One of the early adopters of the Liniar system, Pearl Windows has always been on the front foot for fabricating the new products emerging from Liniar's Design...

 
Roofing

UK manufacturers need £650m in April to survive 2020

Loans: 50% of manufacturers are seeking £643.5m CBILS funding before end of April. Cash: Two-thirds report shrinking order with less than £50k cash before they run out of money. Revenues: 64% have halved order expectations for 2020 but are optimistic that the business environment will normalise by the end of the year. 8th April 2020, London: UK manufacturers are facing a precarious future according to insights...

 

 

WINDOWS PLUS STEPS UP TO SUPPORT THE NHS

Profile 22 fabricator Windows Plus is fitting infection control doors and privacy screens in Warwick Hospital to support the efforts of the NHS in caring for Covid-19 patients. The doors and screens will enable staff to safely put on and take off protective clothing before entering or leaving wards.

Gary Hampton, Managing Director of Windows Plus, said: "Like everyone, we have been in awe of the amazing work NHS staff are doing in caring for patients with Coronavirus. Having previously carried out work at Warwick Hospital, I got in touch to find out if there was anything we could do to protect and support staff in the hospital at this critical time. When they confirmed the need for infection control doors and privacy screens, we were more than happy to support them."

 

 

Roofing

Grants could bring construction SMEs back from the brink, says FMB

It's paramount that the Government steps up its support for small construction firms, as we risk seeing a crash similar to that experienced during...

 
Doors

Don't leave company directors high and dry, FMB tells Chancellor

Greater support is needed for those running small businesses who fall between the gap in schemes to support employees and the self-employed, said the Federation of Master Builders (FMB) in a letter to the Chancellor today.

 

 

MORE SUPPORT FOR GGF MEMBERS DURING CRISIS

As the spread of the Coronavirus (COVID-19) continues across the world, the glass and glazing industry is witnessing and experiencing one of the most extraordinary periods in living memory.

Across the UK and Ireland, companies continue to make tough decisions and take unprecedented measures to ensure their businesses stay solvent against a bleak backdrop. The trading environment is sharply brought into perspective by the health statistics and the omnipresent risk to everyone's health and safety. The Government has closed down several industries but the construction is one they are keen to see continue, if workers can...

 

 

Doors

80% of builders left in dark by banks on Coronavirus loan, says FMB

The Federation of Master Builders (FMB) is calling on the Chancellor to address the blockages in the Coronavirus Business Interruption Loan Scheme (CBILS), as small builders across the country are struggling to keep their businesses afloat. It follows an FMB survey of 579 members this week that found: Half (50%) of FMB members who have applied for the Coronavirus Interruption Loan Scheme (CBILS) have found the process either 'somewhat' or 'very difficult'.

 
Industry News

PROFILE 22'S OPTIMA FLUSH CASEMENT WINDOW DELIVERS WHAT THE MARKET NEEDS FROM A FEATURE-RICH PRODUCT

As the trend towards feature-rich windows continues, Profile 22 reports that demand for its Optima Flush Casement Window has never been higher. Gerald Allen, Marketing Manager at Epwin Window Systems, said: "Consumers are expecting more...

 

 

SENIOR LAUNCHES NEW TRAINING ACADEMY

As even the most experienced of fabricators can benefit from brushing up on their practical skills and product knowledge, Senior Architectural Systems is inviting its customers to put training in focus for 2020.

Senior offers training support in the fabrication and installation of its...

 

 

Industry News

LINIAR MAKES A SPLASH WITH COLOUR

Homeowners are clamouring for more – more choice, more colour and the ability to personalise more of their homes. Liniar's heard those demands – and its answer? An ever-increasing colour range with stunning shades and finishes for every property owner's taste.

No stranger to colour, Liniar has offered choices in both substrate colour and foil finishes since the creation...

 
Machinery

STELLAR MARKETING SUPPORT FROM EPWIN WINDOW SYSTEMS

Epwin Window Systems is helping its growing network of Stellar aluminium fabricators make the most of the market opportunities with the launch of Brand Hub 360, its new marketing portal.

Carmen Velilla, Brand Manager of Epwin Window Systems said: "We're delighted to introduce our new...

 

 

GGF LOBBIES GOVERNMENT ON COVID-19 ISSUES

The Glass and Glazing Federation (GGF) is lobbying the Government on behalf of its Members, on several issues around the COVID-19 crisis and its impact on the industry.

In the last week, the GGF has communicated with Government departments on five key issues and will step up the engagement campaign even further with Government to get the required confirmation and clarification, to support GGF Members and the industry in these unprecedented times.

Government Lobbying

The GGF is now in direct communication with Government Ministers and Departments to...

 

 

Machinery

TITAN TRADE WINDOWS CHOOSES HAFFNER MURAT MACHINES FOR ITS FACTORY EXPANSION

To capitalise on the growth in aluminium, Titan Trade Windows has opened a new 4,300 sq ft factory in Derby to manufacture aluminium windows, doors and bifold doors. The facility features a FOM Adir C CNC Machining Centre and a TT 425 Double Mitre Saw, both...

 
Consumer Protection

A New Lease on Life

Wanting to provide ostomy patients with a better quality of life, a comfortable place to recover from surgery and neutral environment to gain their independence and confidence with their stoma, online-based...

 

 

Award Win Demonstrates Strength & Long-term Growth for Liniar

With so many excellent manufacturers in the region, industry-leading systems company Liniar is delighted to announce it has been named 'Manufacturer of the Year' at the Midlands Business Awards for the second year running.

"For Liniar to be named as the best manufacturer in the region is an incredible honour," states Group Managing Director Martin Thurley. "The Midlands region is rich with a wide range of worldwide manufacturers and to be sitting up there with the best is exciting for Liniar."

"With companies in the area like Rolls Royce and Toyota, winning the award for Manufacturer of the Year is...

 

 

Builders Merchant

Yale AutoEngage Locks from VBH

Leading hardware company VBH is a major supplier of a wide range of multi-point door locks, including Yale's AutoEngage slam shut product.

'Slam Shut' style door locks are becoming increasingly popular on composite or wooden entrance doors where fixed pull handles, knobs or finger pulls are preferred to lever handles.

 
Hardware

HERITAGE TRADE FRAMES CELEBRATES 25 YEARS OF PARTNERSHIP WITH PROFILE 22

Picture above: From L to R – Paul Culshaw, HTF and Paul Lindsay, EWS

Bolton-based trade fabricator Heritage Trade Frames is celebrating 30 years in business and...

 

 

UP TO £70 BOOST WITH VELUX® REWARDS SCHEME THIS SPRING

Installers and builders urged to take advantage of extra rewards with top retail and high street brands with purchases of selected roof windows.

Installers, builders and homeowners across the UK and Ireland can now benefit from an extra rewards boost this spring, a traditionally busy time for home renovation projects, thanks to VELUX®.

The roof window manufacturers introduced VELUX Rewards in 2015. The scheme provides customers with an opportunity to earn rewards each time they buy a VELUX roof window, flat roof window, sun tunnel, blind or selected combination flashings throughout the year.

However, for this March and April only, VELUX is giving...

 

 

Hardware

PROFILE 22 LAUNCHES NEW WEBSITE

Leading systems company Profile 22, an Epwin Window Systems brand, has just launched its new website profile22.co.uk. Marketing Manager Gerald Allen said: "The new Profile 22 website has been designed to support our customers and will be a valuable source of information."

The new user-friendly website is aimed at fabricators and installers, commercial specifiers, and homeowners. It is visually appealing...

 
Smart Products

TUFFX LAUNCHES 'INFINITY' ROOFLIGHTS BRAND

Toughened glass specialists TuffX have announced new branding for its thriving rooflight range, which is now called Infinity.

The new Infinity brand name has been chosen to reflect the premium quality and contemporary aesthetics of TuffX's rooflight range, which launched almost 18 months ago with a fixed flat glass rooflight and was extended with a thermal walk-on version shortly afterwards.

 

 

500% INCREASE IN WEBSITE ENQUIRIES FOR ROOFLINE SOLUTIONS THANKS TO PURPLEX

South East home improvement company Roofline Solutions has seen a 500% increase year on year in enquiries thanks to a new website delivered by Purplex.

The company saw 84 enquiries delivered in October compared to just 14 last year, while a huge 2,057 sessions were also completed, compared with 653 across the same month last year, meaning a very impressive increase of 215%.

With more than 17 years of industry experience, Roofline Solutions have been supplying roofline and cladding replacements to homeowners and the trade across Surrey, Berkshire and Hampshire.

Having originally linked-up with leading full-service marketing agency Purplex to manage the digital...

 

 

Bi-fold Report

Modplan further expands their conservatory roof offer with UltraSky

Leading trade fabricator, Modplan, has introduced the new UtraSky orangery roof system to further extend its impressive conservatory roof offer. Heidi Sachs of Modplan said: "With a contemporary, minimalist feel, the UtraSky roof features a super-strong ridge and an Ultraspan invisible integrated structural goal post so there are fewer bars, more light and no compromise on design. It can also be installed...

 
Architecture News

VIRTUOSO DOORS BRINGS 50 NEW CUSTOMERS ON BOARD

Virtuoso Doors is looking towards another successful year as it announces that it has welcomed 50 new customers to the business in the first two months of the year alone, with many installers now benefiting from its enviable support package. After achieving growth of more than 35% last year, the north east-based manufacturer has also revealed that it is set for more double-digit growth this year.

 

 

DISTINCTION DOORS LAUNCHES NEW GLAZED CASSETTE

Leading composite door supplier, Distinction Doors is pleased to introduce its new 9D Quarter Glazed cassette. Launched in response to customer demand, the new snap-fit projected cassette will be a popular choice for the company's Stable Door and will offer increased design flexibility for five other door styles.

The 9D Quarter Glazed launches with an obscure glazing range – Clear, DD-Cots and DD-Stipp. The Mini Blind and two decorative glass options will follow.

The new cassette provides customers with consistency in colour and design, while consumers will benefit from its superior aesthetics.

Colour options include Black, Blue, Green, Red, White...

 

 

VAT Report

ADAMSON ASTOUNDS NEW CUSTOMERS WITH APEER'S SINGLE REBATE DOOR

Composite door manufacturer Apeer is enjoying success in the north of the United Kingdom as both new and existing installer partners across Scotland broaden their product ranges.

Following an introduction at the FIT Show in May 2019, Adamson Doors took on Apeer as their newest supplier, a decision which enabled the Fife based showroom to offer an alternative...

 
| | | |
| --- | --- | --- |
| | 0780 505 1322 | |