16th January 2020
ANOTHER SUCCESSFUL YEAR FOR THE HEGLA GROUP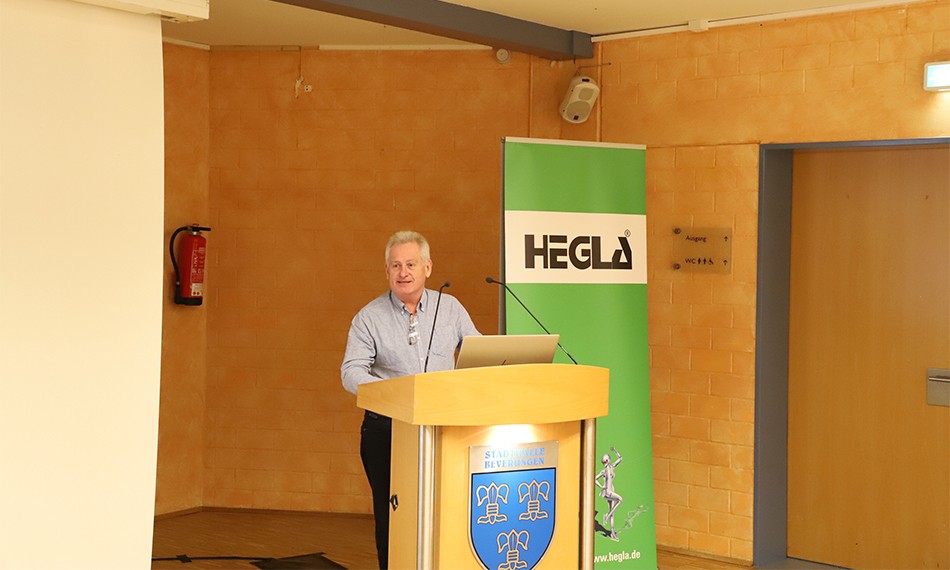 The HEGLA group has seen many developments launched throughout 2019 with a drive to improve customer efficiency being the main focus.
Demand for products in the HEGLA range has continued to grow this year particularly across the UK, with industry accreditation and satisfied customers substantiating the claims of engineering excellence that the company provides.
Outlet News

GLASSOLUTIONS ABERDEEN NAMED 'TRADE COUNTER OF THE YEAR'

GLASSOLUTIONS Aberdeen trade counter has been recognised for its fantastic commitment to its customers following a move to a new site, with a win in the 'Trade Counter of the Year' category at the G19 awards.

Relocated in May 2018 from its previous location, GLASSOLUTIONS Aberdeen's new 8,000sq ft site on Girdleness...

 

 

A DECADE OF GROWTH FOR 5 STAR

Home improvement specialist, 5 Star Windows & Conservatories, is set to enter its 10th year as a member of the Conservatory Outlet Network, having seen a staggering 175% increase in turnover since making the bold decision to join.

The West-Midlands based business, first established in 2002, became part of Conservatory Outlet's network of independent retailers back in 2011 and has seen turnover continue to grow at an impressive rate in the years that have followed.

Having navigated a particularly difficult political climate across the last decade, 5 Star have experienced rapid and continual growth over the past five years and recorded sales...

 

 

Outlet News

CONSERVATORY OUTLET LAUNCH PAPERLESS HR SYSTEM

Picture above: Conservatory Outlet Head of HR, Karen Starkey, and HR Assistant, Emma Sant.

UK manufacturing experts, Conservatory Outlet Group, has continued efforts to reduce its carbon footprint by investing in a fully-automated, paperless HR system.

The move to the new system, which comes on the back of record...

 
Andy Ball

Managing Director Balls2 Marketing

Despite the uncertainty, 2019 has been a good year for both customers and the team at Balls2 Marketing. Sales results for our customers are up significantly in 2019, with many showing...

 

 

Mike Bygrave

Marketing Director Roseview Windows

If I had to sum up 2019 in one word, it would be "unpredictable". Clearly that's a result of Brexit and the uncertainty it has caused. But unlike financial and foreign exchange markets, peaks and troughs in sales haven't followed the pattern of news.

 

 

Nickie West

Event Director, FIT Show

2019 has been both hugely successful and challenging for FIT Show. Our 2019 showcase drew our biggest audience to date, and our exhibitors reported that the quality of leads driven surpassed previous years.

 
Roy Frost

MD – GJB Group, including Listers Central, GJB Window Systems and 'The Big Trade Counters'

2019 has been a great year for the group with sales 23% up at £27.3m. I am proud that we have created 45 new roles at Listers in Stoke-on-Trent and at our Essex based...

 

 

Richard Gaunt

Chairman, Made for Trade

The Korniche Aluminium Lantern has been a great success outselling all other lanterns of this type with sales increasing month on month and recently winning the prestigious C&mpO Award for 'Best Rooflight & Lantern System 2019'. MFT has continued to grow apace even with the trauma of Brexit in the background.

 

 

Steve Haines

Sales & Commercial Director, Stuga Machinery Limited

In 2019 Stuga installed eight ZX5 automatic sawing & machining centers throughout the UK. The ZX5 is capable of producing 800 or more British style uPVC windows and doors in a forty hour week and is the...

 
Hardware

VBH RELIABILITY HELPS NOVA ALUMINIUM WIN BUSINESS

Bristol based aluminium glazing specialist Nova Aluminium Systems Ltd celebrates 15 years of business in 2020.

The company operates out of a 40,000 sq. production facility in St. Jude's and delivers to customers across England and Wales using its own fleet of distinctively liveried vehicles.

Nova prides itself on being strictly a trade supplier, serving large and small installers with contracts ranging...

 

 

MANAGEMENT BUYOUT FOR WINDOW WIDGETS AND THE RESIDENCE COLLECTION

Window Widgets (2006) Limited, which includes The Residence Collection of premium windows and doors, has been acquired by the existing UK management team from USA-based Masonite International Corporation. The terms of the deal were not announced.

The UK management team includes Sarah Hitchings (Sales and Marketing Director), Michael Hart (Technical Director), Richard Bonner (Operations Director) and Gregory Pigott (Finance and Commercial Director).

There are two distinct part to the business, firstly Windows Widgets, who supply a wide range of accessories and ancillaries to over 800 window fabricators across the UK, including in-house manufactured and CE Marked baypole jacks. For nineteen years this...

 

 

Hardware

VBH PROVIDES A SAFE GREENTEQ EXIT

Award winning hardware specialist VBH has added Anti-Panic emergency exit and panic hardware to its greenteQ range of products.

Manufactured in Italy, which is well known for its expertise in this sector, the range consists of panic bolts and panic latches in cross-arm and push-pad versions, and is available from VBH stock in white and silver finishes. Touch bars, mortice and electric devices, and other finishes, are all available on a special order basis.

 
Aluminium Bi-fold Doors

EXLABESA'S XLAFOLD ALUMINIUM BIFOLD DOOR IS PROVING POPULAR WITH FABRICATORS

Exlabesa Building Products has recently reported that demand for their Xlafold aluminium bifolding door has increased year on year since the product was introduced to the market in 2017. For Paul Benn, General Manager at Exlabesa, there are many reasons why more and more fabricators are turning to the Xlafold bifolding door, not

 

 

New Cutmaster black series, plasma cutting consumables last 60% longer

ESAB has launched its new Cutmaster® Black Series to the metal window industry. The series is comprised of enhanced performance plasma cutting consumables, which extend operating life by 60 percent compared to standard life electrodes. They are featured on the SL60QD™ 1Torch®, which comes with the Cutmaster 60i handheld air plasma cutting system. Coupled with internal enhancements on the Cutmaster 60i, the new electrode design increases the unit\'s rated cut and piercing capacity to 20 mm, a 16.6 percent improvement. The Cutmaster 60i can sever metal up to 38 mm.

At 16.8kgs, the Cutmaster 60i already offered the best power-to-weight ratio...

 

 

Composite Doors

ODL Europe introduce new composite door brochure

ODL Europe have just published a new composite door brochure to support their growing customer base. Nathan Barr, ODL Europe's Managing Director said: "Our new brochure showcases our complete composite door collection including our newly-launched decorative glass range. The brochure is intended to support our customers while appealing to today's design-conscious consumer by...

 
Staff News

FOUR MEMBERS OF HURST TEAM CELEBRATE 80 YEARS OF JOINT SERVICE

Four members of the Hurst Doors team have been honoured for their hard work and dedication to the business after receiving their 20 Year Service Awards. The awards were presented at their headquarters in Hull in front of the whole Hurst team by Gary Hurst, Managing Director of the Hurst Group.

Claire Lutkin, Sarah West, Mark Taylor and Chris Edwards all...

 

 

HAFFNER MURAT BECOMES MEMBER OF COUNCIL FOR ALUMINIUM IN BUILDING

Leading machinery suppliers, Haffner Murat Ltd has joined the Council for Aluminium in Building (CAB), the largest UK aluminium in building trade association.

Dave Thomas, Managing Director of Haffner Murat, said: "We are delighted to become a member of CAB. Our range of aluminium machinery has continued to expand and our CAB membership will help reaffirm our commitment to the aluminium sector."

Haffner Murat supply a comprehensive range of aluminium machinery from Haffner, Fom Industrie and ITALMAC. All ranges offer a selection of aluminium machines that are designed for all levels of fabrication and budgets. Dave said:...

 

 

Staff News

ODL Europe further strengthens their Sales Management Team

ODL Europe, supplier of the market-leading TriSYS frame system, the Capstone composite door slab and Blink enclosed blinds has further strengthened its management team with the appointment of Andy Meakin as Business...

 
Windows

PROFILE 22'S OPTIMA SELECTED FOR AFFORDABLE HOUSING DEVELOPMENT IN GLASGOW

900 Optima casement windows and French door units in Anthracite Grey have been fitted in a development of 82 new build houses to the north of Glasgow.

A brownfield site, formerly the home of the NHS Orchards hospital was acquired by Keepmoat Homes for...

 

 

ADVENT SUCCESS FOR EPWIN WINDOW SYSTEMS

Epwin Windows Systems has reported their annual Advent Calendar event was a huge success with a total of 22,188 entries being received which is an increase of 223.52% over their 2018 campaign.

The Advent Calendar event runs from 1st – 25th December inclusive each year and a luxury prize is won by one registered entry, selected at random, who has entered the daily draw. Gerald Allen, Marketing Manager at Epwin Window Systems said: "We are delighted with the success of our 2019 Advent campaign. It allows our customers and the wider industry to get involved with the chance of...

 

 

Cladding

A NEW LOOK WITH LINIAR

Adding to its successful PVCu foam roofline range, Liniar's introduction of high quality shiplap cladding gives installers, self-builders and home owners the finishing touch they've been asking for.

Launching in plenty of time for the Spring season, when consumers are looking for ways to spruce up their property and...

 
Hardware

ERA'S FAB&FIX RANGE HELPS BOOST GROWTH FOR HERITAGE TRADE FRAMES

ERA, the security expert, is continuing to play a key role in helping Heritage Trade Frames and its customers continue to flourish in a competitive market. The Bolton-based trade super fabricator has enjoyed steady growth over the past two years, and management are clear that part of this success has been thanks to the popularity of ERA's Fab&Fix range of decorative hardware with its customers. Now the company is adding the Fab&Fix Heritage range, it is confident its addition will help its customers to continue to attract the right type of business.

Designed with a traditional look and feel, the Fab&Fix...

 

 

RayDek Celebrate 21 Years of not Standing Still

Specialist Aluminium Fabricator RayDek Window Services Limited recently celebrated 21 years of supplying high quality windows, doors and curtain walling products for commercial, construction and domestic installations throughout the UK.

As well as supplying finished products, RayDek also offers an installation service and provides full maintenance programs from their South Shields base.

The company began a relationship with VBH in 2002 and now sources a wide selection of products from the award winning hardware specialist.

Director Raymond Boundy says "We're a busy company with a hard won reputation for quality and reliability. As such, we need a strong and flexible supply chain. We...

 

 

Hardware

Modplan introduces the MILA Prosecure Door Hinge

Leading trade fabricator Modplan has introduced the MILA Prosecure Hinge across its door range from November 2019. Neil Gater, Marketing and Communications Manager at Newport-based Modplan, said: "Following an extensive evaluation period, which included the presentation of the Prosecure Hinge direct to our customers, the response was overwhelmingly positive due to the speed of installation and impressive guarantees. As a result, we have switched over to...

 
Windows

Profile 22's Optima Windows used in high quality retirement housing development

Profile 22's Optima windows were specified in the development of 26 one- and two-bedroom apartments in a retirement development in Upper Norwood, London. Lewis House is a development from McCarthy & Stone, the UK's leading retirement housebuilder, and included 97 windows and 26 door and sightlight combinations.

 

 

ESAB launches first portable wire feeder with ip44 protection class rating for extreme durability to the steel windows industry

ESAB Welding & Cutting Products has introduced the Robust Feed Pro portable wire feeder to the steel windows industry. It is the first product in its category with an IP44 protection class rating, which means it is protected against water splashes from all directions, as well as solid objects larger than 1 mm.

The completely-sealed Robust Feed Pro has a double-wall design with special impact zones made from a more flexible material to absorb more impact energy. All controls, power and gas connections are inside the case with a dedicated service cover, providing easy access to the electronics.

 

 

Windows

Spectus delivers required specifications for new build retirement village

Over 300 Spectus Elite 70 System windows were used in the construction of a new build retirement village in Chorley town centre.

Chorley Council commissioned a 65-apartment retirement village to provide those aged 55 and above with an independent living space with access to care and support. The development, Primrose Gardens, is in the centre of Chorley and is part of the Council's strategic masterplan for the town centre.

The development partner for the build was Eric Wright Construction. The window contract on...

 
GM Fundraising

GM Fundraising appoints Team 4 Marketing as its PR partner

GM Fundraising, which raises money for Hope House Children's Hospices has just announced the appointment of Team 4 Marketing as its new PR partner.

Jane Ward, Director of Team 4 Marketing, said: "We are delighted to be supporting GM Fundraising because Hope House is such an incredibly worthwhile cause. We're looking forward to supporting...

 

 

Epwin Window Systems does the double at the G19 Awards with Stellar

Epwin Window Systems became a double winner at the prestigious G19 Awards which were held on 29 November 2019 at London Hilton Park Lane Hotel. The leading systems house took the crown for the 2019 New Product of the Year and the Promotional Campaign of the Year. The double win was awarded for Stellar, Epwin Window Systems new ground breaking aluminium window and door system.

Clare O'Hara, Epwin Window Systems, Managing Director, said: "We are delighted to have won both the New Product of the Year and Promotional Campaign of the Year for Stellar. The system sets a new standard for...

 

 

GM Fundraising

Cheque presentation made to Hope House Children's Hospices by GM Fundraising

Members of the GM Fundraising team recently presented a cheque for £208,891.72 to Hope House Children's Hospices, which provides palliative care for children with terminal conditions and support for their families. The final amount was the result of the tremendous efforts...

 
Charity News

TAKING ON THE TOUR DE EUROGLAZE

Forget the Tour de France or even the Tour de Yorkshire, the bike ride making all the headlines last month was the Tour de Euroglaze.

Staff, customers and suppliers at the Barnsley based trade fabricator completed a 1600km virtual bike ride covering the equivalent...

 

 

Epwin Window Systems becomes the first systems house to have a state-of-the-art automatic profile wrapping machine

Epwin Window Systems has taken delivery of the world's first Luna R automatic profile wrapping machine, which takes foiling to the next level. Gerald Allen, Marketing Manager at Epwin Window Systems, said: "We are very excited to be the only systems house to currently have this latest technology. Together with our investment in two new twin lines earlier in 2019, it will help us set a new standard for foiling in the industry."

The Luna R is able to wrap even the most complex of profiles perfectly. In addition, the machine reduces set up times, providing additional capacity and product accuracy.

 

 

PiGs

Buzzing Birmingham bash wraps up Year of the PiGs

2019 is the year of the pig and that has certainly proven to be the case for the industry's top networking event, as another hugely successful calendar concluded with the ever-popular Birmingham PiGs party in November.

The Pitcher & Piano was once again packed to the rafters with familiar faces, as well as lots...

 
| | | |
| --- | --- | --- |
| | 0780 505 1322 | |