30th January 2020
SENIOR HELPS PUT CAPITAL QUARTER ON THE MAP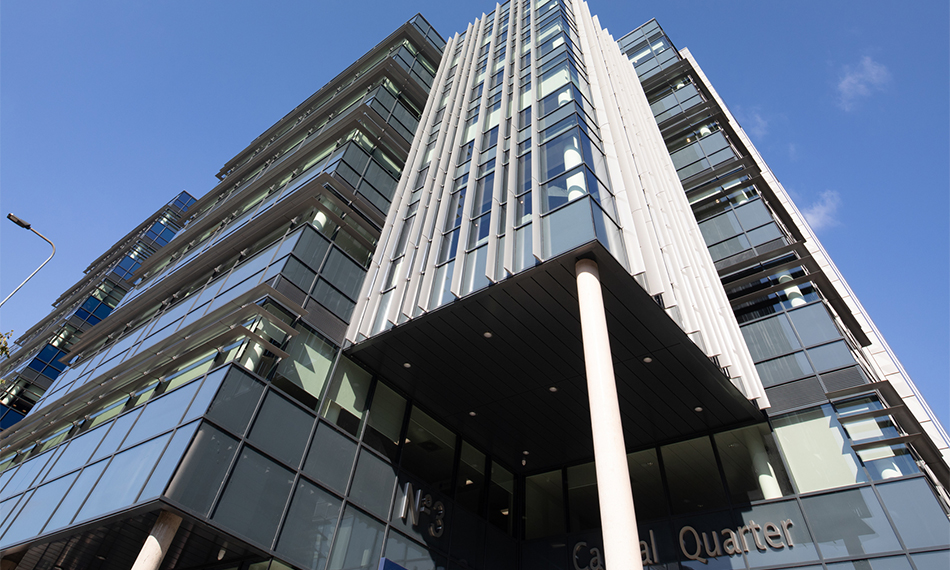 A landmark mixed-use scheme in Cardiff has been given a sleek and striking façade thanks to Senior Architectural Systems' SF52 aluminium curtain wall system.
Senior worked in collaboration with supply chain partner Denval to deliver the curtain wall package for two recently completed seven-storey office buildings, Capital Quarter No. 3 and No. 4.
Hardware

TITON'S HARDWARE EXPORTED TO PRESTIGIOUS REFURBISHMENT IN POLAND

Over 300 sets of Titon window hardware have been fitted as part of the ongoing refurbishment of the Rother's Mills buildings on Mill Island, located in the historic old town of Bydgoszcz, Poland. The products installed include Overture E handles, Kenrick Standard Espags, top hung Venture hinges and Capture safety restrictors, which were all supplied onsite by...

 

 

Pioneering Change with Liniar

Industry leader Liniar has a strong focus on doing the right thing. Its recent stance on the use of reinforcement in PVCu window systems demonstrates a clear corporate conscience, along with a desire to challenge and change negative perceptions and industry standards.

The pioneering systems company has commenced 2020 with the launch of a new brochure, 'Making the Change'. It recognises that profile supply is one of the major decisions facing window fabricators and installers, and the brochure aims to stimulate the thought process behind choosing a supplier to partner with.

An informed decision

Whether starting a company from scratch or seeking to...

 

 

Hardware

New AGB ArTech Tilt & Turn system from VBH

Hardware specialist VBH (GB) has added a new tilt & turn system from Italian hardware manufacturer, AGB, to its extensive range of third-party branded products. ArTech gear is protected by the Activeage finish that exceeds 2,000 hours neutral salt spray testing to EN ISO 9227, making it ideal for coastal regions and areas with higher levels of pollution.

The ArTech system...

 
Andy Ball

Managing Director Balls2 Marketing

Despite the uncertainty, 2019 has been a good year for both customers and the team at Balls2 Marketing. Sales results for our customers are up significantly in 2019, with many showing...

 

 

Mike Bygrave

Marketing Director Roseview Windows

If I had to sum up 2019 in one word, it would be "unpredictable". Clearly that's a result of Brexit and the uncertainty it has caused. But unlike financial and foreign exchange markets, peaks and troughs in sales haven't followed the pattern of news.

 

 

Nickie West

Event Director, FIT Show

2019 has been both hugely successful and challenging for FIT Show. Our 2019 showcase drew our biggest audience to date, and our exhibitors reported that the quality of leads driven surpassed previous years.

 
Roy Frost

MD – GJB Group, including Listers Central, GJB Window Systems and 'The Big Trade Counters'

2019 has been a great year for the group with sales 23% up at £27.3m. I am proud that we have created 45 new roles at Listers in Stoke-on-Trent and at our Essex based...

 

 

Richard Gaunt

Chairman, Made for Trade

The Korniche Aluminium Lantern has been a great success outselling all other lanterns of this type with sales increasing month on month and recently winning the prestigious C&mpO Award for 'Best Rooflight & Lantern System 2019'. MFT has continued to grow apace even with the trauma of Brexit in the background.

 

 

Steve Haines

Sales & Commercial Director, Stuga Machinery Limited

In 2019 Stuga installed eight ZX5 automatic sawing & machining centers throughout the UK. The ZX5 is capable of producing 800 or more British style uPVC windows and doors in a forty hour week and is the...

 
Windows

PROFILE 22 PROVING LUCRATIVE FOR NEW DESIGN WINDOWS

New build specialist fabricator New Design Windows in Barnsley began fabricating in October last year and it's already seeing considerable success. It has quoted £7m of contracts to date and has achieved a 50% conversion rate, supplying the top ten housebuilders in the UK.

 

 

ODL EUROPE LAUNCHES NEW GLASS RANGE

ODL Europe has just launched its new impressive door glass range. Comprising 25 designs, with four ODL-exclusive design options, the glass range offers a wealth of choice for customers and homeowners. Nathan Barr, Managing Director of Bootle-based ODL Europe, said: "We are very excited to launch our new glass range. Our range comes with a wide variety of unique decorative glass options that have been carefully designed to work with various door styles. Whether it's traditional, contemporary or minimalist we have options to cover all taste and styles, along with four unique glass designs, that really raise the bar in...

 

 

Windows

STAND OUT FEATURES FROM STELLAR

Stellar from Epwin Window Systems has been capturing headlines since the aluminium window and door system was launched last year. The double G19 award-winning system was designed to push the boundaries of aluminium window and door design and offers numerous industry-firsts that mean it is faster to fabricate and simpler to install...

 
Acoustics

FUTURE OF BUILDING REGULATIONS: ACOUSTICS?

Charged with directing the United Nations' global health responses, the World Health Organisation has monitored and made recommendations surrounding the impact of noise pollution on humanity for more than a decade.

As the Heathrow expansion is set to go forward, the HS2 rail line starts invading back gardens and housing...

 

 

IG DOORS CELEBRATES 20 YEARS WITH SPECTUS

Picture above: From Left to Right: Mark Hayward (IG), Rhys Davies (IG), Hayley King (Epwin Window Systems), Martin Althorpe (Epwin Window Systems).

IG Doors in Blackwood, South Wales, is one of the market leaders in the new build and social housing refurbishment sectors. It has also been a Spectus fabricator since 1999 and has just signed a new three-year supply agreement with the systems house.

Rhys Davies of IG Doors said: "We choose our supply partners very carefully – our reputation depends on getting it right. We continue to work with Spectus because the product quality and service is superb and they continue to proactively support...

 

 

Fire Door Safety

Door & Hardware Federation (DHF) announce upcoming Fire Door Safety seminars

Door & Hardware Federation (DHF) has announced it will be hosting two free fire safety seminars in the coming months. Taking place on 11th February and 17th March at DHF's head office and training academy in Tamworth, the morning seminars will primarily appeal to those with responsibility for compliance, fire...

 
Outlet News

GLASSOLUTIONS ABERDEEN NAMED 'TRADE COUNTER OF THE YEAR'

GLASSOLUTIONS Aberdeen trade counter has been recognised for its fantastic commitment to its customers following a move to a new site, with a win in the 'Trade Counter of the Year' category at the G19 awards.

Relocated in May 2018 from its previous location, GLASSOLUTIONS Aberdeen's new 8,000sq ft site on Girdleness...

 

 

A DECADE OF GROWTH FOR 5 STAR

Home improvement specialist, 5 Star Windows & Conservatories, is set to enter its 10th year as a member of the Conservatory Outlet Network, having seen a staggering 175% increase in turnover since making the bold decision to join.

The West-Midlands based business, first established in 2002, became part of Conservatory Outlet's network of independent retailers back in 2011 and has seen turnover continue to grow at an impressive rate in the years that have followed.

Having navigated a particularly difficult political climate across the last decade, 5 Star have experienced rapid and continual growth over the past five years and recorded sales...

 

 

Outlet News

CONSERVATORY OUTLET LAUNCH PAPERLESS HR SYSTEM

Picture above: Conservatory Outlet Head of HR, Karen Starkey, and HR Assistant, Emma Sant.

UK manufacturing experts, Conservatory Outlet Group, has continued efforts to reduce its carbon footprint by investing in a fully-automated, paperless HR system.

The move to the new system, which comes on the back of record...

 
Hardware

VBH RELIABILITY HELPS NOVA ALUMINIUM WIN BUSINESS

Bristol based aluminium glazing specialist Nova Aluminium Systems Ltd celebrates 15 years of business in 2020.

The company operates out of a 40,000 sq. production facility in St. Jude's and delivers to customers across England and Wales using its own fleet of distinctively liveried vehicles.

Nova prides itself on being strictly a trade supplier, serving large and small installers with contracts ranging...

 

 

MANAGEMENT BUYOUT FOR WINDOW WIDGETS AND THE RESIDENCE COLLECTION

Window Widgets (2006) Limited, which includes The Residence Collection of premium windows and doors, has been acquired by the existing UK management team from USA-based Masonite International Corporation. The terms of the deal were not announced.

The UK management team includes Sarah Hitchings (Sales and Marketing Director), Michael Hart (Technical Director), Richard Bonner (Operations Director) and Gregory Pigott (Finance and Commercial Director).

There are two distinct part to the business, firstly Windows Widgets, who supply a wide range of accessories and ancillaries to over 800 window fabricators across the UK, including in-house manufactured and CE Marked baypole jacks. For nineteen years this...

 

 

Hardware

VBH PROVIDES A SAFE GREENTEQ EXIT

Award winning hardware specialist VBH has added Anti-Panic emergency exit and panic hardware to its greenteQ range of products.

Manufactured in Italy, which is well known for its expertise in this sector, the range consists of panic bolts and panic latches in cross-arm and push-pad versions, and is available from VBH stock in white and silver finishes. Touch bars, mortice and electric devices, and other finishes, are all available on a special order basis.

 
Aluminium Bi-fold Doors

EXLABESA'S XLAFOLD ALUMINIUM BIFOLD DOOR IS PROVING POPULAR WITH FABRICATORS

Exlabesa Building Products has recently reported that demand for their Xlafold aluminium bifolding door has increased year on year since the product was introduced to the market in 2017. For Paul Benn, General Manager at Exlabesa, there are many reasons why more and more fabricators are turning to the Xlafold bifolding door, not...

 

 

New Cutmaster black series, plasma cutting consumables last 60% longer

ESAB has launched its new Cutmaster® Black Series to the metal window industry. The series is comprised of enhanced performance plasma cutting consumables, which extend operating life by 60 percent compared to standard life electrodes. They are featured on the SL60QD™ 1Torch®, which comes with the Cutmaster 60i handheld air plasma cutting system. Coupled with internal enhancements on the Cutmaster 60i, the new electrode design increases the unit\\'s rated cut and piercing capacity to 20 mm, a 16.6 percent improvement. The Cutmaster 60i can sever metal up to 38 mm.

At 16.8kgs, the Cutmaster 60i already offered the best power-to-weight ratio...

 

 

Composite Doors

ODL Europe introduce new composite door brochure

ODL Europe have just published a new composite door brochure to support their growing customer base. Nathan Barr, ODL Europe's Managing Director said: "Our new brochure showcases our complete composite door collection including our newly-launched decorative glass range. The brochure is intended to support our customers while appealing to today's design-conscious consumer by...

 
Staff News

FOUR MEMBERS OF HURST TEAM CELEBRATE 80 YEARS OF JOINT SERVICE

Four members of the Hurst Doors team have been honoured for their hard work and dedication to the business after receiving their 20 Year Service Awards. The awards were presented...

 

 

HAFFNER MURAT BECOMES MEMBER OF COUNCIL FOR ALUMINIUM IN BUILDING

Leading machinery suppliers, Haffner Murat Ltd has joined the Council for Aluminium in Building (CAB), the largest UK aluminium in building trade association.

Dave Thomas, Managing Director of Haffner Murat, said: "We are delighted to become a member of CAB. Our range of aluminium machinery has continued to expand and our CAB membership will help reaffirm our commitment to the aluminium sector."

Haffner Murat supply a comprehensive range of aluminium machinery from Haffner, Fom Industrie and ITALMAC. All ranges offer a selection of aluminium machines that are designed for all levels of fabrication and budgets. Dave said:...

 

 

Staff News

ODL Europe further strengthens their Sales Management Team

ODL Europe, supplier of the market-leading TriSYS frame system, the Capstone composite door slab and Blink enclosed blinds has further strengthened its management team with the appointment of Andy Meakin as Business...

 
Windows

PROFILE 22'S OPTIMA SELECTED FOR AFFORDABLE HOUSING DEVELOPMENT IN GLASGOW

900 Optima casement windows and French door units in Anthracite Grey have been fitted in a development of 82 new build houses to the north of Glasgow.

A brownfield site, formerly the home of the NHS Orchards hospital was acquired by Keepmoat Homes for...

 

 

ADVENT SUCCESS FOR EPWIN WINDOW SYSTEMS

Epwin Windows Systems has reported their annual Advent Calendar event was a huge success with a total of 22,188 entries being received which is an increase of 223.52% over their 2018 campaign.

The Advent Calendar event runs from 1st – 25th December inclusive each year and a luxury prize is won by one registered entry, selected at random, who has entered the daily draw. Gerald Allen, Marketing Manager at Epwin Window Systems said: "We are delighted with the success of our 2019 Advent campaign. It allows our customers and the wider industry to get involved with the chance of...

 

 

Cladding

A NEW LOOK WITH LINIAR

Adding to its successful PVCu foam roofline range, Liniar's introduction of high quality shiplap cladding gives installers, self-builders and home owners the finishing touch they've been asking for.

Launching in plenty of time for the Spring season, when consumers are looking for ways to spruce up their property and...

 
Hardware

ERA'S FAB&FIX RANGE HELPS BOOST GROWTH FOR HERITAGE TRADE FRAMES

ERA, the security expert, is continuing to play a key role in helping Heritage Trade Frames and its customers continue to flourish in a competitive market. The Bolton-based trade super fabricator has enjoyed steady growth over the past two years, and management are clear that part of this success has been thanks to the popularity of ERA's Fab&Fix range of decorative hardware with its customers. Now the company is adding the Fab&Fix Heritage range, it is confident its addition will help its customers to continue to attract the right type of business.

Designed with a traditional look and feel, the Fab&Fix...

 

 

RayDek Celebrate 21 Years of not Standing Still

Specialist Aluminium Fabricator RayDek Window Services Limited recently celebrated 21 years of supplying high quality windows, doors and curtain walling products for commercial, construction and domestic installations throughout the UK.

As well as supplying finished products, RayDek also offers an installation service and provides full maintenance programs from their South Shields base.

The company began a relationship with VBH in 2002 and now sources a wide selection of products from the award winning hardware specialist.

Director Raymond Boundy says "We're a busy company with a hard won reputation for quality and reliability. As such, we need a strong and flexible supply chain. We...

 

 

Hardware

Modplan introduces the MILA Prosecure Door Hinge

Leading trade fabricator Modplan has introduced the MILA Prosecure Hinge across its door range from November 2019. Neil Gater, Marketing and Communications Manager at Newport-based Modplan, said: "Following an extensive evaluation period, which included the presentation of the Prosecure Hinge direct to our customers, the response was overwhelmingly positive due to the speed of installation and impressive guarantees. As a result, we have switched over to...

 
| | | |
| --- | --- | --- |
| | 0780 505 1322 | |