12th March 2020
greenteQ Oval Pull Handles add a Touch of Style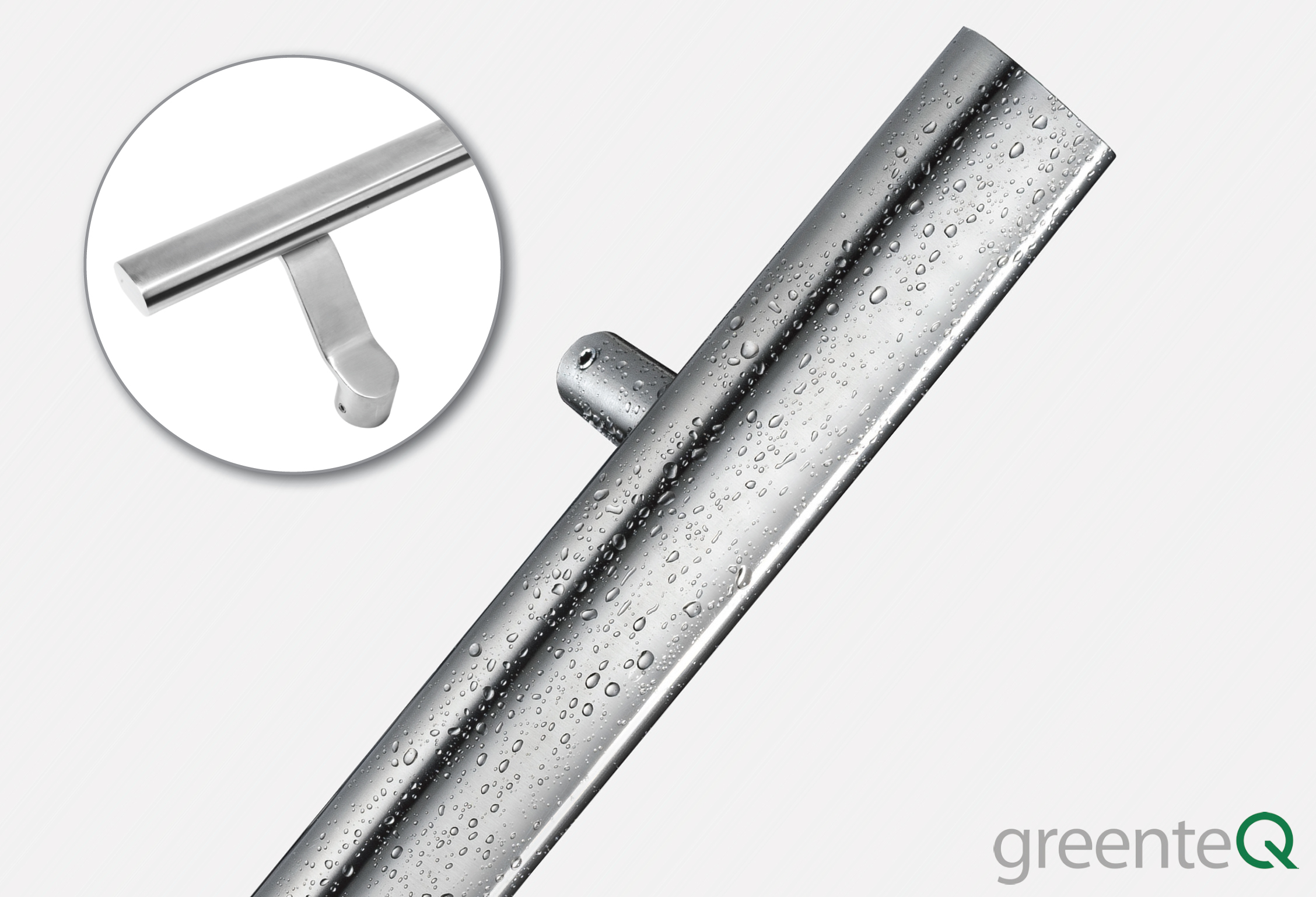 Award winning hardware specialist VBH has expanded the greenteQ Coastline range of stainless steel pull handles with the addition of two new Oval profile designs.
The stylish new Oval products offer an attractive alternative to the standard circular profile pulls that are already very popular on contemporary entrance doors.
Windows

HERITAGE TRADE FRAMES CELEBRATES 25 YEARS OF PARTNERSHIP WITH PROFILE 22

Bolton-based trade fabricator Heritage Trade Frames is celebrating 30 years in business and 25 years of being a Profile 22 fabricator. Paul Culshaw, Managing Director at Heritage Trade Frames, said: "We're delighted to be celebrating this important milestone for our business and it's testament to the hard work and continual effort of the Heritage Trade Frames team and our customers."

 

 

UP TO £70 BOOST WITH VELUX® REWARDS SCHEME THIS SPRING

Installers and builders urged to take advantage of extra rewards with top retail and high street brands with purchases of selected roof windows.

Installers, builders and homeowners across the UK and Ireland can now benefit from an extra rewards boost this spring, a traditionally busy time for home renovation projects, thanks to VELUX®.

The roof window manufacturers introduced VELUX Rewards in 2015. The scheme provides customers with an opportunity to earn rewards each time they buy a VELUX roof window, flat roof window, sun tunnel, blind or selected combination flashings throughout the year.

However, for this March and April only, VELUX is giving...

 

 

Windows

PROFILE 22 LAUNCHES NEW WEBSITE

Leading systems company Profile 22, an Epwin Window Systems brand, has just launched its new website profile22.co.uk. Marketing Manager Gerald Allen said: "The new Profile 22 website has been designed to support our customers and will be a valuable source of information."

The new user-friendly website is aimed at fabricators and installers, commercial specifiers, and homeowners. It is visually appealing, with interactive and...

 
Roofing

TUFFX LAUNCHES 'INFINITY' ROOFLIGHTS BRAND

Toughened glass specialists TuffX have announced new branding for its thriving rooflight range, which is now called Infinity.

The new Infinity brand name has been chosen to reflect the premium quality and contemporary aesthetics of TuffX's rooflight range, which launched almost 18 months ago with a fixed flat glass rooflight and was extended with a thermal walk-on version shortly afterwards.

The newly renamed Infinity rooflights...

 

 

500% INCREASE IN WEBSITE ENQUIRIES FOR ROOFLINE SOLUTIONS THANKS TO PURPLEX

South East home improvement company Roofline Solutions has seen a 500% increase year on year in enquiries thanks to a new website delivered by Purplex.

The company saw 84 enquiries delivered in October compared to just 14 last year, while a huge 2,057 sessions were also completed, compared with 653 across the same month last year, meaning a very impressive increase of 215%.

With more than 17 years of industry experience, Roofline Solutions have been supplying roofline and cladding replacements to homeowners and the trade across Surrey, Berkshire and Hampshire.

Having originally linked-up with leading full-service marketing agency Purplex to manage the digital...

 

 

Roofing

MODPLAN FURTHER EXPANDS THEIR CONSERVATORY ROOF OFFER WITH ULTRASKY

Leading trade fabricator, Modplan, has introduced the new UtraSky orangery roof system to further extend its impressive conservatory roof offer. Heidi Sachs of Modplan said: "With a contemporary, minimalist feel, the UtraSky roof features a super-strong ridge and an Ultraspan invisible integrated structural goal post so there are fewer bars, more light and no compromise on design. It can also be installed in half the time of a...

 
Doors

VIRTUOSO DOORS BRINGS 50 NEW CUSTOMERS ON BOARD

Virtuoso Doors is looking towards another successful year as it announces that it has welcomed 50 new customers to the business in the first two months of the year alone, with many installers now benefiting from its enviable support package. After achieving growth of more than 35% last year, the north east-based manufacturer has also revealed that it is set for more double-digit growth this year.

 

 

DISTINCTION DOORS LAUNCHES NEW GLAZED CASSETTE

Leading composite door supplier, Distinction Doors is pleased to introduce its new 9D Quarter Glazed cassette. Launched in response to customer demand, the new snap-fit projected cassette will be a popular choice for the company's Stable Door and will offer increased design flexibility for five other door styles.

The 9D Quarter Glazed launches with an obscure glazing range – Clear, DD-Cots and DD-Stipp. The Mini Blind and two decorative glass options will follow.

The new cassette provides customers with consistency in colour and design, while consumers will benefit from its superior aesthetics.

Colour options include Black, Blue, Green, Red, White...

 

 

Doors

ADAMSON ASTOUNDS NEW CUSTOMERS WITH APEER'S SINGLE REBATE DOOR

Composite door manufacturer Apeer is enjoying success in the north of the United Kingdom as both new and existing installer partners across Scotland broaden their product ranges.

Following an introduction at the FIT Show in May 2019, Adamson Doors took on Apeer as their newest supplier, a decision which enabled the Fife based showroom to offer an alternative...

 
Industry News

LINIAR AND QUANEX TAKE CENTRE STAGE AT THE NYSE

16 January 2020 was a day to remember for Liniar and Avantek Machinery's Group Managing Director Martin Thurley. That particular Thursday marked the occasion Martin visited the New York Stock Exchange to take part in the ceremonial ringing of the bell to signal the start of trading.

The reason for the momentous occasion was that January...

 

 

FRAMING THE FUTURE – WITH COLOUR

White. Cream. Rosewood. Chartwell Green. Irish Oak. Anthracite Grey. The fenestration industry has witnessed a revolution of colour throughout the last decade – and it shows no signs of stopping.

The days of property owners requesting a full suite of white windows with matching white doors and a conservatory are much less prevalent than before. Order forms are now filled with requests for windows foiled in all colours of the rainbow, with woodgrain, patterned or shimmer effects, many wanting two different colours for frame and sash.

We've entered the age of personalisation at every level – and homeowners are demanding...

 

 

Industry News

NEW APPOINTMENT AT MODPLAN LTD

Leading VEKA trade fabricator, Modplan Ltd, has further strengthened its sales management team with the appointment of experienced industry-man, Steve Deeming, in the position of Business Development Manager. Heidi Sachs of Modplan, said: "Steve is well-known in the industry and we are delighted to find a committed and experienced sales professional with a vast knowledge of the market.

 
Machinery

SMR-5 WELDER FROM HAFFNER MURAT HELPS RIGHT PRICE PVCU INCREASE OUTPUT BY OVER 50%

Plymouth's Right Price PVCu recently took delivery of an SMR-5 Welder from Haffner Murat. Since then, the fabricator has seen their output increase by 50%.

Travis Chiddle, Director of Right Price PVCu, says: "As a growing new build fabricator, we needed to increase our output. We looked at what the market had to offer and approached Haffner Murat after reading about the SMR-5 Welder in the industry press and seeing it in action at FiT 2019."

 

 

Yale DWS and SWC Trade Frames celebrate 15-year partnership

Yale Door and Window Solutions and long-time partner, SWC Trade Frames celebrate a relationship spanning over two decades and look towards the future of fabrication.

Scarborough-based trade fabricator SWC Trade Frames has been an advocate of Yale's product range for over 15 years, particularly its multipoint door locks and most recently, its Platinum 3 Star cylinder. Plus, the company was the very first to launch Yale's new £1,000 anti-snap cylinder guarantee back in July 2019.

Mark Catchpole, Sales Director at SWC Trade Frames, comments: "The relationship between SWC and Yale is truly invaluable. After partnering with Yale for so many...

 

 

Machinery

FURTHER EXPANSION FOR HAFFNER MURAT

Machinery experts, Haffner Murat Ltd have just commissioned a new 37,000 sqm purpose-built factory in Istanbul, Turkey, to support the company's continued growth. Dave Thomas, Managing Director of Haffner Murat said: "The need to expand our manufacturing facility is a clear indication of the continued success of Haffner Murat and will help further improve our production efficiencies for our rapidly growing machines."

The new Istanbul factory expansion comes hot on the heels of an ambitious head office expansion programme which...

 
Consumer Protection

Licensing would complete consumer protection picture, says FMB

Following today\'s announcement by the Government on the creation of a New Homes Ombudsman, Brian Berry, Chief Executive of the Federation of Master Builders (FMB) said:

"This announcement is...

 

 

ODL Europe introduce new composite door brochure

ODL Europe have just published a new composite door brochure to support their growing customer base. Nathan Barr, ODL Europe's Managing Director said: "Our new brochure showcases our complete composite door collection including our newly-launched decorative glass range. The brochure is intended to support our customers while appealing to today's design-conscious consumer by demonstrating the choice on offer."

The comprehensive 48-page brochure is filled with high-quality images throughout covering the full range of doors and glazing options available from ODL Europe.

The contemporary brochure design perfectly demonstrates the extensive door range which includes a choice of 30 door styles, two...

 

 

Builders Merchant

Building the UK\'s Largest Independent Builder\'s Merchant

2020 marks the 25th Anniversary of MKM Building Supplies Ltd, the UK\'s largest independent builder\'s merchant.

Executive Chairman, David Kilburn looks back over the 25 years and shares some of the milestones and memories that have gone into constructing one of the building trade\'s best-loved brands, and one of the UK\'s fastest growing businesses.

 
Hardware

STELLAR'S PROVEN SECURITY AND QUALITY

Stellar, the double G Award-winning retail and light commercial system from Epwin Window Systems, has received three important accreditations that further prove the quality...

 

 

CONTINUED GROWTH AT LEKA SYSTEMS

Conservatory roof innovators, Leka Systems have reported a 30% year on year sales growth for its roofing products. This upturn is driven by continued demand for the company's Leka Warm Roof, Leka Orangery roof and the new LEKA xi Conservatory Base System. Rhys Hoddinott, Director of Leka Systems, said: "The demand for our Leka roofs has been superb as more fabricators and installers see for themselves the benefits these products can deliver."

The LEKA Warm Roof and the LEKA Orangery Roof have taken the market by storm since they were launched five years ago. The LEKA Warm Roof delivers super thermal...

 

 

Hardware

New Coastline Brochure from VBH

Leading hardware specialist VBH has created a new 6 page brochure to help explain the benefits of their greenteQ Coastline range of stainless steel entrance door furniture.

The range includes pull handles, lever and knob handle sets, letterboxes, door knockers and butt hinges, all in hard wearing stainless steel.

All products are available in brushed stainless...

 
Smart Products

Revealed: Which smart home products will Brits own in 2020?

Smart home products have drastically transformed the way in which people live. Essentially devices/appliances that can remotely be controlled over Wi-Fi by smartphones and...

 

 

IS THE FUTURE OF WINDOWS AND DOORS NOT ALL WHITE?

No one can deny, that over the last few years, one of the main growth areas in PVCu windows and doors has been the demand for colour. As we enter a new decade, colour remains high on the homeowner's agenda as they look to windows and doors that are not only secure and thermally efficient, but that they also complement the style, period and location of their property. Selecta Systems Sales Director, Andy Green and Lamination Supervisor, Dan Coton, talk about the advancement of colour and how Selecta have invested in resources and infrastructure to meet the requirements of fabricators...

 

 

Bi-fold Report

Bi-folding doors to see post-Brexit bounce in 2020? – AMA Research

A new report into the prospects for bi-folding doors through to 2023, paints a picture of growth within an increasingly complex market.

While forecasting headline increases, the Bi-fold Doors Market Report – UK 2020 to 2023 from AMA Research, suggests...

 
Architecture News

MODERN RANCH ESTATE RECENTLY COMPLETED ON PECAN FARM IN TEXAS — Kebony-clad home comprises four "pods" and utilises organic materials to complement its surroundings

An expansive four-building modern residence recently completed construction on a former pecan farm a few miles outside of Houston. Developed...

 

 

GM FUNDRAISING CELEBRATES 25 YEARS

2020 is a big year for industry fundraiser GM Fundraising because it sees the 25th anniversary of the organisation. Gary Morton, founder of GM Fundraising, said: "When we started GM Fundraising 25 years ago we had no idea what it would become. There's a huge thank you due to everyone who's supported us over the years, whether it's by taking part in one of our challenges, donating sponsorship money or providing their time and expertise. Together, we've raised an incredible amount for Hope House Children's Hospices, which is the most important achievement."

To mark the anniversary, GM Fundraising is hosting a...

 

 

VAT Report

FMB welcomes call for VAT cut in Beauty Commission report

Commenting on the recommendation in today's final report of the Building Better, Building Beautiful Commission that VAT on repair...

 
| | | |
| --- | --- | --- |
| | 0780 505 1322 | |