20th September 2018
National Home Security Month – Security Solutions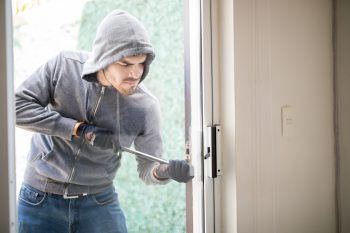 National Home Security Month (NHSM), taking place in October aims to raise awareness around the importance of home security. With the demands of daily life often taking over, home security is easily overlooked but to safeguard your home, family and belongings it's increasingly important to seriously consider home security.
During the darker months, there's a recorded 20% increase in home burglaries with a staggering 30% of all burglars gaining access through an open or unlocked window or door. Of course, this is easily remedied by introducing a basic home security routine of locking all windows and doors whenever you leave the....
Machinery

Camden partners with Haffner Murat for its latest investment and innovation

Camden, the largest independent supplier of PVC-u windows and doors in the UK and Ireland, has put plans in place to expand even further to keep up with customer demand. To assist with this multi-million pound investment Camden called in Dave Thomas, Managing Director at Haffner Murat Ltd.

 

 

Bison Frames Launches The Full WarmCore Range

Bison Frames is well known for its high-end manufacturing methods on PVC-U windows with a long-established reputation for vertical sliders, but the company is pleased to announce that it is also growing its aluminium division with the addition of WarmCore patio doors to its existing range of WarmCore windows and bi-folding doors.

Mark Tetley, Director of Bison explains: "We're extending our WarmCore range of products because there is an increasing demand for high-end windows and doors. As with the rest of our Genesis Collection range of products, we offer a high-end approach to the manufacture of the industry's most popular products...

 

 

Self Certify Compliance

Fensa Appoints Specialists to Explore the Grey Market

FENSA, the largest and longest established Competent Person Scheme (CPS) within the replacement window and door industry, is pleased to announce that it has appointed CMDi –built environment brand specialists, to explore the 'grey' market.

The scale and form of the 'grey' market is...

 
New Appointment GGF

GGF Group CEO Becomes Permanent

The Glass and Glazing Federation (GGF) is pleased to announce Kevin Buckley has accepted the permanent position of GGF Group Chief Executive.

 

 

Safe Cleaner

The RENOLIT EXOFOL Professional Cleaner helps against stubborn dirt.

Cramlington, 01 September 2018 – A new professional cleaner has been launched for use on profiles laminated with RENOLIT EXOFOL Exterior films. Construction dirt, adhesive residue, and stubborn marks

can all quickly contribute to extensive contamination. Whereas...

 

 

Migration Advisory

MAC recommendations would cripple construction, says FMB

e Migration Advisory Committee (MAC) report, which sets out a series of recommendations for the new immigration policy post-Brexit, would cripple the construction industry, according to the Federation of Master Builders (FMB).

 
Glasstec 2018

Guardian Glass provides a sense of things to come at Glasstec 2018

Bertrange, Luxembourg, September 17, 2018 – The Guardian Glass presence at glasstec 2018 is in the form of an interactive...

 

 

GGF Members Day a Roaring Success

Almost 100 delegates attended an enjoyable and informative day at as the GGF hosted its Annual Members' Day at The National Motorcycle Museum in Solihull.

The exclusive Members event hosted by GGF President, John Agnew, opened on a sombre note, as the Federation paid tribute to Maurice...

 

 

New Appointment BBA

BBA appoints new Head of Test Services

The British Board of Agrément (BBA) is pleased to announce the appointment of Alvaro Enguita-Gonzalez as Head of the BBA Testing Unit, based in Watford, Hertfordshire.

 
Construction Crime

VPS Site Security backs campaign as equipment theft rockets 35%

VPS Site Security, responsible for Europe's largest fleet of CCTV Towers, has backed a 'Secure It, Keep It' campaign to reduce a rising trend in construction crime.

Ireland's Construction Industry Federation, together with Ireland's National Police and Security Service reported a 35% rise in construction crime last year. Vehicle theft from building sites made up over 40% of...

 

 

Barking Town Hall - Old Meets New in Spectacular Refurbishment

Barking Town Hall, an iconic building and landmark in Barking has been lovingly refurbished. Externally, all visual aspects of the original architecture have been maintained whilst creating a

bright new spacious contemporary workplace within.

A major part of retaining the original character of the building was the meticulous visual 'like for like' replacement of the original sash windows. Masterframe Windows, having 30 years' experience, in

the manufacture of authentic sash windows was approached by Barnes Construction, the main contractor.

Carol Slade, Sales and Operations Director elaborates "When we were first approached, our main challenge was to present a credible case for sash windows manufactured...

 

 

Mental Health at Work

Mates in Mind welcomes the launch of the online Mental Health at Work gateway and emphasises that changing workplace cultures requires ongoing leadership and hands-on-support

The interaction between work and mental health is complex and sensitive, and remains a challenge for employers. Mates in Mind has, as an industry-partnered initiative launched a year...

 
Hardware

VBH launches greenteQ Serenity: a new range of handles and finger pulls

VBH has launched Serenity, a new suite of handles and finger pulls suitable for aluminium, timber and PVC-U lift and slide doors. Part of VBH's greenteQ range, Serenity is available in a wide choice of finishes, including polished...

 

 

Wadds Ltd uses Exlabesa shopfronts for Sainsbury's Local branch in Newcastle upon Tyne

Gateshead-based glass and glazing supplier Wadds has just completed the supply and installation of the shop front for a Sainsbury's Local branch on Chillingham Road in the Heaton district of Newcastle-upon-Tyne. Diane Ince, Managing Director of Wadds, commented: "This was a great project to work on and we're delighted with the quality of the result."

 

 

Fire Door Safety

Yale Pledges Support for Fire Door Safety Week

Yale is continuing its commitment to improving fire safety in residential buildings with its support of Fire Door Safety week, an annual initiative designed to raise awareness of the critical role of fire doors.

The campaign, which runs from the 24 th September to 30 th September, aims to draw attention to...

 
Skills Shortage

Skills shortages driving sharp increase in construction pay rates, research reveals

New research has revealed the extent of pay rate rises in the construction industry as skills shortages take hold, with some roles seeing hourly rates more than doubling in the last four years.

According to the data from software and service supplier, Engage Technology Partners, Crawler Crane...

 

 

Call made for door hardware experts' input into building regulations consultation

After recent UK Government investigations found that fire doors from five suppliers failed to meet even the minimum mandatory fire performance standard, door hardware experts are being urged to have their say in the consultation on the clarification of Approved Document B (ADB).

 

 

Migration & Construction

Drop in EU migrant workers sounds alarm bells for UK construction, says FMB

The drop in EU net migration has sounded alarm bells for the UK construction industry, the Federation of Master Builders (FMB) has said in response to figures published today.

Commenting on the Migration Statistics Quarterly Report for August 2018, published by the Office for National Statistics, Sarah...

 
Construction & Youth

Role models inspire the new face of construction

Role models inspire the new face of construction

Talented people working in construction are to be recognised as part of a campaign to...

 

 

Specification awards now open for entries

Door and window hardware professionals can now nominate their projects for the internationally recognised biennial GAI/RIBA Architectural Ironmongery Specification Awards.

Organised by the Guild of Architectural Ironmongers (GAI) in conjunction with the Royal Institute of British Architects (RIBA), the awards are designed to identify and reward excellence in the specification of architectural ironmongery.

Projects can be nominated for the following categories: residential; commercial and hospitality buildings; public health and education buildings; international projects outside the UK and Ireland and, new to the 2018/19 awards, best new product: design and innovation.

Architects, specifiers, building contractors, clients...

 

 

Solar Shading

Biggest UK Blind & Shutter Show Ever

Sunday 21 – Tuesday 23 October 2018

Ricoh Arena, Coventry UK

Organised by the British Blind and Shutter Association this show will be the biggest trade show ever held in the UK for the solar shading industry.

The exhibitor list this year is the most exciting ever, with companies from around the UK and overseas who will all be under one roof to launch their new and innovative products and ideas, new fabric collections and new solutions...

 
Hardware

New fully suited cylinder pulls and escutcheons from greenteQ

Composite and timber door manufacturers using locks with a high-level Euro profile cylinder position can now use a fully suited solution from greenteQ. The new cylinder pulls and circular escutcheons are available in six stunning finishes.

 

 

Thermix: The latest on Glasstec 2018 / Ensinger is celebrating 25 years of Thermix – and bringing several innovations to the leading global trade fair for glass processors

Ensinger is celebrating 25 years of Thermix – and bringing several innovations to the leading global trade fair for glass processors 1993 saw the development of Thermix, the world's first coextruded spacer profile for the "Warm Edge". This made it easier for insulating glass...

 

 

Bi-Folding Doors

Open the door to an enhanced portfolio with Modplan

Leading VEKA trade fabricator, Modplan offers a comprehensive product portfolio to help add value to their customers' businesses. Part of their portfolio includes patios and bifolding doors which are manufactured in Modplan's dedicated door plant based at the company's...

 
Hardware

Wilkins Joinery expands workshop, with increased work space, Smart Spray™ and 1Stop™ service from Quest Hardware

Wilkins Joinery has been operating for over 30 years as a family run business, with Neil Wilkins and his two...

 

 

The Case for a 4-day Workweek? Nearly half of employees worldwide could do their jobs in 5 hours or less each day

London, UK, Sept. 13, 2018 — According to a global survey of nearly 3,000 employees across eight countries conducted by The Workforce Institute at Kronos Incorporated, nearly half (45 percent) of full-time workers say it should take less than five hours each day to do their job if they worked uninterrupted, while three out of four employees (72 percent) would work four days or less per week if pay remained constant. Yet, 71 percent of employees also say work interferes with their personal life.

The Workforce Institute at Kronos and Future Workplace has launched a series examining how employees across Australia...

 

 

Fabricator News

Three decades with VEKA and counting

Gardinia (West Wales) and VEKA are proud to be celebrating a successful 30 year partnership.

The Narbeth-based fabricator and installer was established in 1983 and moved over to VEKA profile just a few short...

 
| | | |
| --- | --- | --- |
| | 0780 505 1322 | |