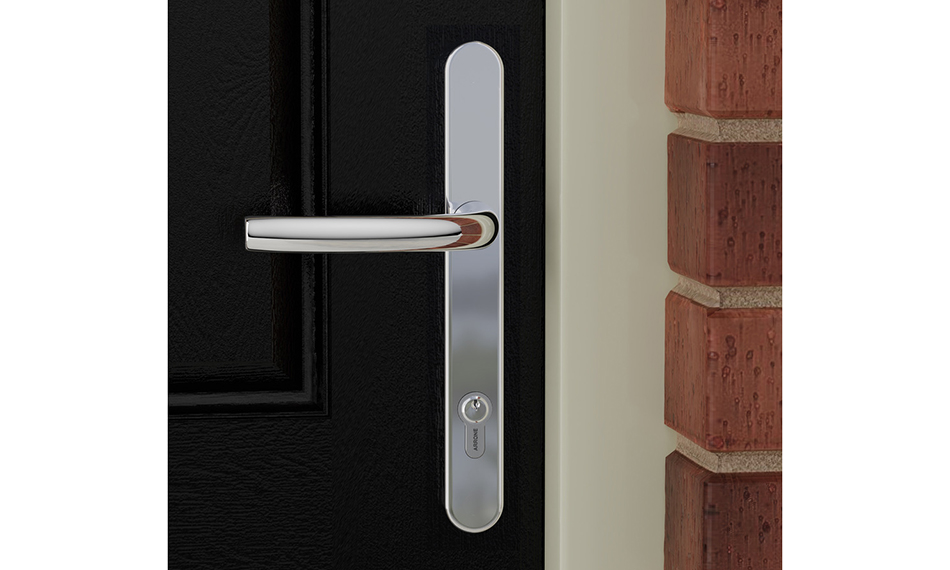 Leading independent hardware distributors, Carl F Groupco has further expanded its product hardware inventory with the introduction of the new ARRONE™ door handle, a brand of the Hoppe (UK) Group.
The new ARRONE™ door handle is suitable for use on both PVC-U and composite doors and its zinc alloy and aluminium construction delivers high level performance as standard.
Designed to meet the needs of the fabricator, installer and homeowner alike, the ARRONE ™ lever/lever door handle is available in a long backplate format with a 92mm PZ centre. The handle also offers an integrated spring cassette system, 215mm fixing centres, 32mm wide back plate and reversible handing.
As you would expect from a Hoppe (UK) branded product, the new ARRONE™ door handle has undergone extensive testing.  This includes durability tested to 200,000 cycles and corrosion salt spray tested grade 5-480 hours, 1000 hours.  The ARRONE™ handle comes with a 10-year mechanical operation guarantee, evidence, if any were needed, that its high-quality construction is longwearing.
The new ARRONE™ door handle is available in a full choice of colours, including Polished Gold, Satin Chrome, Polished Brass, Anthracite Grey, Graphite, White and Black. And colour match fixings are available for next-level aesthetics.
Commenting on the introduction of the new ARRONE™ door handle, John Crittenden, Managing Director at Carl F Groupco, said: "We have worked with Hoppe (UK) for many years and it has always been one of leading handle brands within our hardware range. The new ARRONE™ door handle delivers exceptional quality at a competitive price point so we know it is going to prove popular with our customers."
Carl F Groupco stocks an extensive range of premium quality window and door hardware components. It operates nationally, including to the Scottish Highlands and offshore islands, from distribution centres in Peterborough and Cumbernauld. With roots stretching back over 70 years, its experienced team is always on hand to offer advice on the most appropriate hardware solution for any project. John concludes: "We work hard to stock the widest range of hardware products to support our customers and the introduction of the new ARRONE™ door handle will further expand our market reach."
The new ARRONE™ door handles are available now from stock to order from Carl F Groupco.  sales@carlfgroupco.co.uk
Web:    www.carlfgroupco.co.uk   |  SmartSecure: www.smartsecure.co.uk  |  Carl F direct: www.carlfdirect.co.uk