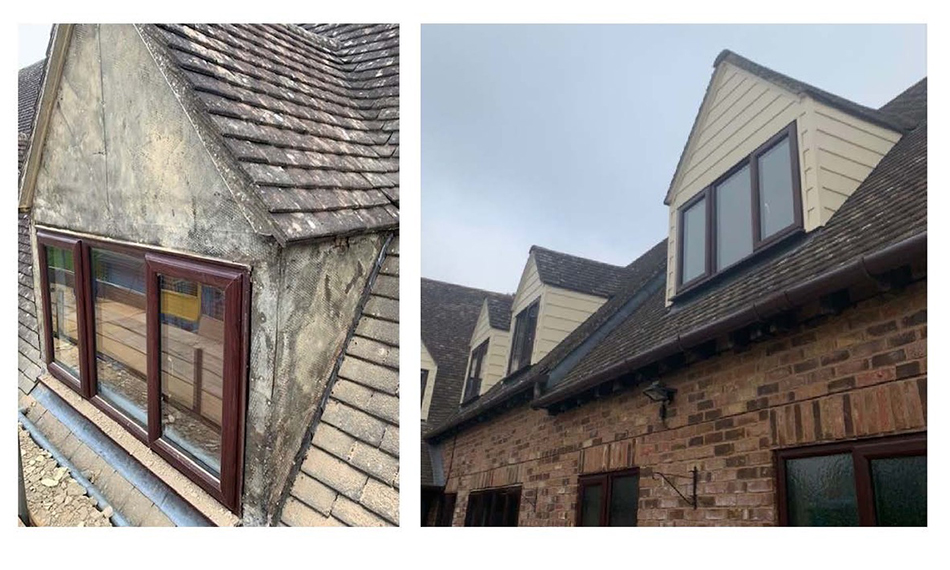 Image Above: before and after dormer
Whilst homeowners take pride in their home, and want it to look it's best, it can sometimes come at a price. Many are looking for low maintenance options to free up precious time and save money over the years.
One such family in Banbury, Oxfordshire, turned to local Freefoam Registered Installer Ricky Romera of Professor Windows to help them with an ongoing issue with their property.  The house featured ten dormer windows around the front and back elevations covered in painted concrete render. With constant exposure to the elements cold frosts caused the render to separate and become cracked and discolored. Consequently to keep the property water tight and tidy this meant the homeowner was spending thousands of pounds every year on scaffolding and repair.  They needed a long term solution.
Replacing with a traditional timber cladding was an option, but again would involve regular maintenance.  Professor Windows had undertaken other work for the homeowner and recommended Fortex embossed PVC cladding, in the Weatherboard option. Having used Freefoam cladding on other properties Ricky was confident that it would be the ideal solution for this situation.
Ricky explained "We've used the Freefoam cladding before on dormer elevations, and it works really well. This property took us a couple of weeks. With scaffolding in place we removed all the render, fitted battens and installed the cladding on each dormer. It was easy to fit and we used the matching trims to give each one a neat, professional finish."
Fortex embossed cladding is available in a wide range of colours and the homeowner was able to choose the Sand option, which was a similar colour to the original painted render, and coordinates very well with the windows and brickwork.
Ricky summarized "The homeowner is delighted with the results, and has had lots of positive comments about the transformation the cladding has made from neighbours and friends. He is also very pleased to be saving a considerable amount of money each year, with no costly repair and maintenance. We've seen a big increase in requests for PVC cladding and have more jobs lined up. It's a cost effective, easy care solution that can completely transform a house and makes a great addition to our business"