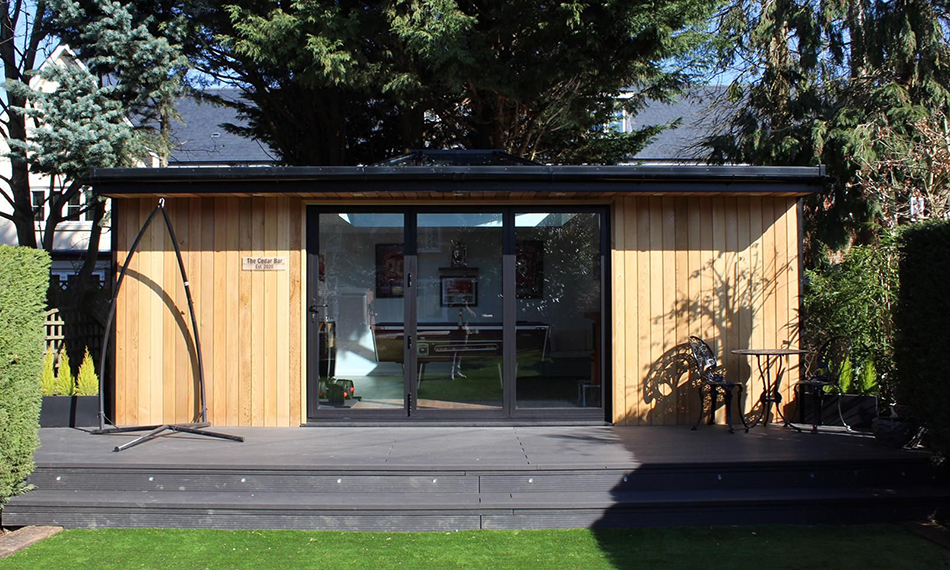 Trade fabricator Green Room Fabrication has reported strong business growth since manufacturing the Leka Systems range. Having previously bought-in Leka products, the shrewd Berkshire-based business decided to go into fabrication to manufacture the complete product range in 2020, and it hasn't looked back. Ryan Harrison, Sales Account Manager at Green Room Fabrication, comments: "Having previously fitted the Leka product range, we knew the quality of the products first hand.  It therefore made good business sense for us to start manufacturing the products ourselves to support our trade customers."
Green Room Fabrication manufactures the Leka Warm Roof, the Leka Orangery Roof and the Leka Xi garden buildings from its Berkshire headquarters. While sales for all three products are increasing, the trend is clear when it comes to the Leka Orangery Roof and the Leka Xi garden building. Ryan says: "We can see the change in buying patterns reflected in our order book. Sales of the Leka Orangery Roof remain strong as consumers seek light-filled extensions for their homes.  Similarly, the Leka Xi garden building growth reflects the fact they create perfect home working spaces and freestanding garden rooms which have grown in popularity."
Green Room Fabrication was set up by installers for installers. The Green Room team has nearly 30 years' combined experience in building, property and glazing industries and their head fabricator Darren has a background in aviation engineering delivering the highest level of expertise. Having carefully assessed the market for conservatory roof replacement systems, they chose Leka Systems as their primary product partner. It means they now offer the best in warm roofs, modular extensions and standalone garden buildings for their growing trade customer base.
Ryan says the versatility and intelligence of the Leka products set them apart. "Take the Leka Xi, for example," he says. "Because it's a hybrid solution between a standard glass conservatory and a full brick extension, it offers our customers great versatility. It can be used as a single storey extension or a garden room and is strong enough to take 3.2m bifold doors without the need for any steels. As such, it allows installers to deliver more for their customers in a much quicker timeframe."
The Leka range is clearly a powerful selling point for Green Room Fabrication, but the quality of the company's service is also a key differentiator.
The company includes on-site training for up to four people in an installers' first order to give new customers the confidence to install the product range correctly and efficiently. Once completed, the installers also become an accredited Leka Systems installer and are able to offer the industry-leading warranties.
Every Leka product is constructed in the Berkshire factory before being disassembled and delivered to the customer's site. Ryan comments: "It's a valuable check that means installers won't get any nasty surprises when they're constructing on site as the products have already been technically checked for accuracy."
Green Room Fabrication values the quality of the Leka Systems range. However, what's also clear is that the company adds its own quality in its service and attention to detail. Overall, it shows exactly why Green Room Fabrication is seeing such success with Leka.