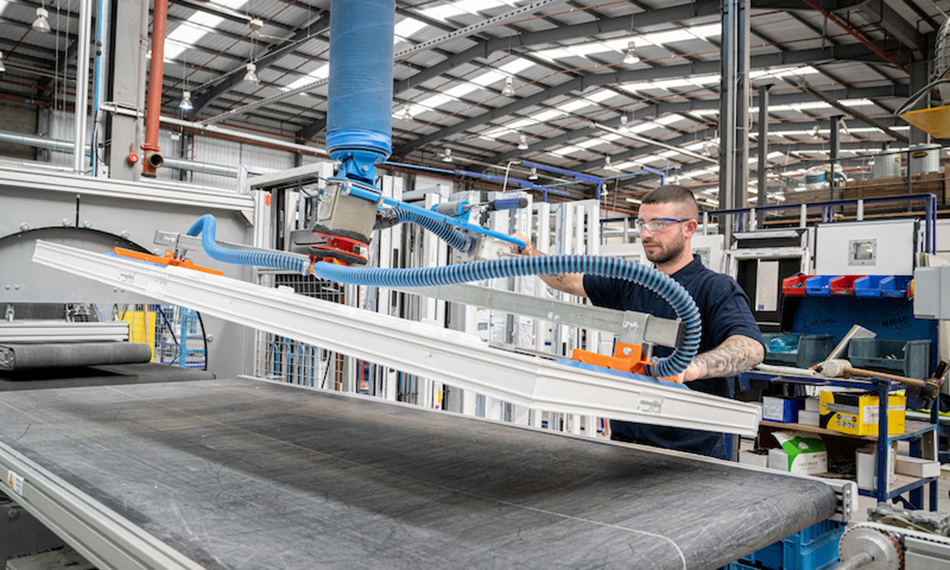 An intensive programme of factory upgrades following a site move is putting Gateshead-based composite door manufacturer Virtuoso Doors back on the path to renewed growth. The company is now producing up to 200 doors per day, despite the backdrop of the pandemic, materials shortages and escalating customer demand.
Virtuoso Doors manufactures high quality composite doors and PVCu door panels through a mix of precision engineering and workshop finishing supplying doors with stunning detail and unrivalled quality.
The company moved from its original Chester-le-Street manufacturing site to the new purpose-built site at Follingsby Park, Gateshead at the start of 2021. The site, formerly the clothing warehouse for Barbour, has a 120,00 sq. ft. footprint and will double the capacity and manufacturing capability of Virtuoso Doors.
Over the course of the year the site has had a power upgrade to meet manufacturing requirements, a new compressed air system, and state of the art extraction system installed.
In addition, a new automated paint line has come online allowing for a greater choice of custom colours to be chosen by customers. New lift assist systems allow the factory technicians and craftsmen to work on the door units quickly and safely, without compromising on the crafted precision ethos of Virtuoso Doors.
Furthermore the move to a more modern building is allowing for a number of improvements to staff facilities from the catering and break areas to the office space.
As most manufacturing businesses are experiencing 2021 has not been without its challenges, as ongoing supply chain issues and the need to carefully manage the needs of employees returning to more normal working patterns as COVID-19 restrictions ease, have been met with incredible consumer demand for home improvement products.
However Virtuoso Doors has been able to adapt to the circumstances, has managed to secure a firm supply of the all-important door slabs needed for production and is well positioned to finish 2021 strongly. Virtuoso is now able to produce at a capacity of 200 doors per day.
Tony Craggs, Managing Director, Virtuoso Doors: "With our teams having to adapt to changing conditions on a daily and weekly basis, it is important we don't lose sight on how much has been achieved this year to put Virtuoso Doors on the front footing. We've moved from a cramped site to a state of the art location with significantly more space and ability to grow further, which will help us create new jobs over time. Every purchase has been made with a view to improving the quality and precision of our manufacturing processes, and the doors that we deliver to customers at the end of each day.
"There is never a good time to move home, but for our team to have done this during the pandemic under the COVID-related restrictions, and then continued to apply their talent and skills to bring the machinery on site up to speed, while others have adapted to the new supply chain realities to secure a source of necessary components, it is a very proud achievement for us."