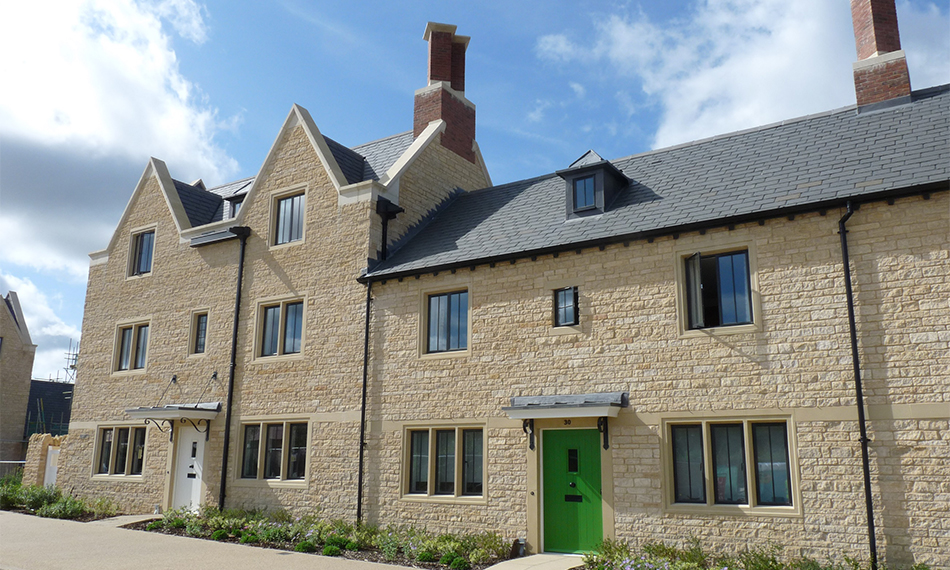 When Steel Window Association member, Cotswold Casements, (www.cotswold-casements.co.uk) was approached to look at a tender for a brand-new housing estate in Oxfordshire, the scale of the project was immediately apparent – over 1000 steel windows! The Station Road Development at Bletchingdon, comprising 61 properties with architecture commissioned by the Duchy of Cornwall, is a collection of exceptionally charming homes in a rural setting a stone's throw away from the centre of Oxford.
Steel windows were selected as the preferred option due to their environmentally-friendliness; the steel sections themselves are manufactured from recycled steel. In addition, steel windows look amazing, are designed for long-life and enjoy optimal performance. Trevor Woskett of Cotswold Casements comments, "Our role in the project was to produce and install steel windows in four separate phases which involved designing and installing a timber subframe that sat inside the stone mullioned window sections, forming a thermal barrier against the outer stone. There was also a requirement for the steel windows to be Part Q compliant which again involved designing special catches to withstand the rigours of the testing process involved in acquiring this certificate, which we successfully passed."
The windows are from the W30 range, with modifications to comply with Part Q, and over 1000 windows have been installed.
"We have watched this development grow over the months and we are really pleased with the end results. The combination of the Cotswold stone properties, with the dark coloured steel windows, looks stunning and we have received lots of favourable comments from people who have passed by the development and can't believe that they are steel windows. Many of the properties are now occupied and we heard recently that the owners love the steel windows and are very happy with the product and what it adds to the look of their homes."
For further information on the Steel Window Association, please visit www.steel-window-association.co.uk or call 020 3475 8049.