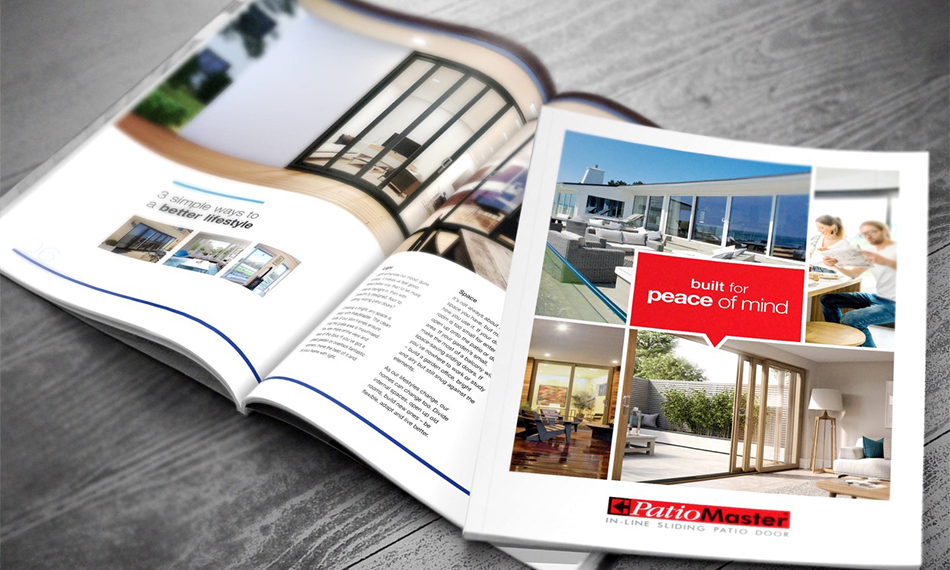 PatioMaster has launched a new 36-page consumer brochure. Gerald Allen, Marketing Manager at Epwin Window Systems, said: "Our new PatioMaster retail brochure has been designed to support both fabricators and installers' marketing activities by showcasing the exceptional quality and design credentials of our PatioMaster doors."
The high-end consumer brochure includes information on the comprehensive patio range, including both inline and triple track patio door options. Gerald said: "The trend for wide apertures and large expanses of glass has never been stronger with consumers and our Triple-track patio doors deliver in all areas and have proven to be a popular door option."
The brochure also showcases the new colour offering that is available across the PatioMaster range. The doors are available in a choice of 30 foiled finishes, including wood effects, solid, flat and grained textures reflecting a varied colour palette of options allowing fabricators and installers to take advantage in the growth for coloured products. Gerald said: "Coloured products have grown significantly in recent times and our new colour collection reflects a plethora of colour hues and finishes that add value to a fabricator and installer's portfolio and presents a wide choice of options for the consumer."
The recently-launched PatioMaster colour offering features Anthracite Grey Smooth, Cream on White, Sage, Claystone and Pebble Grey that present the latest on-trend colours.
Having a portfolio that attracts your target market is vital to the success of your business. By partnering with PatioMaster, not only do you get products and colour options that meet market demand, you also get the support of one of the UK's leading manufacturers of patio doors. And the new consumer brochure will allow installers to present the benefits of the PatioMaster offer into the consumer too.
The new PatioMaster retail brochure can be downloaded directly from the Epwin Window Systems marketing hub.