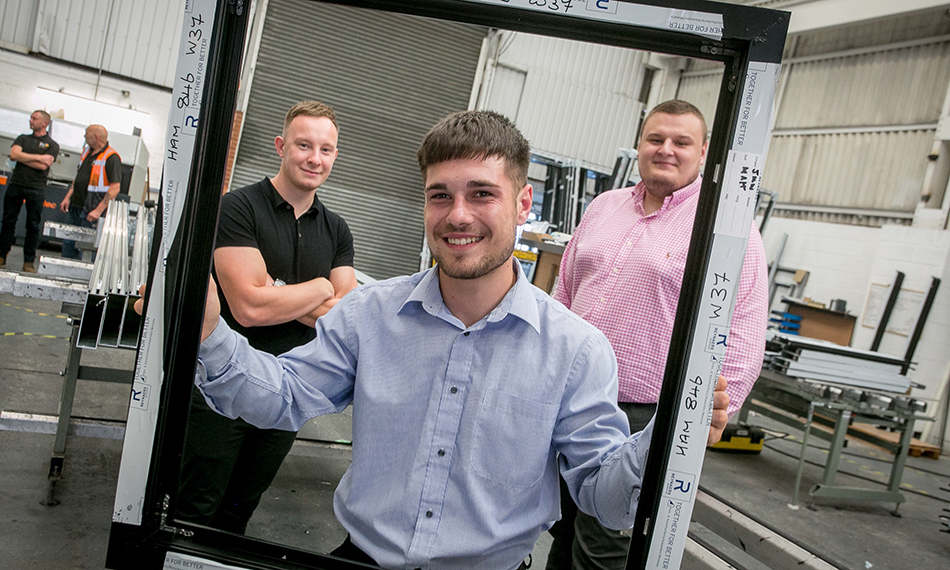 Picture above: New recruits in the frame at Performance Window Fabrications (from left) Charlie Skipp, Joe Blythe-Richards and Josh Dewstow.
A leading aluminium windows manufacturer has created a new business development team as it targets rapid growth in the private and public property sectors.
Joe Blythe-Richards, Charlie Skipp and Josh Dewstow have been appointed by Performance Window Fabrications (PWF) to help deliver its vision for future expansion, which will include the creation of further jobs at the Birmingham-based manufacturer.
The three recruits have been appointed in business development roles by the fenestration group, which recently launched two new divisions – Fire Windows Direct and Glass Roof Direct.
Business development manager Joe joins from Wren Kitchens where he was a salesman and kitchen designer. Charlie, also appointed business development manager, worked for four years at WHS Plastics where he was a sales leader. Sales and estimation manager Josh has extensive experience in the fenestration sector.
Alex Sutherland, managing director of PWF, said: "As lockdown lifted we were determined to hit the ground running and we are excited at the potential for rapid growth across the aluminium windows sector.
"We are delighted to welcome Joe, Charlie and Josh. It's a relatively young team but they all have valuable experience, combined with the energy and enthusiasm to drive the business forward on a regional and national basis."
He added: "These are exciting times for the Performance Window Farbrications group of companies and we have a clear vision for our future growth. Our strategy is to become the supplier of choice for aluminium doors, windows and curtain walling in the whole of the UK. Our growth will involve further investment in the latest fenestration technology and in our highly experienced team."
Based in Aston, Birmingham, PWF comes under the umbrella of Six-Twenty Group. It recently launched Fire Windows Direct, targeting the fire rated windows and doors sector, and Glass Roof Direct.
Glass Roof Direct supplies thermal flat rooflight windows. It has a range of three top quality products – fixed, ventilation and access – all manufactured to the highest industry standards at its Birmingham factory. Visit www.glassroofdirect.co.uk.
Fire Windows Direct is one of the UK's leading manufacturers of aluminium fire rated windows, doors and curtain walling. In partnership with a range of customers, from architects and construction contractors, to property developers and fabricators, we have delivered tailor-made glazing solutions for all market sectors. Visit www.firewindowsdirect.co.uk