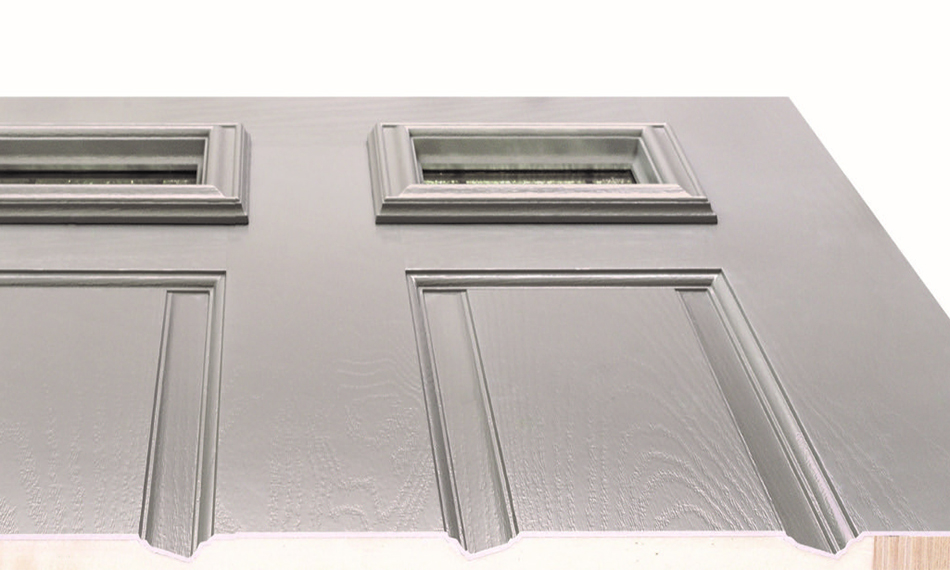 When it comes to composite doors, quality and strength are essential in the overall credibility of a quality door. And when you choose the Capstone composite door slab from ODL Europe, that's exactly what you get. Ian Glenister, Technical Sales Manager of ODL Europe, comments: "Composite doors need to stay looking good for years to come, they need to be secure and they need to be robust enough to stand up to daily use. For a door slab that ticks all these boxes – and more – the Capstone composite door slab from ODL Europe is the answer. It has a pedigree you can trust and allows you fit a composite door with confidence."
The Capstone composite door slab has a wealth of features that give them exceptional strength and means they are resistant to bowing or expanding, so they stay looking good for longer. Stiles and rails are manufactured from a water-resistant pure PVC polymer and are reinforced using LVL (Laminated Veneered Lumber) timbers with a minimum density of 570 kg/m3. The SMC skins and sub frame door assembly are fully bonded using a urethane adhesive resin and the thermally efficient CFC-free polyurethane foam filling means that when the door is part of a doorset assembly it can achieve a U value as low as 0.8W/m2k.
The finish on each door is also outstanding, starting with the 2mm thick GRP skin. Painted and woodgrain finishes use a hard-wearing proprietary polyurethane paint system similar to ones used in the yacht industry add low maintenance and hard-wearing benefits. All doors finished using this paint system come with a 10-year warranty against fade, loss of gloss and adhesion and 5-year warranty on woodgrain finishes.
Security is reassuringly high too. When used in combination with the SecureDesign board reinforcing and ODL glazing cassette systems, the Capstone slab achieves PAS24:2016, which is a requirement for meeting Document Q of Building Regulations and gaining Secured by Design certification.
Alongside the exceptional quality, the Capstone door slab from ODL Europe offers a wealth of design options. There are 30 door styles, many of which are unique to ODL Europe, 29 colour finishes plus three PAS 24-compliant glazing frames and 25 decorative glass options.
Ian concludes: "Customer satisfaction is going to be more important than ever, so now is not the time to compromise on the quality of your products. The Capstone door slab has a reassuring pedigree and for additional peace of mind, they are all manufactured as part of the BM Trada Q-Mark scheme for quality, which gives us full traceability for all factory processes. When it comes to composite doors, ODL Europe is the name you can trust."