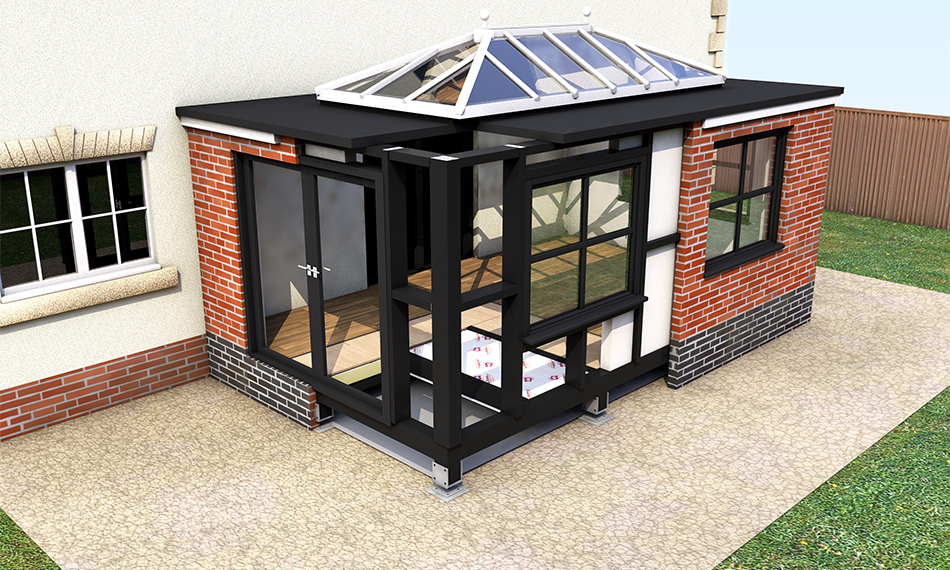 Leading trade fabricator Modplan has reported a significant upturn in demand for their Leka Xi conservatory wall and base system during the past twelve months. The Leka Xi modular system allows installers to tap into the trend for thermally efficient home extensions or freestanding garden rooms whilst offing fast installation too.
Heidi Sachs, Managing Director at Modplan, said: "The LEKA Xi Conservatory Base System is a modular system that raises the bar in thermally efficient home extensions or garden rooms. We have witnessed a strong growth for the product over the past twelve months with the demand for home offices. And our customers appreciate the quick construction of just three to five days, allowing them to tap into this market efficiently with an extended product offer."
The LEKA Xi is a unique proposition that sets a new standard for the industry. It's a modular system that's tailored to homeowner and installer requirements and is constructed using a LEKA base, LEKA walls and the LEKA roof system. There are three- or four-sided options, so it can be used for both home extensions and standalone garden rooms. There is a choice of finishes and options for dwarf walls, full walls or defined heights and internal partition options are available too if a subdivided space is needed.
Both the thermal efficiency and lifespan are exceptional thanks to the GRP construction of the base, walls and roof. It means it creates a flexible, multi-purpose space that gives homeowners valuable extra living space and adds value to installers' portfolios.
The modular nature of the system means it is ideal for sites with access restrictions because it arrives flat-packed. It is also exceptionally fast to install and there is minimal groundwork required. Installation typically takes three to five days, including the fitting of the LEKA base, LEKA walls and LEKA roof system.
Like all Modplan's products, the new LEKA Xi Conservatory Base will be manufactured in its dedicated multi-site state of the art facilities at its headquarters near Newport, Gwent. The company offers exceptional sales, marketing and service support to enable installers to make the most of the market opportunities.
Heidi concluded: "Modplan's aim is to continually deliver the products our customers need to stand out in a competitive market. And in the LEKA Xi Conservatory Base System, our customers have the best in thermally efficient modular extensions that tap into current trends and open ups additional opportunities for them."