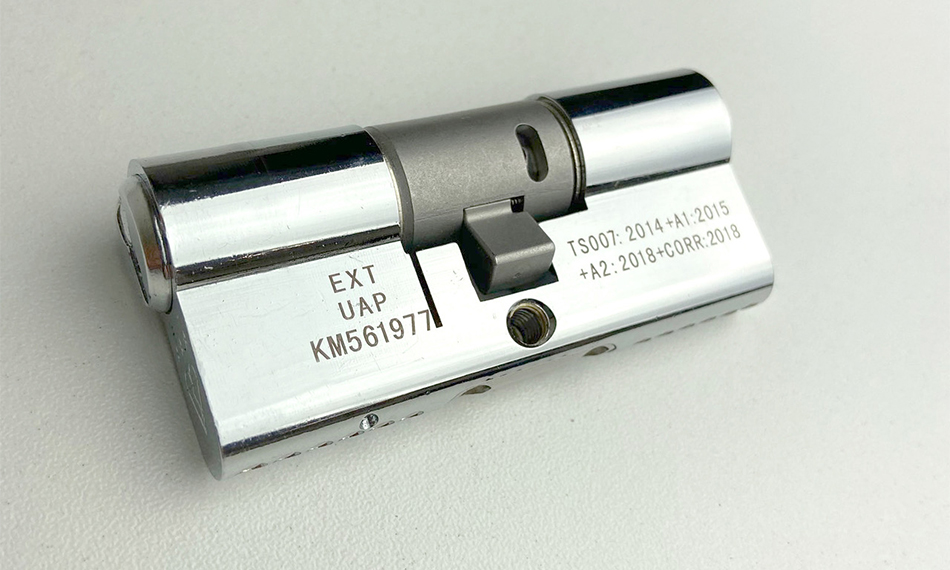 UAP, the leading manufacturer of security and fire safety hardware for doors and windows, has launched the Fullex Kinetica+ K4; a state of the art locking system that combines advanced, patented features to deliver one of the most secure 3* cylinder locks ever produced.
Building on the credentials of the innovative Fullex Kinetica locking range, Kinetica+ K4 breaks new ground in security hardware by combining a standard 3* cylinder lock profile with multiple intricate design features, delivering a lock that is easy to install but virtually impossible to bypass. Rigorously tested at UAP's in-house test facility and by a third party testing house as part of the product development process, the new lock has defeated the newest methods of gaining entry developed by locksmiths and is Secured by Design, British Kitemarked and Sold Secure Diamond Standard.
David Jennings, CEO of UAP explains: "We invest in continuous product development at UAP because we know that the criminal fraternity never stops devising new ways to defeat security hardware, so we need to ensure that we are always several steps ahead of them.
"With the Fullex Kinetica+ K4, we wanted to develop a best-in-class locking system that will set a new benchmark for the sector, providing homeowners with complete peace of mind while offering door manufacturers, contractors and locksmiths an easy-to-install product at a very competitive price point from a brand they trust. By combining multiple patented technologies engineered by our design team and working with established manufacturing partners to produce the locks to our strict quality assurance standards, we have achieved those goals with the Fullex Kinetica+ K4."
Suitable for new door fabrication, new build installations and retrofit requirements, Kinetica+ K4 has been designed for ease of installation and enhanced security. The industry-leading security features have allowed the lock to be designed with no ring on the cam, making installation faster and easier. A single sacrificial cut-line on the outside of the cylinder ensures a more robust and durable lock with improved protection from moisture and dust ingress, while aiding ease of installation. With extreme reliability and ultra-strong turning forces built in by design, the Kinetica+ K4 also includes UAP's patented anti-bump system and three anti-pick pins.
Supplied in plastic-free packaging, Kinetica+ K4 is available with a choice of key or thumb turn internal locking. The thumb turn model features the patent-pending Fullex Helix Easy Turn System, which provides effortless operation with no pressure needed to push before turning. The lock has been designed to reduce the risk of the thumb turn being inadvertently left from its security vertical position by a red indicator to confirm that the door has been properly locked from the inside.
"With Kinetica+ K4 we have brought together our most advanced features in a single product to offer unrivalled security for the end user along with industry-leading ease of installation," David continues. "We have tested the product way beyond the needs of compliance and accreditation to prove its functionality, durability and long-term performance, including 25-year accelerated use tests, which prove it will offer exceptionally smooth operation for decades."
Each Kinetica+ K4 lock will be supplied with three Bio+ keys; a completely new concept in keys developed by UAP to protect end users against bacteria and viruses. While the blade of key is fabricated from conventional metal, the coloured plastic bow has been treated with special additive in the key; proven to kill a variety of viruses and pathogens, including MRSA, fungal colonies and COV-SARS-2 (coronavirus). This innovative plastic bow provides permanent protection against the risk of infection from handling the keys and demonstrates UAP's innovative commitment to making the world a safer place. The lock has been designed as a one key solution for easy keying alike, ensuring spare key availability and affordability.
In addition to product testing, UAP has also carried out a number of product trials with locksmiths, including Martin Pink from Rapid Locksmith, who comments: "I found the Kinetica+ K4 locking system very easy to fit and virtually impossible to penetrate once installed. It provides the quality and ease of installation I have come to expect from UAP's products and the Fullex range, but raises the bar when it comes to combining security features for robust performance. I am very surprised that it is possible to purchase a lock of this quality with so many features at this price."