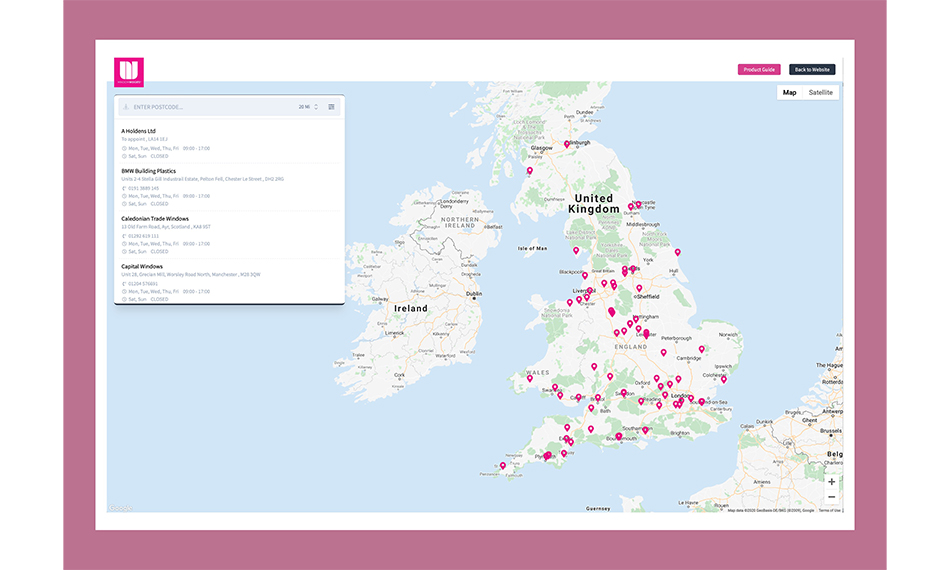 Window Widgets have just launched a new Trade Counter Network, that is already looking to boast over one hundred partners in the first few months after launch and in time will spread right across all areas of the UK.
Already a business with an unrivalled product range of consumables and ancillaries, this strategic plan to drive new sales through trade counters will help support installers, builders and fabricators with a more localised and immediate supply of products. There's already a dedicated landing page at https://tcn.windowwidgets.co.uk and from a direct link on the home page to help visitors find local trade counters within a 20-mile radius.
The search facility returns what products they offer and the best contact details for our range of UK manufactured products, many of which carry CE Marking under our factory process control and certification to EN1090. Leading industry names such as Dekko Window Systems, Midland Building Plastics, SUN Trade and Tradelink are already listed on the website, yet Window Widgets are actively looking for further trade counters to join this network, as they look to expand to over one hundred across the UK in the coming months.
Adrian Clare, technical sales executive at Window Widgets commented: 'We've spent considerable time in putting this new marketing strategy together and we're already reaping the rewards. With our knowledge rich website and big pink product catalogue, there's also a wealth of supporting information for anyone visiting these trade counters.
He continued: 'With all the factors affecting the industry at present, there's never been a better time to find trusted business partners and that's why so many trade counters have joined us in the first few months.'
For further information visit windowwidgets.co.uk or you can also request a free 158-page product catalogue and accompanying wall charts from Adrian Clare at e-mail adrian@windowwidgets.co.uk or by calling 01452 300912. You can also add to their following on Twitter @Windowwidgets.