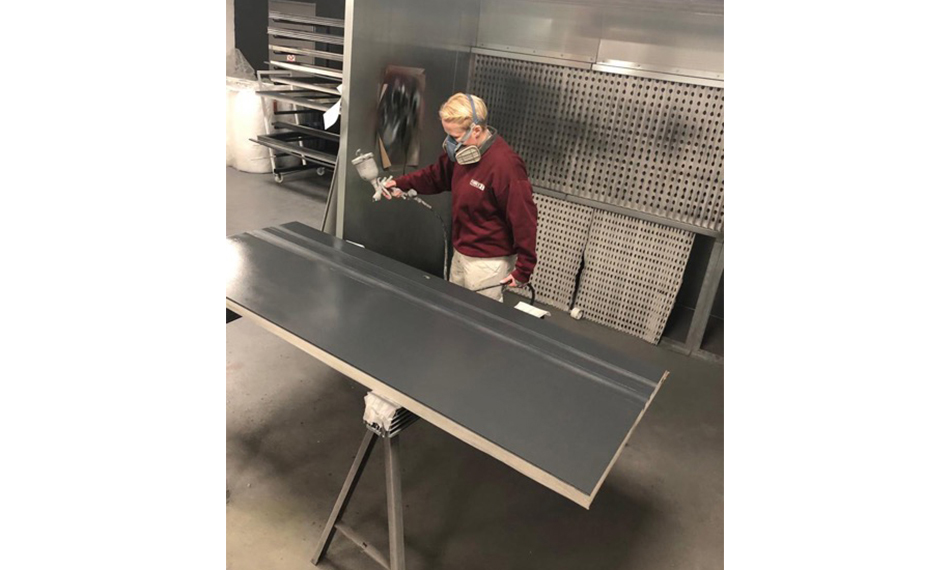 Colour is now one of the largest selling points in the window and door market, and a great deal of this is focused on the door sector with an ever expanding range of styles and colours and matching frames. But this can easily turn into a nightmare for the installer, says window and door fabricator Force 8.
According to the company, getting the perfect match between a coloured door and frame when dealing with different manufacturers can be hit and miss. Using the right paint code does not always guarantee a good match, the only way to be sure is to spray the door and frame at the same time.
There is a great deal of related factors in a perfect colour match apart from the paint: the temperature, environment and drying time can have an effect on the outcome. At Force 8 the door and frame are sprayed at the same time and allowed to dry together in the same conditions. The last thing an installer needs is for the customer to complain that the frame colour is slightly out with the door; so what do you do? Replace door or the whole installation? Even then you could just repeat the issue.
"Force 8 are in the unique position of manufacturing composite doors and also fabricating frames, adding our own paint facility was the only answer for us to create a fool-proof colour match every time", comments Dennis Sumner, managing director at Force 8. "We identified at an early stage using different paint facilities and systems cause issues, as we had faced the same problems with the frame colour being slightly out on occasions when we out-sourced. This made it an easy decision for us to invest in our own paint spraying facility and colour our own doors and frames.
"More of our customers are requesting coloured doors and matching frames, and without our in house system this would only raise the percentage of miss matched colour frames or doors. As far as we are aware, Force 8 is the only company in the UK providing this facility, which guarantees a perfect colour match every time, and peace of mind for any installer".
Having this facility has enabled Force 8 to also create a unique range of two tone coloured doors, as well as formulate a heat resistant paint which adds to the prevention of bowing in composite doors.
For more information, Visit www.force8.uk