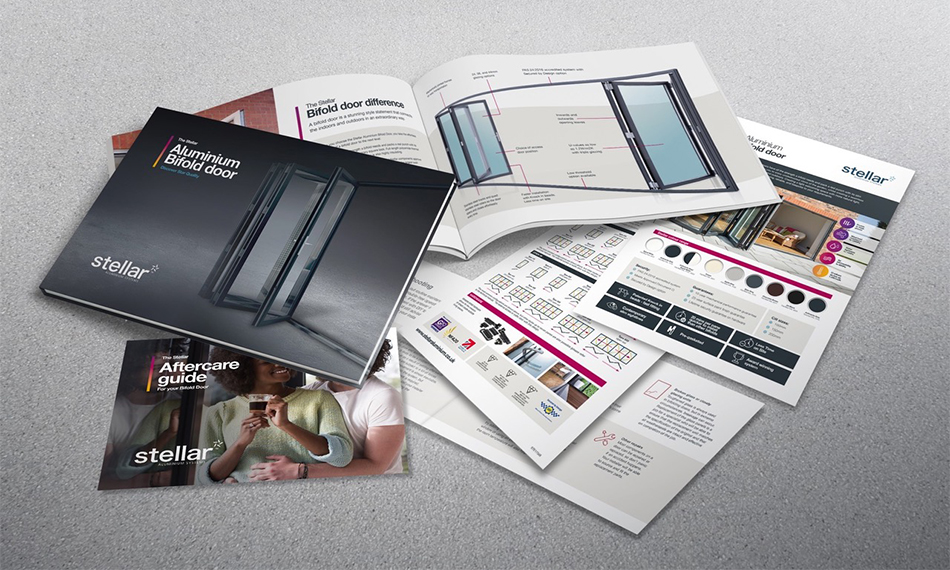 Epwin Window Systems has launched a new dedicated support package to help its customers market their popular Stellar Aluminium Bifold Door. Gerald Allen, Marketing Manager at Epwin Window Systems, said: "The aluminium bifold door market is very strong at the moment and the Stellar Aluminium Bifold Door has attracted considerable interest from both consumers and installers. This dedicated support package will help our customers further capitalise on all of the opportunities in the domestic sector with a range of effective promotional assets."
The Stellar Bifold marketing support package consists of a brand new, high-end 16-page product brochure that delivers compelling imagery and practical advice to help promote the door direct to the consumer. A new 12-page aftercare brochure and a two-page technical sheet are available too. A selection of high-quality imagery is available for customers use online and offline and animated gifs have been professionally produced by Epwin Window Systems' in-house design centre for use across all social media platforms.
All marketing assets are can be downloaded direct from the Stellar hub on the Epwin Window Systems' Connect digital resource platform. The brochures can be further tailored to suit and bespoke versions are available as part of Epwin Window Systems' tailored marketing support package offer.
The Stellar Aluminium Bifold Door has proven popular with consumers because of its streamlined aesthetics and outstanding product quality. It also offers bigger sash sizes which tap perfectly into the trend to create wider door apertures that remain popular in the domestic sector. Sash sizes can be 1,200mm wide and 2,500mm high, with a maximum height plus width of 3,500mm.
The Stellar Bifold Door has been readily received by installers and feedback from numerous installation teams state it is the easiest aluminium bifold on the market to fit. This is down to a series of technically-advanced features such as the patented pre-gasketed knock-in glazing beads which saves considerable time on site. The intelligently-designed knock-in beads also need little or no adjustment, eliminate gasket overstretch and even means the glass can be toe-and-heeled without forcing it.
The Stellar Aluminium Bifold Door is part of the triple award-winning Stellar aluminium window and door system that is setting a new standard for retail aluminium. And in launching a dedicated marketing support suite, fabricators and installers can deliver game changing products with the support to help them seize all market opportunities.