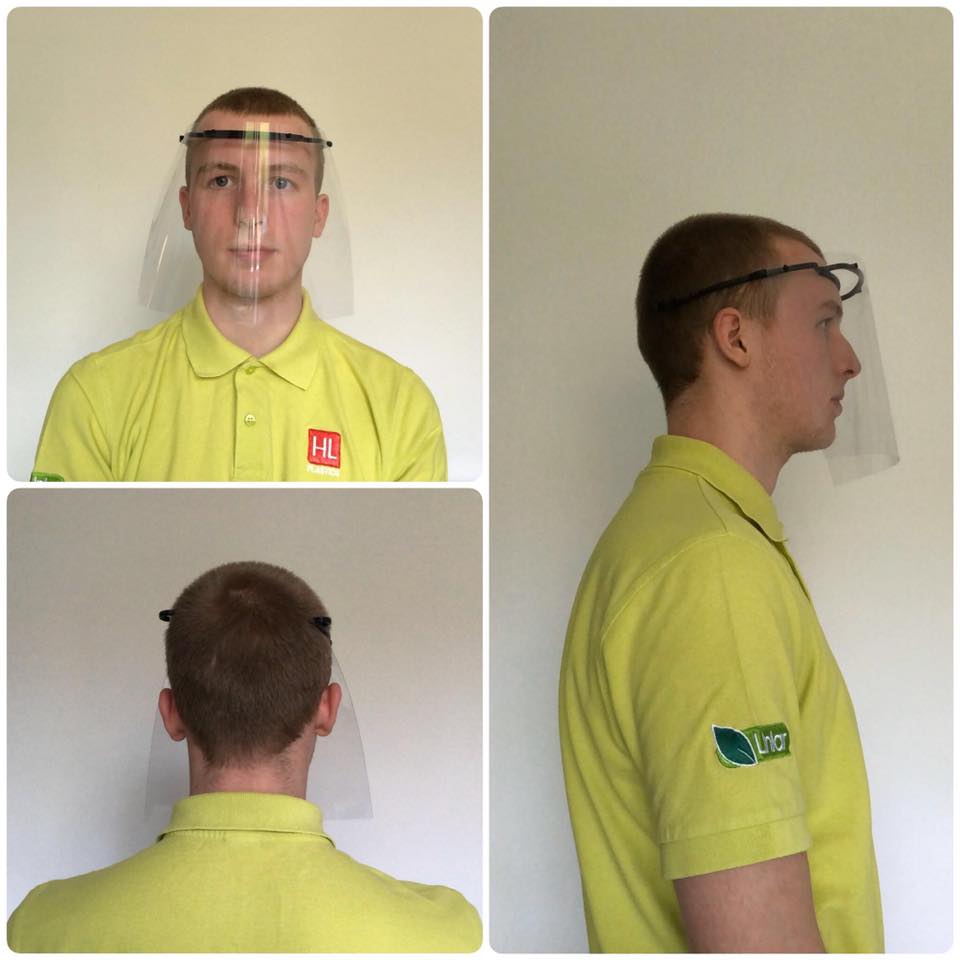 The worldwide pandemic of COVID-19 has brought challenging and distressing times for many. Yet, through the negativity, there have been spots of brightness. From Sir Tom Moore raising millions for the NHS as he walked laps of his garden prior to his 100th birthday, to local postmen delivering food to the elderly on their routes, we've seen examples of humanity at its best.
Innovative brand Liniar wanted to do more than protect its employees, which it did by temporarily closing its facilities until social distancing measures could be put into place. The company has a deep-rooted ethos of 'doing the right thing' and wanted to help those in the health sector by producing PPE to help them to stay safe whilst taking care of members of the community.
Using its 3D printer, Liniar's Design and Development Director Chris Armes ran a test to find it out if it was possible to create protective face shields. After selecting a visor design and making changes for comfort and wearability, it became clear that this was much in demand; but the printer was slow and needed round-the-clock attention in order to produce the maximum possible visors.
Chris enlisted the help of his team, who were all passionate about the project – one more than most. The reason? This was very personal for Oliver Marriott (Ollie), Liniar's Design and Development Apprentice.
Ollie's mother and sister both worked at Derby Royal Hospital, experiencing the pandemic first-hand. Ollie's sister was in the 'COVID Assessment Unit' while his mum is a Radiologist treating cancer patients, some of whom had tested positive for COVID-19. He was acutely aware of the Personal Protective Equipment (PPE) shortage they were facing, as well as others in the medical field such as care homes.
As soon as there was a proven model for the face shield, the Design team documented steps for creating the visors and attaching acetate sheets, which they ordered from a local supplier.
The slow speed of the 3D printer meant working around the clock for maximum possible output – and the Design team (most of whom were on furlough leave whilst the company was temporarily closed) were keen to keep production moving. Between them, they came up with a 24/7 shift pattern to ensure the printer kept running. They went above and beyond the call of duty, and covered some very anti-social hours, even over the Easter weekend, with some team members choosing to sleep on the floor in the printer room for the overnight shifts.
"I'm lucky enough to have a camper van, which I parked in the Liniar car park for the night shifts," comments Ollie. "I didn't mind – it made the early mornings a lot easier and almost made me feel like I was on holiday! I just wanted to do the right thing."
Ollie went on to enlist the help of the site's security team, who were watching over Liniar's empty premises. The team from Riber Security were also keen to keep the 3D printer running 24 hours a day.
Ramping up production
Within a few days of producing visors on a single 3D printer, Liniar knew that the demand was far surpassing the production they could achieve in their current process. The team had posted the offer of free visors for front line workers on social media, with Ollie himself proudly modelling the visor, and the posts went viral, with requests for tens of thousands of masks flooding in.
In order to satisfy demand, the Liniar team invested in an injection mould tool which allowed them to produce thousands of visors per day. Until this arrived, Ollie and the Design team continued to produce the 3D visors, knowing every single one would be highly valued by its recipient.
The status today
At the time of writing, the injection moulded visors are in full production, which has allowed many more Liniar team members to get involved in this worthwhile cause. Liniar employees on furlough leave have volunteered to help package the masks, ready to be sent out to those in need.
When on 12 May 2020, Boris Johnson announced the phased re-opening of the country, this did not mean that the need for PPE went away.
In fact, with the new safety measures required for businesses and schools to re-open, more companies and people will need these necessary items in order to work, shop or travel. Liniar has continued to produce upwards of 3,000 visors per day, delivering them to Liniar customers, hospitals, care homes and schools amongst many others.
"We know the demand is still high – and while ever they're needed, Liniar will continue to produce them," says Ollie. "It's been a privilege to get involved with such a worthwhile project, and I'm proud to be a part of the team that has helped make it all happen. I'm grateful to work for such a caring employer that always seeks to do its bit for the community – and my family are also very thankful."
Visors continue to be donated to NHS and front-line workers free of charge – and the more that are purchased, the more visors can be donated. To order yours, please visit www.liniar.co.uk/PPE – and if you're a front-line worker, telephone 01332 883900 for your order code.