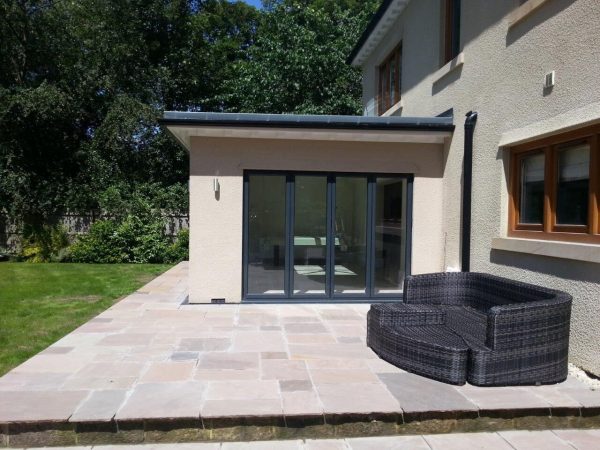 Aluminium bifolding doors remain the standard by which all other bifolding solutions are measured and with the launch of the Xlafold bifolding door, renowned aluminium systems company Exlabesa looks set to reinforce the standard. Derek Hodgson, General Manager of Exlabesa, says: "The Xlafold will become a classic solution because it offers everything homeowners, architects, specifiers, fabricators and installers want from a bifolding door."
In terms of aesthetics, the Xlafold has the classic slim sightlines of an aluminium bifolding door. It is available in sculptured or square sash options, so it's suitable for the commercial, new build and domestic markets. It is available in all RAL colour options so it sits well in any design scheme.
The Xlafold ticks all the boxes when it comes to the practicalities too. It has a typical U value of 1.5 W/m2K and features an interlocking gasket system for improved weatherfastness, which means it offers excellent thermal efficiency and will effectively keep cold and wet weather at bay. It has PAS 24 accreditation, so it offers reassuring security as well as meeting the requirements of Document Q of Building Regulations.
While these benefits will attract and reassure homeowners, architects and specifiers, the Xlafold has been designed to appeal to fabricators and installers too. It is considerably quicker to fabricate than other bifolding doors on the market. Its component parts suite with other Exlabesa systems so fabricators can reduce their stock holding and product inventory. Installers will find it straightforward to adjust the hinges, making it easier to install than competitor systems.
Doncaster's Exlabesa is one of the country's most experienced and reliable aluminium systems companies. The company has two extruders, two ageing ovens, a vertical powder coating plant and is one of the few companies in the UK to have an in-house anodising plant, meaning it has complete control over the manufacture and quality of its products as well as being able to offer extremely competitive turnaround times. Mill finish items typically take four working days and paint finish items typically take seven working days. All orders are delivered using its own transport for further reliability and peace of mind.
To enquire about adding the Xlafold bifolding door to your portfolio, call Exlabesa today on 01302 762 500.