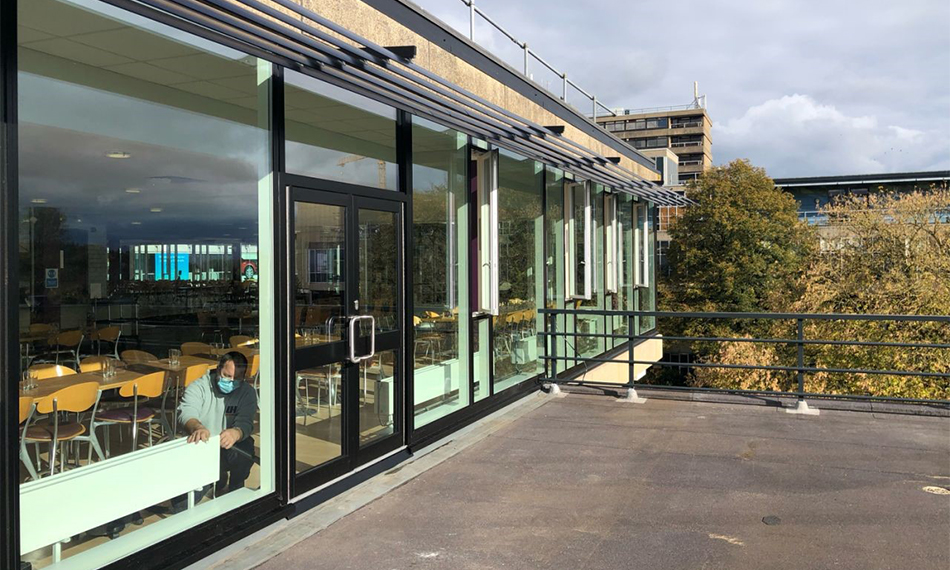 Trade aluminium fabricator Fentrade has recently manufactured 13 sets of single and double entrance doors for the refurbishment of the University of Bath's main campus.
The project's main contractor was Bray & Slaughter and the window contractor was Fentrade customer EWS Facade. Chris Reeks, Director of Fentrade, said: "We were delighted to be asked to manufacture the doors for this high-profile project and it was great to work with EWS Facade to deliver a high-quality result."
Stuart Davis, Managing Director at EWS Facade, said: "We worked closely with Chris and the Fentrade team from initial quotation through to delivery on site. Fentrade provided a very professional and prompt service throughout which is important on these types of projects. We look forward to working with them again in the near future."
Kestrel Aluminium's Thermal Ground Floor Treatment was specified for the project. The system offers a secure and cost-effective glazing solution for low rise commercial projects.
With a highly detailed specification, the doors had numerous distinctive features.
The doors incorporated a variety of locking systems, including electric strikes latches for automatic gearing, standard hook locks and concealed emergency panic bar systems on emergency exits. To allow high light transmittance but reduce heat transfer, SKN176, a specialist neutral coloured solar control glass, was specified in many areas. Full height glass units featured manifestation to comply with health and safety regulations and reinforced panelling was supplied to allow signage to be installed easily when required. To maintain the building's aesthetics, a RAL9005 matt finish profile and several different handle shapes were specified to complement the existing fenestration.
The project was carried out during the summer of 2020, so stringent Covid-19 protocols needed to be followed to protect the health and safety of workers. The project was delivered in a number of stages in line with the requirements of the contractors and installers, with social distancing and enhanced safety measures in place for deliveries and site visits. Chris commented: "Protecting our workforce is our number one priority so we worked closely with all contractors involved to ensure safety measures were followed throughout."
The project was completed in time for the start of the 2020/21 academic year and the University of Bath now has a main campus building with improved aesthetics as well as enhanced thermal efficiency. Chris concluded: "Intelligently designed projects such as this one deliver huge benefits for end users. We are delighted with the results."