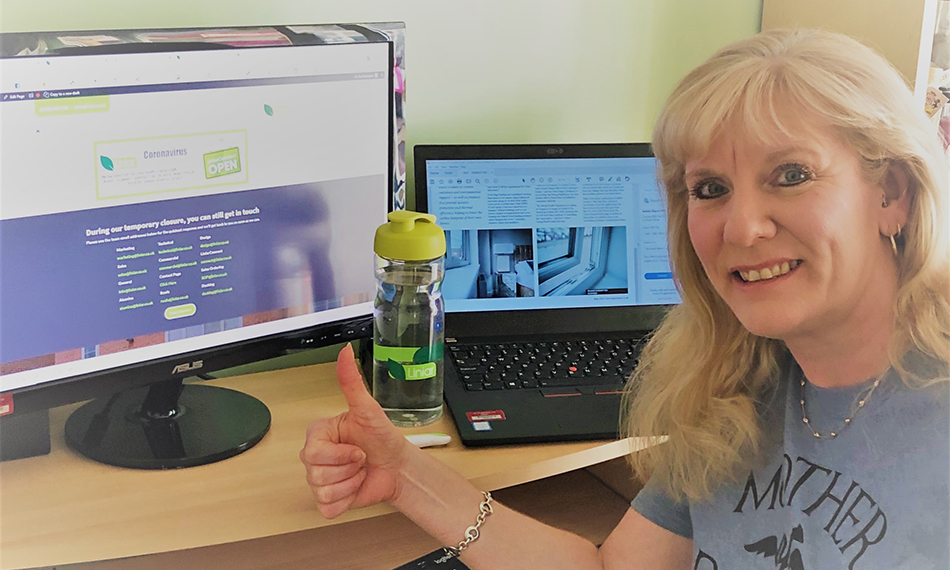 Sue Davenport, Group Marketing Director at Liniar, explores the true meaning of marketing.
At the time of writing, I'm sitting in my makeshift office (the dining room) where I've been based for the last few weeks, thanks to the worldwide COVID19 pandemic.
After closing our main facilities in order to protect our workforce, we continued to work from home – focusing on internal communication and trying to help our customers as their operations also ground to a halt, along with most others in our industry. We're now slowly getting back to 'normal' and it's good to reflect on one of the positives to emerge from this worldwide crisis.
Helping front line workers
After bringing operations to a standstill, the Liniar team's attention turned to what we could do to help the efforts of the key workers on the 'front line', including NHS staff, care workers and many others. Social media told us these groups were crying out for PPE (Personal Protective Equipment) which was in short supply; and with a dynamic Design team and a 3D printer to hand, it was a quick leap to trialling a sample protective visor. We chose an ergonomic design that would be comfortable for the user to wear, and would allow a full range of movement whilst fitting over the top of masks and glasses.
We knew production would be slow using the 3D printer, but the front line staff we sent samples to were extremely complimentary, and initial demand was high. We continued looking for ways to produce bigger quantities more quickly – we wanted to help as many people as possible.
Swift decisions
From there, and over a matter of days (including the Easter weekend), Liniar ordered a new injection moulding tool, explored a new supply chain, established communication with deserving recipients for the visors, ordered stocks of acetate sheets and packaging, created assembly instructions and designed a flyer, created safe working practices in an assembly area, contacted volunteers to count, pack and assemble boxes of visors, and put in place a logistics solution to get them to the people who needed them. We continued sending out 3D-printed masks in smaller numbers, but once the tool arrived we were able to quickly increase production to more than 3,000 per day!
So how does this apply to marketing?
People often talk about the 'Four Ps of Marketing' – textbooks define them as Product, Place, Price and Promotion. All too often, only one 'P' is focused on by marketers– and that's Promotion.
When a business fully embraces the Four Ps, however, starting at the beginning and truly understanding customers' needs, something magical happens.
Product
The first 'P' asks: "Does the product meet customers' needs?"
In this unprecedented time, when Liniar customers were closing their own facilities and our main focus was to protect our workforce of 500+, our usual product range was of little relevance. Instead, the need for PPE was far greater, its absence hampering the efforts of many communities and individuals.
Knowing we may be able to help this cause was a great incentive for us, and our flexibility and dynamic structure enabled us to pivot quickly into this new focus.
Initially, the Design team took turns to work in 4-hour shifts, 24/7, going into the office to man the 3D printer whilst it slowly churned out the visors. This led to further product development with the investment of £20k in an injection mould tool, supported by the Liniar senior management team and its parent company Quanex. We were able to refine the design and produce the visors in our own 'Liniar green' colour, even adding a positive message on each visor!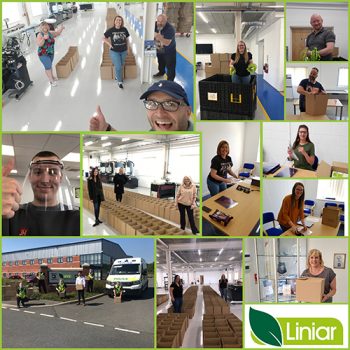 Place
The second 'P' asks: "Where will customers find the product?" – for Liniar, this meant finding whole new supply chains and contacts very quickly.
We used social media to get the message out to the marketplace and start to identify our new key worker 'customers'. Our proud team, customers and contacts shared posts in order to reach the maximum audience possible. At the same time, staff hit telephones, contacting local GP surgeries, hospitals and care homes to ask if they needed visors.
Orders were initially managed on a huge spreadsheet, but it soon became clear a more automated system was needed. Our IT and marketing teams worked together to set up a site for orders, whilst the visors were also added to Liniar customers' online ordering portal, LiniarConnect.
Price
The third P asks: "How much are people willing to pay for the product?"
We've all seen prices of key items increase considerably during this pandemic – it's the law of Supply and Demand, as any economist will tell you – but Liniar wasn't doing this to make money. When your motivation is to help, it's amazing how easily pricing decisions are made.
Our willing volunteers gave up their own time to help whilst furloughed, making it a true team effort and keeping costs low. Suppliers helped by not charging over the odds for packaging or acetate sheets.
Liniar's main focus is to provide the visors free of charge to anyone in the 'key worker' categories we've defined. Any business also needing visors to protect their own teams as they return to work can purchase the visors at a small cost. These contributions help to keep the visors free of charge for front line workers, and customers have been very happy to help with this.
Promotion
The 4th P, usually the first consideration to a marketer, in this case came last. Apart from the initial social posts in gauging demand and gathering contacts, the majority of time was spent setting up the internal process to handle the new supply chain.
Once we'd determined output speed and our capacity, we started to drip-feed social media channels and contacted customers to let them know what we were doing. Many customers in turn offered to distribute the masks within their own local communities too.
Our engagement statistics and analytics are interesting to view. Take a look at our Facebook graph for Organic Post Reach – spot the date of our initial post about the visors?
Facebook post reach March May 2020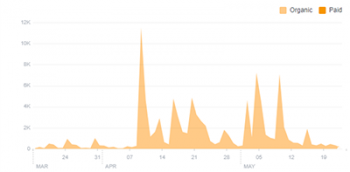 Lessons learned
The experience has been a rapid learning curve for the Liniar team, and also extremely rewarding.
Many businesses talk about being 'marketing-led' or 'marketing-focused' but in many cases that means they've come up with a great campaign idea – which may not necessarily be sustainable in the long term.
At Liniar, marketing starts at the top with an agile, responsive senior management team that is focused on doing the right thing. The speed at which departments were able to work together and change our business model in order to provide help where it was needed will always be a source of great pride in my fellow teammates and colleagues.
It also demonstrates that 'marketing' in the true sense of the word should not be restricted to the marketing team – it has to be embraced by the entire business in order for it to succeed.
The beneficiaries in this case are our NHS heroes and front line workers – and that's exactly as it should be.
To order Liniar visors for your own business, visit www.liniar.co.uk/PPE